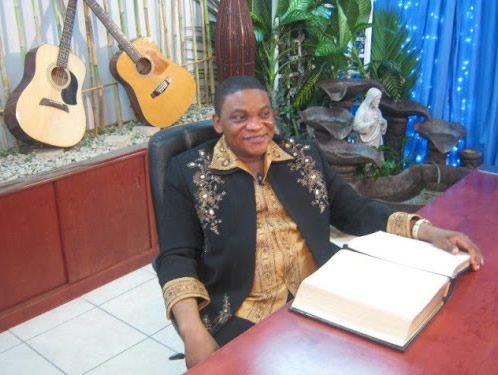 Tim Omotoso, pastor of multi-branch Jesus Dominion International Church in Durban, South Africa, has been accused of sexually molesting young women. As of the writing of this post, Omotoso has not been arrested or charged with any crime.[Please see updates below.] He remains under investigation.  The Herald Live reports:
A young Port Elizabeth woman has claimed she is among a group of victims allegedly molested by a popular Durban pastor who is being investigated by the Hawks for suspected sex crimes.

Social media has been abuzz with the claims against the widely celebrated pastor in the wake of a TV feature in which the allegations were made by a number of women who have had contact with him during his ministerial work.

The 25-year-old Port Elizabeth woman alleges she was molested at the age of 14 during an incident in Durban. She alleges she was summoned into an office where the pastor rubbed himself against her.

While police are not looking for the 58-year-old pastor as yet, the Hawks say they have been investigating a number of alleged sexual violence cases against him for months now.

The news comes in the wake of a special television feature on the pastor recently.

….

Speaking about the alleged incident that occurred when she was a teenager, the Port Elizabeth woman said: "There was talk among the girls regarding 'the rod of Moses', but I did not know what it meant.

"But one day I innocently remarked during music rehearsals that I also wanted this rod of Moses.

"Immediately, he [the pastor] summoned me to his office."

The woman claimed she had been asked there if she wanted the "rod of Moses" and she responded that she no longer did.

"He [the pastor] came closer to me, saying it was nice," she said.

"He hugged me and rubbed [against] me with his lower body … I felt very uncomfortable and began to sob."

The woman said the pastor had asked her what she wanted from God and she had replied that she needed to be blessed.

She alleged that he had handed her R1 000, which she refused, but he had insisted that she take the money and give it to a relative.

The woman claimed that the pastor targeted females, particularly from disadvantaged backgrounds, to whom he promised a better life.

She said the majority of his alleged victims were attracted to his church because of the "miracles" he claimed to perform.

"He loves girls from disadvantaged backgrounds. He creates a ploy to be a father figure to them," she said.

She claimed the pastor would preach a sermon about sex and would ask "me to stand up, saying look how beautiful I look".

When a reporter visited the ministry's Port Elizabeth church yesterday, a number of people were inside, praying.

Most of the congregants refused to speak, except one woman who had joined the church in 2002.

Asked about the allegations, she said: "We can't speak about what the pastor is accused of. It is not up to us to judge."

Another congregant, when asked for the pastor's cellphone number, said: "You can't call him. He is a man of God."

But she said the allegations made in the TV feature were rubbish.

"Where is the evidence? They must show us the evidence."

She said the claims were orchestrated by other pastors within the church who wanted to oust the pastor at the centre of the allegations.

….

Commission for the Promotion and Protection of the Rights of Cultural, Religious and Linguistic Communities chairwoman Thoko Mkhwanazi-Xaluva said churches were supposed to be a safe space.

"We have a serious problem of rape culture in this country and if it is happening in church, we have a much bigger problem."

She said the commission had finalised its report into the commercialisation of religion and abuse of people's belief systems.

"We will brief parliament on the report over two days in June," Mkhwanazi-Xaluva said.

"We need a peer review mechanism to put an end to this.

"When pastors do something wrong, they can be held accountable and removed from the register."

She said among their recommendations was the vetting of pastors and traditional healers.

"Right now, we could have a pastor with a sexual violence background leading a church, or a Sunday school teacher who just wants access to children."
According to Omotoso's website:
Tim Omotoso Global Outreach (T.O.G.O) is an Apostolic and Prophetic ministry designed under Trinitarian auspices to propagate the gospel of Jesus Christ to this generation with signs following. As result of Tim Omotoso's obedience to the high calling of God, the ministry has been able to transform the lives of countless people around the globe. Through global crusades, ministrations, Church services and TV ministry, the unadulterated Word of God is preached to all. T.O.G.O is a ministry of great wisdom, revelation, power, prayer and praise without compromise. It is the umbrella to the church arm, of Jesus Dominion International (JDI); Youth Empowerment Project and Help the Helpless. T.O.G.O not only believes in winning billions of souls into the kingdom of God, but also challenges believers to rise up as Sons of God and utilize the authority and divine power given to them through Christ Jesus.

Tim Omotoso is a Prophet and as part of his unique call he holds meetings entitled "Holy Ghost Clinic" these "clinics" are live counselling sessions which reveal the mysteries that hold keys to the success of individuals. The root causes of issues and problems are also diagnosed. These meetings are an exposition of the wiles of the enemy in the life of believers. People have been healed, restored, delivered and received solutions in meetings such as "Holy Ghost Clinic," "House of Jacob," and many more. Tim Omotoso is the founder of ADBN (Ancient of Day Broadcasting Network) and has written a Prayer Bonanza book which contains powerful and targeted prayer points, he also writes daily devotionals annually. His television broadcast is entitled "Just as I am." He is happily married to Taiwo and they are blessed with three Children, Victoria, John and Victor.
Update
Sunday World reports: (link no longer active)
Controversial Nigerian pastor Tim Omotoso has hired prominent Port Elizabeth defence attorney Alwyn Griebenow to represent him in the face of allegations that he sexually molested young girls at his home in Umhlanga' Durban.

Griebenow confirmed that he was Omotoso's attorney and that he and defence advocate Terry Price will be meeting with the Hawks on Thursday afternoon in Port Elizabeth. The Hawks are investigating the allegations against Omotoso.

Omotoso' of the Jesus Dominion International Church in Durban' is accused of molesting more than 30 young girls on the pretext of rescuing them from drugs.

The Nigerian evangelist came under scrutiny after his church featured on current affairs programme Special Assignment on Sunday. The programme spoke to women who claimed that they were lured into performing sexual favours for the pastor.
Update #2
Nigerian pastor Timothy Omotoso was arrested by the Hawks Human Trafficking unit in Port Elizabeth on Thursday on a charge of alleged human trafficking' the elite police unit confirmed.

Omotoso was arrested shortly after arriving at the Port Elizabeth international airport by the Hawks and members of the South African Police Service's Tactical Response Team (TRT) this afternoon [20/04/17].

"The 58-year-old pastor allegedly trafficked young women and girls from various branches of his church to a house in uMhlanga' Kwazulu-Natal' where he allegedly exploited them sexually'" Hawks spokesman Lieutenant-Colonel Robert Netshiunda said.
Update #3
Update #4
Hundreds of worshippers from Jesus Domination International church, where Timothy Omotoso is the head pastor and prophet, filled the Port Elizabeth Magistrates' Court on Friday.

They came in support of Omotoso, who was nabbed dramatically by the Hawks with a heavy contingent of the Tactical Response Team (TRT unit), shortly after he landed at the local airport with his three escorts on Thursday afternoon.

He has been accused of sexually abusing women who worked at the churches he managed in South Africa.

….

Omotoso's supporters came wearing purple-banded gold medals around their necks, holding placards with messages of support for him.

….

An unidentified woman inside the court said they believed that Omotoso's exposé was an inside job.

"The people who are responsible for this are unruly members of the church that do not want to be changed by the man of God," she said.

"If Omotoso was a sexual offender, why didn't he sleep with the multitudes of international prostitutes that have been coming in and out of his church?" she said.

She said all the prophets across the world were fasting for Omotoso.

"God will show them wonders, the blood is at work."

….

A member of the Hawks discreetly confirmed to City Press that Omotoso was not planning to hand himself over on Thursday.

"We found him in possession of return air tickets for four people," said the member.

"It is clear that he had no intention of handing himself over as we were expecting him to."

Netshiunda also confirmed that if they had not applied their own instincts and ambushed Omotoso, he would have slipped away.

"We were misled into believing that his flight was delayed," said Netshiunda.

"When we reached the airport his flight was on schedule and he attempted to escape, but only ended up in the toilet, where we found him locked in the cubicle," he said.

….

His Port Elizabeth lawyer is Alwyn Griebenow, who also represents Christopher Panayiotou – who has been charged with the murder and conspiracy to murder his wife, Jayde, two years ago.

An application for bail was made by Griebenow on behalf of his client, who was remanded until May 3, when an official bail application will be formally heard in Court 22.

The state, represented by Zelda Swanepoel, stated that more evidence was to be compiled from the different provinces where Omotoso is alleged to have committed the alleged crimes.

The remand was met with deep sighs of disappointment and sobs from his supporters.

"Daddy! We love you Daddy," sobbed the worshippers, as Omotoso was led out of court by the TRT unit.