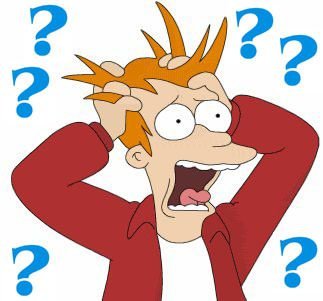 Updated April 13, 2016.
I wrote the following to inform those who don't know me about my past and present life. While this is in no way the sum of my life, it should help to answer some of the questions readers might have. I try to be open and honest. If you have a personal question you would like me to answer, please send me an email or leave your question in the comment section.
I also wrote a humorous follow-up to this post. You can read it here.
How do you pronounce Gerencser?
Grr IN Sir
What nationality is your name?
Hungarian
How old are you?
58
How long have you been married?
37 years
How many children do you have?
Six
How many grandchildren do you have?
Eleven  ten granddaughters and one grandson
How many times have you been married?
Once
Where do you live?
Rural NW Ohio, the village of Ney. One stoplight, one gas station, one pizza place/bar, and one restaurant/bar. We have lived here since 2007.
Do you own your own home?
Yes
What color is your hair?
Well it used to be bright red, some say orange. These days, it is a faded, dull red, mostly white. (see picture above)
How tall are you?
Six foot
How much do you weigh?
I currently weigh 365 pounds. I weighed 160 pounds at age 18, 180 pounds the day I got married, and 225 pounds five years after I married. I am twice the man I was on my wedding day.
Which hand are you?
Left, 100% left.
What color are your eyes?
They range from gray to sparkling blue. Polly says my eye color is determined by my mood.
What is your body shape?
I have short legs (29 inch inseam) and a long body. One man told me I was built like a fire plug.
What's wrong with you?
How much time do you have? I have suffered with depression most of my life. I have Fibromyalgia, diagnosed in 1997. Since 2007, I have had non-specific neurological problems that affect my ability to stand and walk. I live with daily, unrelenting pain. I walk with a cane and often have to use a wheelchair.
What sports teams do you root for?
Cincinnati Reds, Detroit Tigers, Louisville Bats, Fort Wayne TinCaps, Toledo Mud Hens, Cincinnati Bengals, and Ohio State football and basketball.
I am also a dirt track racing fan.
Did you play sports?
Yes, I played Little League and City League baseball and City League basketball. I played one year of junior high football.
I was usually good enough to make the team, but I tended to be on the far end of the bench (except for City League basketball, where I was a starter).
Should Pete Rose be in the Major League Baseball Hall of Fame?
Yes
What do you like to do for fun or to relax?
Go anywhere with Polly.
Attend a sporting event with my sons.
Read non-fiction books.
Take a walk in the woods, or a walk anywhere with the love of my life by my side. These days, it is usually Polly pushing me in a wheelchair when we take walks.
What are your hobbies?
I am a serious amateur photographer. I use Sony, Tamron, and Sigma equipment.
I have extensive computer/Windows software knowledge. I build my own computers.
I also like to garden and work in the yard when I am able.
When did you buy your first computer?
1992, a V-Tech 286.
Who are your favorite authors?
Thomas Merton, Henry David Thoreau, Bart Ehrman, and Wendell Berry, along with countless other authors who have helped me along the way.
What is your favorite comic?
Get Fuzzy.
What foods do you like?
Food.
Do you drink alcohol?
Yes, I like wine and spirits. I am not a beer drinker.
What are your favorite restaurants?
Mad Anthony's in Fort Wayne and Auburn, Indiana, Red Lobster, and Texas Roadhouse.
For dessert, I like Eric's Ice Cream in Defiance, Ohio and Dietsch Brothers Ice Cream in Findlay, Ohio.
What is your favorite ice cream?
Rocky Road and Mint Chocolate Chip.
What is your favorite candies?
Double dipped chocolate malted milk balls from Dietsch's, Clark, Zero, Zagnut, Snickers, and Milky Way candy bars, and Goetz's Carmel Creams.
What communities have you lived in?
Over the past 58 years, I have lived in:
Ohio: Bryan (numerous times), Ney (twice), Farmer, Deshler, Harrod, Findlay, Mount Blanchard, Alvordton (twice), Newark (twice), Buckeye Lake, New Lexington (twice), Junction City, Mount Perry, Glenford, and Somerset.
California: San Diego and Chula Vista.
Arizona: Tucson, Sierra Vista, Hereford, and Yuma.
Michigan: Pontiac and Clare.
Texas: Elmendorf.
How many houses have you lived in?
16 houses by age 21 and 18 more houses since Polly and I have been married.
How many cars have you owned?
Over 60. The cheapest cost $25.00, the most expensive cost $29,000.00.
What car do you currently own?
2015 Ford Escape.
What was your favorite car?
The 1970 Chevrolet Nova SS I owned in the 1970s.
What was your least favorite car?
Any of the cars I owned that were made by American Motors.
Besides pastoring, what jobs have you worked?
Janitor, gas station attendant, short order cook, newspaper motor route, life insurance salesman, sweeper salesman, restaurant general manager, network manager, durable medical equipment supply office manager, dairy department manager, grocery stock clerk, workfare/court offender program manager, litter control manager/officer, building code enforcement officer, grant manager, real estate updater for auditor's office, farm worker, mechanic, cable box repairman, shipping and receiving, turret lathe operator, and numerous general laborer jobs in factories.
What was your favorite job?
Restaurant general manager.
What is your favorite color?
Blue.
What are your politics?
Liberal, progressive, socialist.
Are you an atheist?
Yes.
Are you a humanist?
Yes.
What is your worldview?
I am agnostic on the God question. I cannot know for certain if a god of some sort exists, but I think it is highly improbable. It is possible that a deity of some sort might someday reveal herself to us, but I highly doubt it. I am convinced that all of the deities in the human panoply of gods are the creation of humans.
I live my day-to-day life as an atheist. Thoughts of God never enter my mind unless I am writing an article for this website.
I try to live my life according to the humanist ideals spelled out in the various humanist manifestos.
Do you fear going to hell?
No more than I fear Mickey Mouse breaking into my house and stealing my TV.
In other words, since heaven, hell, and the devil are the fictions of humans, I don't fear hell.
What churches did you pastor?
Montpelier Baptist Church, Montpelier, Ohio – Assistant Pastor.
Emmanuel Baptist Church, Buckeye Lake, Ohio – Assistant Pastor.
Somerset Baptist Church, Somerset, Ohio – Pastor.
Community Baptist Church, Elmendorf, Texas – Pastor.
Olive Branch Christian Union Church, Fayette, Ohio – Pastor.
Our Father's House, West Unity, Ohio – Pastor.
Victory Baptist Church, Clare, Michigan – Pastor.
What was your favorite church?
Our Father's House, West Unity, Ohio.
How many churches did you start?
Five.
I helped start Emmanuel Baptist Church, Buckeye Lake, Ohio.
I started Somerset Baptist Church, Somerset, Ohio and Our Father's House, West Unity, Ohio.
While co-pastor of Community Baptist Church, Elmendorf, Texas, I started two churches, one in Floresville, Texas and one in Stockdale, Texas.
Have you ever been baptized?
Three times.
I was baptized as an infant at the Lutheran church in Bryan, Ohio.
I was baptized when my parents joined Eastland Baptist Mission in Bryan, Ohio.
I was baptized at Trinity Baptist Church, Findlay, Ohio after I made a public profession of faith.
When were you saved?
I made a public profession of faith at Trinity Baptist Church, Findlay, Ohio at the age of 15.
When were you called to preach?
I was called to preach several weeks after I was saved.
Where did you attend college?
Midwestern Baptist College, Pontiac, Michigan 1976-79.
How many churches have you visited/preached at in your lifetime?
Over 150.
What can you tell me about your wife?
We met at Bible college. Polly is a pastor's daughter. She is my lover and best friend. She is an awesome cook, a great seamstress, and she never lets me have all the covers.
What can you tell me about your kids?
Well, there are six of them, four sons and two daughters. Four of them are married and have children of their own. One of them is going through a divorce. Five of them are gainfully employed. Our oldest daughter has Down Syndrome.
Are your children Christian?
You'll have to ask them. None of them is Evangelical and all of them have left the faith of their youth.
Do you have any siblings?
Yes, a brother and sister. They both live in Arizona (Chandler and Tombstone).
Are your parents still living?
No. My father died at the age of 49 from a stroke and my Mom committed suicide at the age of 54.
What kind of music do you like to listen to?
I like every style of music except rap, old-style country, and opera.
Who are your favorite artists?
Matt Nathanson, Eliza Gilkyson, Darius Rucker, Theory of a Deadman, Staind, Seether, Lucinda Williams, The Carpenters, Collective Soul, Sugarland.
What is your favorite movie?
Mosquito Coast and Hell in the Pacific.
If you could live any place in the world where would you live?
Anywhere near water as long as Polly is with me and my children live 20 minutes away.
Why do you blog?
I have a story to tell and blogging is my way of telling it.
Why do you stop blogging from time to time?
Depression and health problems.
Have you made a lot of money blogging?
Yes, millions of dollars. So much money that I don't know what to do with it.
Serious answer? Last year, blog donations totaled about $2000. I don't write to make money. I write because I want and need to.
Are you writing a book?
Yes, I started it a dozen times and I hope to have it done before I die. I signed a book contract last December. I hope to have it completed by the end of summer.
What's most important to you?
My family.
What's least important to you?
The approbation of others.
What is your favorite season?
Fall.
If you had one piece of advice to give me, what would it be?
You have one life. There is no heaven or hell. There is no afterlife. You have one life, it's yours, and what you do with it is what matters most. Love and forgive those who matter to you and ignore those who add nothing to your life. Life is too short to spend time trying to make nice with those who will never make nice with you. Determine who are the people in your life that matter and give your time and devotion to them. Live each and every day to its fullest. You never know when death might come calling. Don't waste time trying to be a jack of all trades, master of none. Find one or two things you like to do and do them well. Too many people spend way too much time doing things they will never be good at.
Here's the conclusion of the matter. It's your life and you best get to living it. Some day, sooner than you think, it will be over. Don't let your dying days be ones of regret over what might have been.
041316