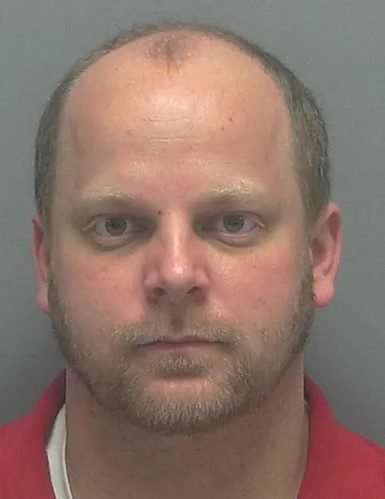 The Black Collar Crime Series relies on public news stories and publicly available information for its content. If any incorrect information is found, please contact Bruce Gerencser. Nothing in this post should be construed as an accusation of guilt. Those accused of crimes are innocent until proven guilty.
Jerred Peacock, a youth pastor at Living Waters Church in Estero, Florida, was arrested last October on charges of sexually assaulting a minor church girl. Months later, Peacock violated the judge's no-contact order and had his bond revoked.
The Naples Daily News reported at the time:
A warrant affidavit from the State Attorney's Office alleges Peacock, 34, was in a sexual relationship with a 17-year-old girl between March 2018 and August 2018 while he was still a youth pastor at Living Waters Church in Estero.

Lee County deputies arrested Peacock on Oct. 12 and he was released the next day on a $100,000 bond. On Oct. 13, Lee Circuit Judge John Duryea issued a no-contact order, court records show.

On Jan. 28, Lee Circuit Judge Bruce Kyle denied a motion to set aside the no-contact order.

….

A hearing to revoke Peacock's bond was held Monday at 1:30 p.m. and Peacock was arrested later that afternoon. Peacock remains in custody at the Lee County Justice Center.

….

Special Victims Unit detectives interviewed the girl in August, and she at first denied any sexual relationship. In a second interview later that month, she told detectives that Peacock on several occasions had touched her genitals and made her touch his, including at his home when his wife was at work.
After Peacock's original arrest, Wink News reported:
A former youth pastor in Lee County, who once hosted an event preaching purity to teens, has been accused of sexually assaulting a girl. The pastor led the spiritual lives of children at his church for months. He has been released from jail and faces trial this month.

….

Living Waters told WINK News in a statement, "[They are] extremely saddened and express our deepest sympathy to any and all victims of sexual misconduct. All employees at [Living Waters Church] go through an extensive background check with character references."

Dustin Lotz, a congregation member at the church, is looking for more evidence to be made public before he makes a personal judgment call on the actions the former pastor is being accused of.

"I don't know anything about the facts," Lotz said. "I know lately there's been a lot of media, a lot of sexual accusations, so it's hard … It's really hard just to have a knee-jerk reaction to the news."

Lotz and his family attend the church, and he is worried about how it may impact the congregation.

"If it is true, it's not something that would be good for the church," Lotz said. "It's something they would have to talk against."

Peacock's attorney spoke to WINK News and said the allegations against his client are not true. He is "pretty convinced [Peacock] will be absolved of any wrongdoing in the end."
On May 20, 2019, pleaded guilty and was sentenced to six years state probation with no additional jail time. As part of his plea agreement, Peacock will have to register as a sex offender and enroll in a sexual offender treatment program.