Earlier today, my good friend Brian Vanderlip said:
Hey Bruce, Practice resting and see if you can beat me at it! I have this theory that all those damaged by the fundy virus are unable to relax without guilt making it impossible to sustain or nearly so. I sit and read for a while and then get up because I feel guilty… Just for taking it easy with a book! That guilt-free time of rest and reading is what I wish for you, my friend, and the strength to venture forth with your camera. Pope Brian has absolved you of your ignorant disdain for cheese with burgers and your foolish nonsense about toilet paper rolls being hung any old which way. (Comment on the post Living with Fibromyalgia.)
Brian is the son of an Independent Fundamentalist Baptist (IFB) preacher, and, much like myself, a crusty curmudgeon. I love Brian's numerous turns of phrase, while at the same time making thoughtful points and observations.
In today's post, I want to build on what Brian said about how our former religious beliefs and practices made it almost impossible to rest; that attempts to rest and relax often brought feelings of guilt. Spend decades and decades in such an unhealthy environment, and it leaves deep, lasting psychological scars. Even after divorcing Jesus and walking (running) away from Evangelical Christianity, some of us have trouble getting away from the pathological need to be perpetual motion machines. In my case, I spent my life fixing things that were broke: churches, marriages, and relationships. When I was looking for a new church to pastor, why was I so drawn to dysfunctional churches that would require herculean efforts to fix? I hope to answer this question and others in this post.
One question that comes to mind, at least for me, is how much obsessive-compulsive personality disorder (OCPD) plays a central part in my restless need to fix things. Was I always this way? Did my staunch Fundamentalist Baptist upbringing fuel my OCPD? I am not sure I can adequately answer these questions. All I know for certain is that from my teen years forward I've been a restless person, always looking for the next conquest. I can look back over my life and it is not hard to see a man who was a wanderer, someone who was never satisfied. Of course, it was my religion that taught me to never be satisfied with self. I was taught and then taught others that we sinned daily in thought, words, and deeds. There could never be a good day, a sin-free day, a day when I felt that Jesus wasn't lurking around the corner, ready to punish me for my indiscretions and failures. Even as a Calvinist — a sect that speaks much of and glories in God's grace — I never had a day where I felt that everything between me and Jesus was a-okay. Calvinism is inherently a works-based religion. True Christians® must persevere until the end to be saved, and even then God could say to you, "HA! the jokes on you! You never were one of the elect. It's Hell for you, buddy."
As a pastor, I believed most Christians were quite lazy. How dare they fritter their lives away while there was work to do building the Kingdom of God. Hell is hot and Jesus is coming soon, I thought at the time. How dare we lounge around and relax while there were souls to save! So I was quite driven to labor in God's vineyard. Didn't Jesus say:
I must work the works of him that sent me, while it is day: the night cometh, when no man can work. (John 9:4)
I suspect my personality made it easy for me to work myself to death serving Jesus. I carried the same work ethic into my secular employment. I worked hard, never missed work, and rarely took days off. I was drawn to management jobs that allowed to me to work, work, work. For many years, between my church and secular employment, it was not uncommon for me to work 60+ hours a week. Polly not-so-fondly remembers the days when I would go to work in the morning, come home, shower, and head for the church, returning late at night. Day in day out; six, often seven days a week. I am not looking for a medal here (or condemnation). I recognize that my driven personality caused harm to my family, and materially affected my health. But, you can't understand the man Bruce Gerencser without understanding what I have shared thus far.
This behavior when on for decades. The churches I pastored loved me because I was willing to be a full-time pastor while working a full-time job outside of the church. Churches loved my passion and zeal, my commitment and devotion. And I did it all for Jesus. Well, that and the fact that I really craved being busy. I was, in every way, a textbook workaholic. It certainly wasn't for the money. Our family made more in 2020 than I made in eleven years pastoring Somerset Baptist Church in Mt. Perry, Ohio. Now don't read too much into that. It's not that we are well off. We're not. It just that the churches I pastored didn't pay well, and not one church I pastored provided insurance or retirement. I don't blame these churches, per se. After all, I was the CEO. Why didn't I ask for (demand) a better salary and benefits? On the other hand, why did the deacons/church board/congregants never raise the issue and demand the church take better care of its preacher?
Truth be told, I would have worked for free. I was so in love with Jesus and the work of the ministry that I practically took a vow of poverty. When the churches I pastored had money problems, I was first in line to say, "don't worry about it. Just don't pay me this week." Of course, I never thought I would be a broken-down sixty-three-year-old man unable to work. Choices made decades ago have now extracted their due in the sunset years of my life.
Since how much money I was to be paid was never the object for me, I focused on the work of the ministry: preaching, teaching, evangelizing, street preaching, teaching Christian school students, cutting firewood, shoveling snow, working on church vehicles, remodeling church buildings, and daily ministering to the needs of church members. My motto? Better to burn out than rust out.
Over the course of twenty-five years, I pastored/worked for seven churches. My pastorates were either long in tenure, or quite short: 8 months, 2 1/2 years, 11 years, 7 months, 7 months, 7 years, and 7 months. (What was it about the number seven, right?) What I do know is that I wasn't very good at determining "God's will for my life." I have always had a hard time saying no. Take my short time at Victory Baptist Church in Clare, Michigan — a now-defunct Southern Baptist congregation. After I sent my resume out to Southern Baptist area missionaries, it was only a matter of days before my phone was ringing off the hook — calls from churches looking for a pastor. I was thirty-five years old at the time, with three children still at home. And, my wife played the piano, and both of us sang special music. Woo hoo! Just what churches were looking for! You would think that I carefully considered each of the 15+ churches that contacted me. Surely, I did that, right? Sadly, I did not. Victory Baptist was the first church that contacted me. First come, first served.
We traveled to Clare and I preached for the church one Sunday. Nice people. Friendly. But, oh my God, dysfunction was on display everywhere I looked. I should have run away, but instead, I agreed to come back and preach for them again in two weeks. Afterward, the church asked me to become their pastor (and the former pastor remained in the church). I should have said no. Everything in Polly's reaction said to me, "just say no, Bruce." But I ignored my intuition and my smart and sensible wife, choosing instead to come and "help" these really, really nice people. Victory Baptist was a church I was sure I could "fix."
While the church had its largest attendance while I was their pastor, seven months later I was out the door. My idea of what the church needed to do to grow and prosper was very different from that of the entrenched, indolent power base. The former pastor's wife said in a public business meeting before I left, "Bruce, your vision for the church was never our vision." I warned the church that I would not fight with them, but they wanted to fight anyway, so I resigned. THE issue? Toys in the nursery. Toys in the nursery? Yep. A long-time member of the church hauled into the nursery a bunch of outside yard toys, many of which were dangerous for toddlers. I told her it was not a good idea and removed them. (Our insurance agent would have told her the same thing.) Livid, she took the matter to the deacons. Three days later, we were sitting back in Ohio. Not one church member said goodbye or helped us load our moving truck. This would be the last church I pastored. I was done.
Underneath the story of my life courses a restlessness that drives me to work, work, work. No time for rest, not because of God or some sort of divine calling, but because it's who I am. I am happy to report that I do rest and relax more now than I ever have. Good news, right? Progress. Not really. You see, my health problems are what have forced me to take it easy. I don't want to, but I really have no choice. That is, IF I want to live. So, I crawl kicking and screaming to the couch, fretting over what I call the tyranny of the to-do list. Every week and month I get farther and farther behind. Maybe I just need to set my to-do list on fire! Problem solved.
I have, in the past year, rediscovered my love for Lionel O-Gauge electric trains. With the help of two of my sons and Polly, I am building a layout in one of our unused bedrooms. And I promise — I really, really do — that once this is done, I am going to rest.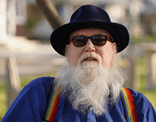 Bruce Gerencser, 65, lives in rural Northwest Ohio with his wife of 44 years. He and his wife have six grown children and thirteen grandchildren. Bruce pastored Evangelical churches for twenty-five years in Ohio, Texas, and Michigan. Bruce left the ministry in 2005, and in 2008 he left Christianity. Bruce is now a humanist and an atheist.
Connect with me on social media:
You can email Bruce via the Contact Form.
Your comments are welcome and appreciated. All first-time comments are moderated. Please read the commenting rules before commenting.