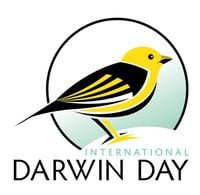 The American Humanist Association reports:
Today United States Representative Jim Himes (CT-4) introduced U.S. House Resolution 67, also known as the Darwin Day Resolution, which would recognize Charles Darwin's birthday, February 12, as a national day to celebrate science, education and humanity.

"Charles Darwin's discoveries gave humankind a new, revolutionary way of thinking about the natural world and our place in it. His insatiable quest for knowledge and decades of meticulous observation and analysis opened new pathways for advancements in biology, medicine, genetics and ecology," said Rep. Himes. "Without Darwin's contributions to science, philosophy and reason, our understanding of the world's complexity and grandeur would be significantly diminished."

This is the fourth year that the Darwin Day Resolution has been introduced. For the past two years, it was introduced by former U.S. Rep. Rush Holt (NJ-12) and was also introduced by former U.S. Rep. Pete Stark (CA-13) in 2011.

The American Humanist Association worked closely with Rep. Himes, his staff and other members of Congress to introduce this resolution. The resolution is co-sponsored by Representatives Matthew Alton Cartwright (PA-17), Stephen Cohen (TN-09), Rosa DeLauro (CT-03), Bill Foster (IL-11), Mike Honda (CA-17), Zoe Lofgren (CA-19), Alan S. Lowenthal (CA-47), Eleanor Holmes Norton (DC), Mark Pocan (WI-02), Adam Schiff (CA-28), Louise Slaughter (NY-25), Adam Smith (WA-09), and Jackie Speier (CA-14).

"With climate change deniers and others with anti-science views threatening our planet, there is an urgent need for our politicians to openly voice their support for scientists and science education," said Roy Speckhardt, executive director of the American Humanist Association. "We are grateful to Rep. Himes and the resolution's co-sponsors for their recognition of Charles Darwin's contributions to science and humanity."
HOUSE RESOLUTION 67
Expressing support for designation of February 12, 2015, as ''Darwin Day'' and recognizing the importance of science in the betterment of humanity.
IN THE HOUSE OF REPRESENTATIVES
FEBRUARY 2, 2015
Mr. HIMES (for himself, Mr. SCHIFF, Mr. POCAN, Ms. DELAURO, Ms.SLAUGHTER, Mr. HONDA, Mr. COHEN, Mr. FOSTER, Ms. LOFGREN, Ms.NORTON, Mr. CARTWRIGHT, and Mr. SMITH of Washington) submitted the following resolution; which was referred to the Committee on Science, Space, and Technology
RESOLUTION
Expressing support for designation of February 12, 2015, as ''Darwin Day'' and recognizing the importance of science in the betterment of humanity.
Whereas Charles Darwin's theory of evolution by the mechanism of natural selection, together with the monumental amount of scientific evidence he compiled to support it, provides humanity with a logical and intellectually compelling explanation for the diversity of life on Earth;
Whereas the validity of Darwin's theory of evolution by natural selection is further strongly supported by the modern understanding of the science of genetics;
Whereas it has been the human curiosity and ingenuity exemplified by Darwin that has promoted new scientific discoveries that have helped humanity solve many problems and improve living conditions;
Whereas the advancement of science must be protected from those unconcerned with the adverse impacts of global warming and climate change;
Whereas the teaching of creationism in some public schools compromises the scientific and academic integrity of the United States education systems;
Whereas Charles Darwin is a worthy symbol of scientific advancement on which to focus and around which to build a global celebration of science and humanity intended to promote a common bond among all of Earth's peoples;
and
Whereas February 12, 2015, is the anniversary of the birth of Charles Darwin in 1809 and would be an appropriate date to designate as ''Darwin Day'': Now, therefore, be it
Resolved, That the House of Representatives—
(1) supports the designation of ''Darwin Day'';
(2) recognizes Charles Darwin as a worthy symbol on which to celebrate the achievements of reason, science, and the advancement of human knowledge.
While this resolution stands no chance of passing, it is encouraging to know that there are Representatives that have a good understanding of the natural world and the importance of science.