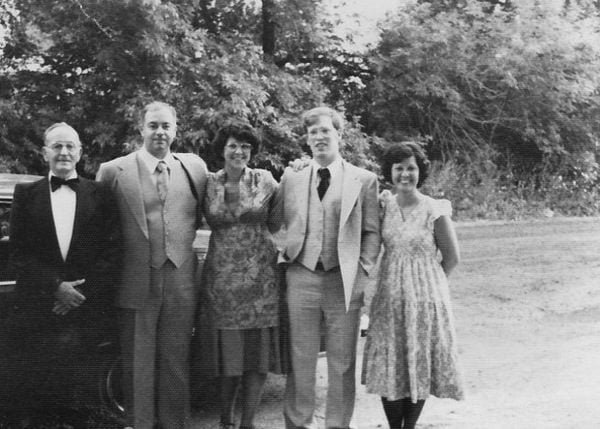 When I write posts like Leaving the Ministry: Dealing with Guilt and Regret, I am always concerned that someone might conclude that I was unhappy while I was in the ministry or that felt I was trapped in a job I didn't want to be in.  Neither of these conclusions would be an accurate assessment of the twenty-five years I spent in the ministry.
If you have not done so, please read Bruce, Were You Happy in the Ministry? Part One.
In October 1979, Polly and I, along with our newborn son Jason, packed up our meager belongings and moved from Montpelier, Ohio to Newark, Ohio. Polly's parents lived in Newark. Her father was the assistant pastor at the Newark Baptist Temple, an Independent Fundamentalist Baptist (IFB) church pastored by her uncle James Dennis. For a few months, until we could find a place to live, Polly and I lived with her parents. Our first home in Newark was a duplex several blocks from Polly's parent's home. Living in the other half of the duplex was an older couple who attended the Baptist Temple. Later, we would move to a two-story home across the street from Polly's parents. We lived there until we moved to Buckeye Lake, Ohio in 1982.
Both Polly and I agree that our time spent living in Newark was one of the most difficult and challenging times we have ever faced in our thirty-nine years of marriage. Polly started working at Temple Tots — the unlicensed daycare "ministry" of the Baptist Temple. In the fall of 1980, Polly found herself pregnant with our second son, Nathaniel. By then, she had started teaching first grade at Licking County Christian Academy (LCCA) — an unlicensed, unaccredited school operated by the Baptist Temple. (Polly was paid less money because she was not the breadwinner.)
I busied myself working in the church's bus ministry, hoping that Pastor Dennis would make me the director of the bus ministry. He did not, telling me that it wouldn't be right for him to give a family member the job. (Numerous family members would later work for the Baptist Temple.) James Dennis and I spent the intervening years in a love-hate relationship, with major conflicts seemingly bubbling to the surface every few years. While Polly's family puts the blame for this squarely on my shoulders, a fair accounting of our conflicts shows that both of us bear responsibility for our inability to see eye-to-eye. Our history is long, complex, and littered with buried secrets that, even at this late date, could prove to be embarrassing. Age and health problems have pummeled James Dennis and me into submission, leaving us without the strength and will to continue the war. This is for the best.
After working for the local cable company repairing push-button cable boxes and working at several factories, in early 1980, I accepted a managerial position with Arthur Treacher's — a large fast-food seafood restaurant chain located in Columbus, Ohio. My starting pay was $144 a week, or about $423 a week in today's dollars. After my training and a few months as the assistant manager of the Heath, Ohio store, I was promoted to the general manager position of the Brice Road store in Reynoldsburg, Ohio. I would spend the next eighteen months daily driving back and forth from Newark to Reynoldsburg — about 27 miles one way. I worked long hours, six, sometime seven, days a week.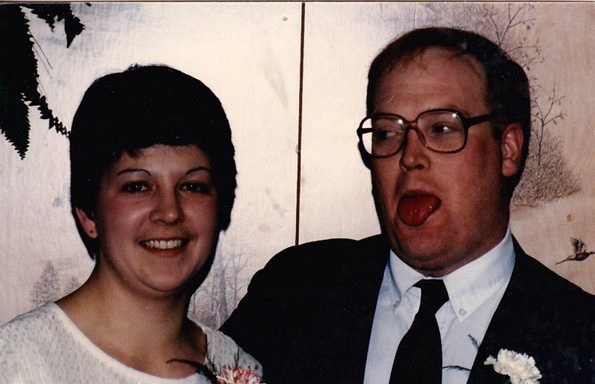 With Polly busy raising young children and teaching at LCCA and me working long hours at the restaurant, we found ourselves estranged from one another. For a time, Polly and I were like two ships passing in the night. Polly, ever the awesome mother, focused her attention on our two boys, figuring that our marriage would be just fine. In her mind, the kids came first. I, on the other hand, ever the workaholic, poured myself into my job, often leaving for work early in the morning and returning late in the evening. Conflict with Polly's parents and Pastor Dennis increased during this time, so I used my long work hours as a way to avoid interaction with her family. I was able to avoid family gathering by saying, I have to work, sorry. Polly's family didn't seem to mind that I was absent, believing then, as they do today, that I was "different."
While Polly and I never talked about the dreaded D word, divorce, both of us recognized that our marriage was in trouble. We were deeply committed followers of Jesus and active in the machinations of the Baptist Temple. Despite my long work hours, I still worked in the bus ministry, went on visitation, and attended church services on Sunday. Polly helped with the nursery and sang in the choir. While we were busy, our life was not what we expected it would be when we left Midwestern Baptist College in 1978. Both of us believed God had called us to the ministry, so as long as we weren't in full-time service for the Lord, our lives were not in line with the will of God. Polly and I saw this as one of the reasons we were having marital troubles. Decades later, now an old married couple with grandchildren, we now know that the root problem was immaturity and fanciful expectations. Our focus should have been on family and building financial security. Instead, we yearned to be Pastor and Pastor's wife. In our minds, Jesus and the ministry came first. Wholeheartedly believing this would plague us for much of our married life.
Late in 1981, Mrs. Paul's bought out Arthur Treacher's. Mrs. Paul's made all sorts of stupid changes, and after several months of working for them, I decided I had had enough and turned in my resignation. Several weeks later, I started working for Long John Silver's as an assistant manager. Long John's was rapidly expanding in the Central Ohio area, and I was part of a team of managers that helped open new stores. Polly had, by then, stopped teaching and returned to working at Temple Tots. Towards the end of the year, Polly's Dad decided to leave the Baptist Temple — a long story in and of itself — and start an IFB church in nearby Buckeye Lake. He asked if Polly and I wanted to come along and help him with the new church. We quickly agreed, and I became the assistant pastor of Emmanuel Baptist Church in Buckeye Lake, Ohio. Finally, Polly and I thought, we are back on track, doing that which God had called us to do.
Though much turmoil and heartache would await us in the years to come, we were happy to be in the ministry once again. Outside of a few months here and there when I was between churches, we would spend the next twenty or so years pastoring churches in Ohio, Texas, and Michigan. No matter what trials and adversity came our way, we were happy to be serving the Lord. The Apostle Paul wrote that he had learned, regardless of the state of his life, to be content (Philippians 4:11) Over time, Polly and I became quite stoic about life. No matter what came our way, we smiled, put our trust in the Lord, and practiced the content Paul spoke of. Our commitment to Jesus gave us what the Bible calls, a "peace that passes all understanding" (Philippians 4:7). Life wasn't easy for us, but it was satisfying. Difficult times were seen as tests from God (James 1:2-4) or loving correction (Hebrews 12:5-8) from our Heavenly Father. All that mattered was that we were in center of the perfect will of God for our lives (Romans 12:1,2). Believing that the calling of God was irrevocable (Romans 11:29), being in the ministry was what mattered most to us. Over time, the "ministry" swallowed up Bruce and Polly Gerencser, leaving us with no self-identity. We spent much of our marriage denying self and sacrificing ourselves for the cause. After leaving the ministry, and later leaving Christianity, Polly and I had no idea who we were. Our post-Jesus years have been spent reacquainting ourselves with who we really are. This process has been painful, yet satisfying. While we were happy in the ministry, our happiness was derived from "doing." These days, we continue to learn that happiness most often comes from being, not doing.
Stay tuned for Part Three.