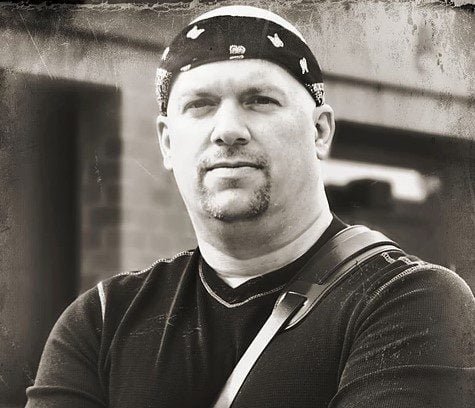 The Black Collar Crime Series relies on public news stories and publicly available information for its content. If any incorrect information is found, please contact Bruce Gerencser. Nothing in this post should be construed as an accusation of guilt. Those accused of crimes are innocent until proven guilty.
Bret Welty was formerly a sound tech at Calvary Chapel in Boise, a pastor at Common Ground Biker Church in Meridian, and currently the pastor of Hard Rock Revival Church (a home church) in Boise, and the operator of Sound Harvest (all in Idaho) — a business that set up audio equipment for churches and events. (According to Linkedin, Sound Harvest is owned by Michelle Welty.) Welty also sold real estate.
Hard Rock Revival Church describes themselves this way:
We are a new church with old roots!  Doing our best to recapture and revitalize Jesus' mission here in Boise.  We have started off as a home based church and plan to grow as the Lord ads [sic] to us and we would love to serve you and your family.  Our Pastors Bret and Kelly Welty have served as ministers and Worship Leaders for over 30 years and worship is a center point here at Hard Rock Revival.  So is connecting people with Jesus and God's word!  We endeavor to give our utmost towards raising up God's people to be active, healthy, and loving people who want to make a difference in this crazy world.
Earlier this month, Welty was charged with "sexual abuse of a minor younger than 16 years old, and lewd conduct with a minor younger than 16 years old."
One of the members of his congregation was a 15-year-old girl who was having family troubles and living with anxiety. The family felt it might help her to spend a weekend at the Welty household, where Welty lived with his wife, 15-year-old son, and 24-year-old stepdaughter. She was at the home Aug. 9.

Police and prosecutors say that night Welty entered her room and touched her inappropriately. He continued to touch her for between 30 minutes and an hour, until he was interrupted by his wife, Fouts explained in court.

"The defendant confessed to his conduct," Fouts said. "He stated that he'd struggled with such behavior before, although not with victims of this age, this young age."

Fouts asked Magistrate Judge Michael Lojek to set Welty's bail at $350,000. Smith asked for far less.

"He's been a pillar of…various churches that he was ministering at, and I would just ask the court to set bond at $25,000," Smith said.

Lojek set Welty's bond at $250,000. He also ordered Welty stop ministering, until given permission from the court "so as to protect any other…vulnerable potential victims he may come into contact with in that capacity."

Lojek said he considered the nature of the relationship between Welty and the girl. It was unique, given that he was her pastor, and the pastor for the rest of her family. He issued two no contact orders in the case, barring Welty from having contact with the girl, as well as with her father.
Matthew Fouts, of the Ada County Prosecutor's Office, stated "The defendant confessed to his conduct. He stated that he'd struggled with such behavior before, although not with victims of this age, this young age." This tells me that there is likely more to this story than has been reported. I suspect there are more victims.
Bret Welty is also a muscian. His bio page states:
Bret Welty is a blues rock singer, songwriter, and guitar player with an inspired approach to blending the soul of blues with a variety of musical genres. Bret has been playing in bands for over 25 years, in a variety of roles.

Born in California and raised on a variety of music, Bret spent his formative high school years split evenly between Oregon and later California, where he was exposed to blues and rock. "The first time I heard guitar and blues put together, I was hooked," Bret explains. As a young man, Bret tried his hand at 11 instruments before settling on the guitar. He received his first real guitar at age 15, and by the summer he had saved up enough money to buy his first electric guitar. Within 6 months, he was in his first band, and his love of performing live grew from there. Bret studied jazz in college, and has worked as a guitar teacher and faith music leader.

A true musician in every sense of the word, Bret plays drums, bass, lead guitar and mandolin. He has played all over the Northwest at both intimate and large venues, including state fairs and music festivals. Bret has played shows with Daryl Mansfield and has performed with Dennis Agajanian in concert.

Bret will release his album in 2014 "Unlimited Edition" a collection of rock and blues originals, is due to be released August 23rd 2014. It features a song dedicated to wounded service men and women whohave been hurt in the service of our country.  Coves of Bill Withers and the Marshal Tucker band can be found on this release.

Blues is at the heart of Bret's music, but listeners will also enjoy elements of jazz, rock, funk, Latin, R&B, southern rock, and country. His albums feature original song writing and topics that listeners can easily identify with: love lost, hard times, triumph, freedom, and patriotism.