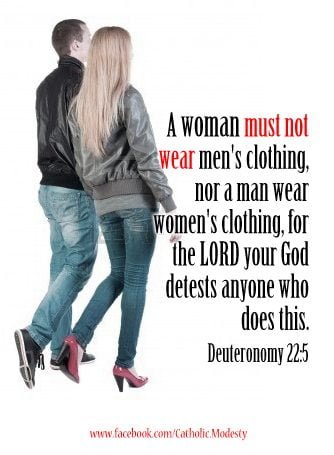 The woman shall not wear that which pertaineth unto a man, neither shall a man put on a woman's garment: for all that do so are abomination unto the LORD thy God. (Deuteronomy 22:5)
….
I want to zero in on a massive blind spot for conservative Christians; feminist envy and rebellion. Specifically, feminists have worked tirelessly to remove the stigma from women dressing like men. Feminists have been so successful here that the very idea of a woman "dressing like a man" is foreign to our current thinking.
Deut 22:5 tells us that men dressing like women, and women dressing like men is an abomination to God.
….
The problem is, for decades we have been taught that there is nothing shameful about a woman dressing like and acting like a man.  This is so much the case that it is really difficult to conceive of what would be considered cross-dressing for a woman in our culture, including modern conservative Christian culture. Which of the following would cause a modern woman to be shamed for being a cross dresser?
Wearing jeans instead of dresses and skirts?  Nope.
Wearing boxer shorts?  Nope.
Joining the army and driving a tank, eating field rations, and wearing combat boots?  Nope.
Dressing up like a lumberjack?  Nope.
Wearing a man's haircut?  Nope.
A woman today who dresses like a man might be chided for her questionable  fashion sense, but she wouldn't seen as cross dressing.  For a woman to be considered a cross dresser, she would have to go to the greatest extremes.  Not only would she have to make herself look like a man in every way, she would have to actually claim to be a man for us to consider her a cross dresser.
Contrast this with a man who does any of the below.  Is he seen as a cross dresser?
Wears women's underwear?  Yes.
Wears women's dresses or skirts (excluding kilts)?  Yes.
Wears women's shoes?  Yes.
We have in our culture two kinds of clothing/styles:
Clothing and styles everyone can wear.
Clothing and styles men must not wear.
From a practical perspective, it is all but impossible for a woman to cross dress in our culture.  We have great difficulty even conceiving of the idea.  Cross dressing in our culture is something that almost exclusively pertains to men, because a woman cross dressing is simply normal.  From this perspective, we were already half way to accepting cross dressing as far back as the 1980s.  We've lived for decades rejecting the idea that something God detests is even possible.  Even worse, we have denied that our perspective on the issue has changed.  We forgot it, and then we forgot that we forgot it.
— Dalrock (I'm a happily married man living with my sexy wife and our two wonderful kids in the Dallas/Forth Worth area), Cross Dressing Snuck Up in Our Blind Spot, November 29, 2017