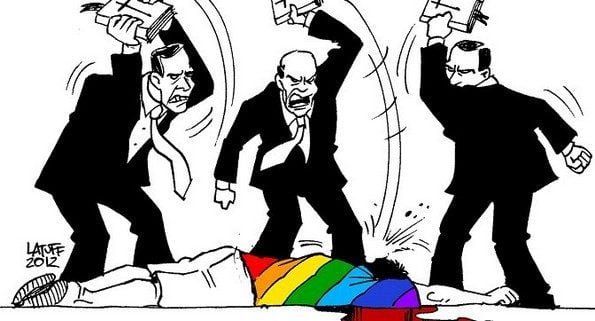 Too many people are accepting and supporting the drag queen movement to the mainstream where it doe snot belong.
In fact, according to the Bible, drag queens do not belong anywhere in society and this behavior is very wrong. There are those Christians who dismiss the OT as if it does not exist. They only go by the NT which doe snot make as explicit comments as the OT does.
In Deut. 22:5 we have God command about this issue:
A woman shall not wear man's clothing, nor shall a man put on a woman's clothing; for whoever does these things is an abomination to the LORD your God. (NASB)
Their attitude is why we wrote the post The OT in the NT and click on those words to get to that article. We will challenge anyone to show in the NT where God changed his mind or what is an abomination to him.
We want them to properly exegete any passage they find that makes it okay to disobey this command in the OT.
….
Men are to be men and women are to be women. That boundary is not to be crossed at any time. There are people out there who say women can wear men's clothing but their reasoning is all wrong and they are ignoring God's instructions.
….
This topic may bring up the arguments of traditional clothing, i.e. kilts in Scotland.
All those situations do is tell everyone that somewhere in the deep history of a society, civilization, or nation, people began to ignore God and his feelings and dressed the way they wanted to. it just happens that those items of clothing made it to the 20th and 21st centuries.
Adding cultural practices to those changes in clothing styles does not make cross-dressing good or right. What is wrong in the beginning is also wrong centuries down the road. But that classification of wrong must go by God's declaration, not someone's personal preference.
This situation is not helped when famous fashion designers start to market women's clothing to men. We are not going to be one of those people who say 'what you do in your own home is up to you.'
If it violates God's commands then it is wrong when done in public and wrong when you do it at home. But here is the clincher. Dressing in drag, male or female, is not the unpardonable sin. Drag queens can find forgiveness if they truly repent of ALL their sins and give up their desires to be drag queens.
They will need to let Jesus totally redeem them and make them new creatures. Repentance and redemption do not work if the sinner hangs onto their sins. This goes for homosexuals and transgenders as well as other members of the LGBTQ community.
You have to love Jesus more than your sins to receive repentance and redemption and all of this is done by the grace of God. If you want a new life, you have to totally get rid of the old (this does not mean getting a divorce or similar actions).
— Dr. David Tee, whose real name is Derrick Thomas Thiessen, TheologyArcheology: A Site for the Glory of God, The Rise of Drag Queens, March 21, 2023
Thiessen is a certified homophobe. He's hardly unique, in this regard. Such people say they believe in salvation by grace, but when it comes to gay people, transgender people, drag queens, and the like, all of a sudden, salvation by grace is abandoned. Thiessen adds terms to the gospel, terms that are not found in the Bible. This reveals that what is really going on here is bigotry, not concern over the spiritual welfare of LGBTQ people and drag queens. Either Thiessen has latent homosexual desires he is rebelling against, or he finds LGBTQ people sickening and revolting. Unable to just let people live, he condemns them using a bigot turd covered in a golden patina of religious verbiage.
Bruce Gerencser, 66, lives in rural Northwest Ohio with his wife of 45 years. He and his wife have six grown children and thirteen grandchildren. Bruce pastored Evangelical churches for twenty-five years in Ohio, Texas, and Michigan. Bruce left the ministry in 2005, and in 2008 he left Christianity. Bruce is now a humanist and an atheist.
Connect with me on social media:
Your comments are welcome and appreciated. All first-time comments are moderated. Please read the commenting rules before commenting.
You can email Bruce via the Contact Form.