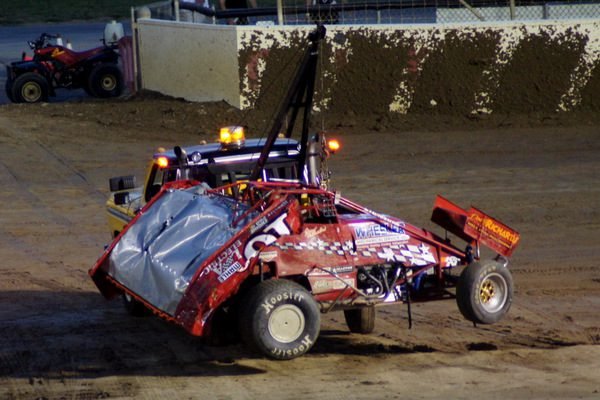 A summer or so ago, my oldest son and I went to LimaLand Motorsports Park in Lima Ohio to watch a dirt track race. LimaLand is a 1/4 mile dirt track owned by the University of Northwestern Ohio. Their regular program features 360 Sprints, Modifieds, and Thunder Stocks.
During the heat races I got up to walk a bit and buy some health food. I walked up to one of the food vendors and told the two young women working there that I would like a Snickers bar. Here's what transpired next:
One girl: I am sorry I can't wait on you.
Bruce: Why not?
One girl: It's the hat you are wearing. (A Cincinnati Bengals hat)
Bruce: My hat? What are you a Cleveland Browns fan?
One girl: How dare you insult me. I am a Pittsburgh Steelers fan.
Bruce: Well….What's your favorite baseball team?
One girl: The Reds.
Bruce: Well that's good.
One girl: (pointing to other girl) She's from Michigan.
Bruce: I rescued my wife from Michigan. She is from Bay City. Where are you from?
Other girl: Sterling Heights.
Bruce: I see. I went to college in Pontiac.
Other girl: Oh that's a bad place.
Bruce: Yes it is, but I went to college there probably before you were born.
One girl: Are you saying we are not very old?
Bruce: Yes.
This was a 90 second conversation of fun bantering back and forth.
The old man could think……"hey these young girls are hitting on me." But then the old man comes out of his delusional state and thinks, "I probably remind them of their dad or grandfather."
Typical Midwestern "shooting the breeze." All in good fun.