As most of you know, Jack Schaap, former pastor of First Baptist Church, Hammond, Indiana, is serving a 12 year sentence in federal prison for having sexual relations with a minor. (a girl who was a member of the church and Schaap was counseling her)  For more information on Jack Schaap, please read the Chicago Magazine article, Let Us Prey: Big Trouble at First Baptist Church. You can also read the letters Schaap sent to his victim here.
As anyone who spent any time in an IFB church can tell you, divorce is forbidden. The thinking goes…God hates divorce and God intends for marriage to be between one man and one woman for life.  While IFB church members do divorce from time to time, it is not a common occurrence.
For months now, rumors have been flying over the marriage of Cindy Schaap and Jack Schaap. Are they still married? Did they get a divorce?  Well, wonder no more, you who are looking for the latest dirt on the Hyles/Schaap crime family. According to a document sent to me today, on May 28, 2014, Cindy Schaap was granted a divorce from Jack Schaap.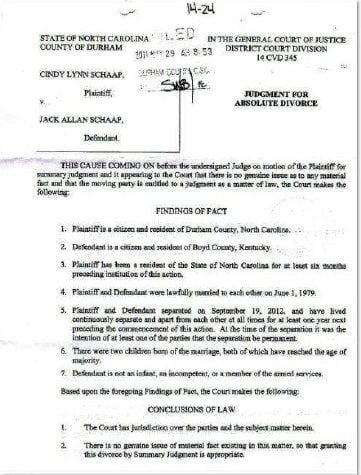 Let me be clear, I have no problem with Cindy Schaap divorcing her husband. No one should be forced to remain married to someone they no longer want to be married to. Whatever her reasons, it is her decision, end of story. What interests me is how her divorce will be "explained" within the Kingdom of Jack Hyles and the broader IFB church movement.
Later this week, I plan to write a post about marriage and divorce and how IFB churches handle divorce.