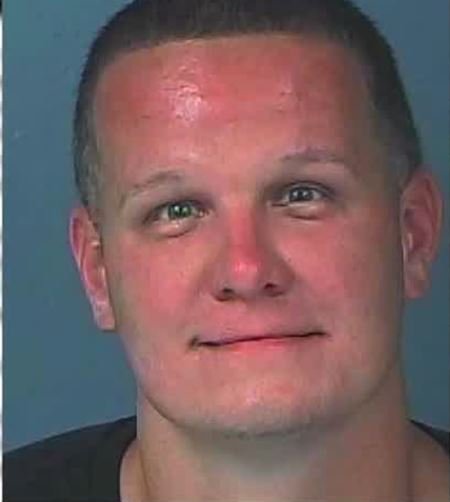 Jared Thomas, youth pastor at First Baptist Church in Ridge Manor, Florida, stands accused of giving teens alcohol and inappropriately touching a girl.
A Hernando County youth pastor is in trouble for giving alcohol to minors.

The church's website says that Jared Thomas, has been the youth pastor here at the First Baptist Church in Ridge Manor since 2012. Though police reports say back on September 5th, he wasn't acting very pastor-like.

The police report shows that after a high school volleyball match on September 5th, Thomas took his daughters to hang out with friends.

The report says Thomas stayed at the home and gave the girls alcohol and became very drunk himself. It goes on to say that he touched a girl inappropriately and was making obscene comments to that girl, then began chasing her. It also says he broke a window in the home after the girl locked him out.

"She was scared." said Jason Sager. Sager says the girl was a player on the youth basketball team that Thomas coaches. Sager and his wife mentor the girl and says she texted him that night.

He said, "She was frightened, as she should be. There was an adult giving chase to her in a vehicle."

Deputies arrested Thomas Sunday night.

Sager has now stepped in to coach the youth basketball team. "I'm a Christian myself and I do believe that judgment is up to God, but I do believe that Mr. Thomas needs to do a little soul searching."

We reached out to the church and to Jared Thomas trying to get a statement about these charges but did not get a response.
Thomas' bio on First Baptist's website states:
Jared Thomas has been the Youth Pastor of Ridge Manor First Baptist Church since November of 2012. He is leading the Ridge Manor Student Ministry called UTURN Student Ministries with a focus on the passage of scripture Acts 1:9 Turn to God, give up sin and you will be forgiven. While being passionate about making disciples and seeing people reach their maximum potential in who they are in Jesus Christ, Pastor Jared and his Wife Josie came up with the ministry motto: "Changing Course and Making Turns in the Right Direction".

Jared was ordained into the gospel ministry by FBC of Ridge Manor and has taken on a more involved role at the Church assisting with Pastoral Care. Having grown up in the Church he has served in Ministry in some way shape or form his whole life.

Prior to arriving in Ridge Manor, he had served in a few different local ministries in the Tampa Bay area for many years; working in Student Ministry, Music Ministry and Recreation Ministry. Jared and his Wife Josie are also Nationally Recognized Recording Artist Known as "Beyond Skillz".