As Polly and I travel the roads of Northwest Ohio and Southeast Indiana, we are always on the lookout for God's True Church®. Here are a few of the churches we stumbled upon in recent weeks.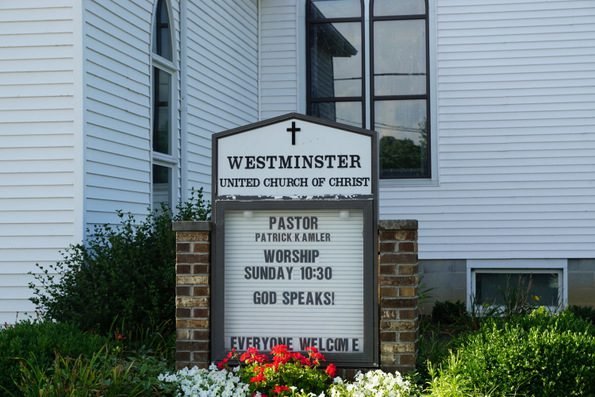 Westminster United Church of Christ, Westminister, Ohio, Patrick Amler, pastor. (No Church website)  According to the church's sign, God Speaks!  Fortunately, I am deaf and I can't hear him. I hear this God is quite the nag, long on rules and obedience, and short on grace, love, mercy, and kindness.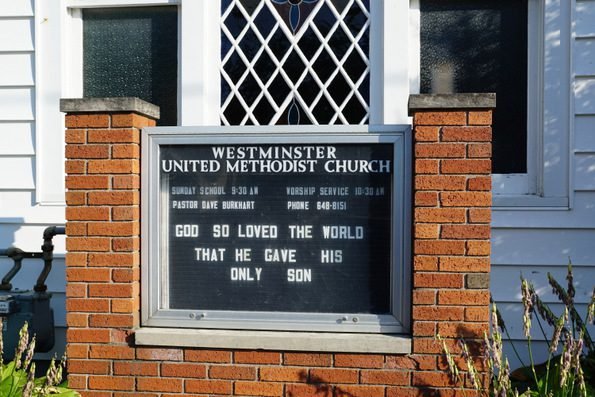 Westminster United Methodist Church, Westminster, Ohio, Dave Burkhart, Pastor. According to the church's website, their mission is "To Connect People To Jesus Christ And To Each Other."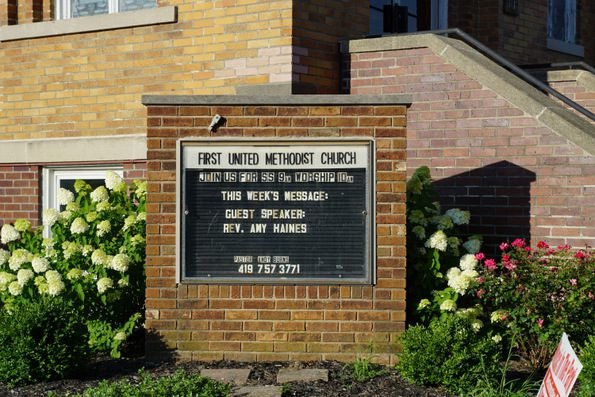 First United Methodist Church, Alger, Ohio. According to the church's website, their mission is to "make disciples of Jesus Christ for the transformation of the world. Why? Because we care about you, we care about our community, and we care about our world."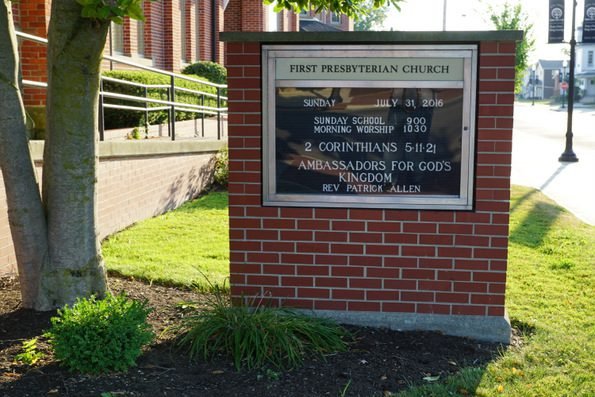 First Presbyterian Church, Ada, Ohio, Patrick Allen, Pastor. The church's vision statement states:
We gather in worship that is grounded and fresh.
We grow in communities of support, study, and outreach.
We go to speak and serve in the name of Jesus Christ.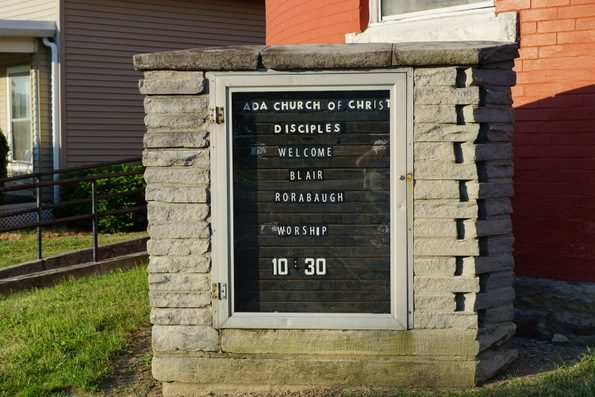 Ada Church of Christ — Disciples, Ada, Ohio, Blair Rorabaugh, Pastor. (No church website)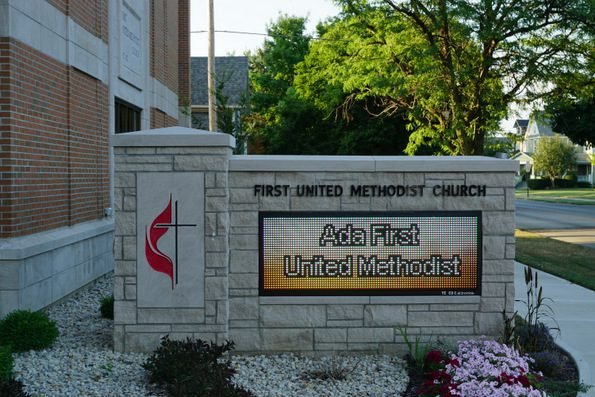 First United Methodist Church, Ada, Ohio, Mary Jo Yeakel, Pastor. According to the church's website, Ada First burnt to the ground in 2012. The congregation moved into its swank new facility in 2015.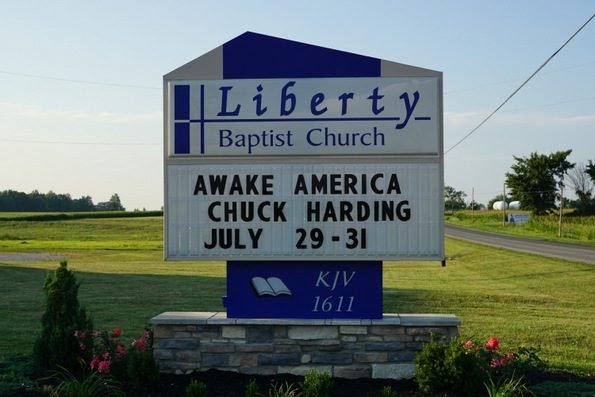 Liberty Baptist Church, Ada, Ohio, Lon Taylor, Pastor. According to the church's website, Taylor is a graduate of Peter Ruckman's college — Pensacola Bible Institute. Liberty Baptist believes that "the Holy Bible (KJV), is the Infallible, Inspired, Perfectly Preserved Word of God."  Liberty Baptist describes itself this way:
We are an active and established Fundamental, Independent Baptist Church located in west-central Ohio. We emphasize preaching and teaching of the Bible that is both instructive and relevant to meet today's ever demanding needs and problems. We believe that God has inspired and preserved His Word for us in the King James Bible. The music of Liberty reflects an uplifting and Christ honoring spirit from our song service to our special music.
Evidently, Liberty Baptist congregants and its pastor think that America is asleep. Narcolepsy is so rampant that the church brought in Evangelist Chuck Harding — a sleep specialist — to help rouse Americans from their sleep. You can find out more about Harding's taking America back for God ministry by checking out his website Awake America.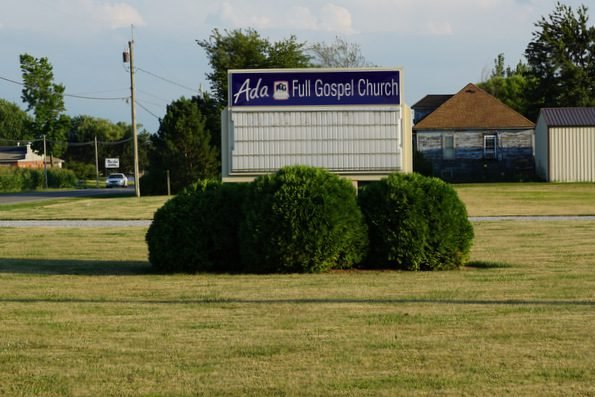 Ada Full Gospel Church, Ada, Ohio, Karen and Fred Rarey, Pastors. According to the church's website, its pastors have the following vision for Ada Full Gospel:
Preach good tidings unto the meek.
Bind up the broken hearted.
Proclaim liberty to the captives.
Open the prisons to them that are bound.
Proclaim the acceptable year of the Lord.
Proclaim the Day of Judgment, of our God.
To comfort all that mourn.
To give to them that mourn.
To give good for depression.
To give anointing, welcome and gladness.
To preach the gospel to all, that Jesus will be glorified.
This is my favorite church sign. I think the message on the sign says it all!