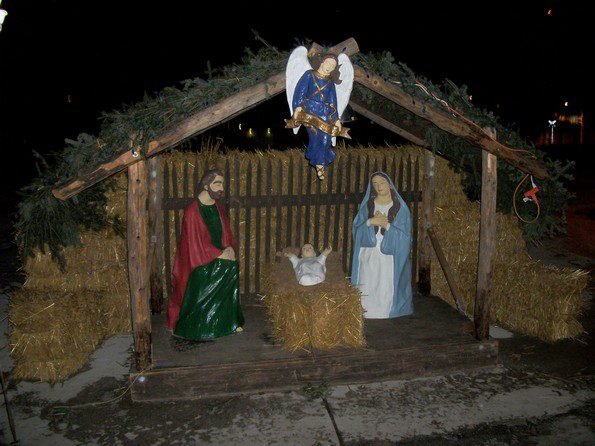 The Freedom From Religion Foundation (FFRF) asked the city of Wadena, Minnesota to remove a nativity scene from government property. FFRF told the city that such displays are unconstitutional. Adena officials, fearing legal action, removed the nativity scene. As is often the case in these kinds of stories, Wadena-area Christians quickly voiced their outrage over what they consider a satanic, atheist, commie, liberal attack on Christianity. Offended Christians quickly established a Facebook page to voice their disapproval of Wadena City Council's decision to remove the nativity scene. Local Christians rallied, intent on beating back the godless horde at the city gate, and soon over a thousand nativity displays were erected on private property in Wadena.
Wadena Christians think they have one-upped FFRF and their atheist supporters, but they seem unable to understand that the issue was NEVER nativity scenes on private property. The singular issue was the city of Wadena's violation of the establishment clause . The courts have repeatedly ruled that it is unconstitutional for government entities to erect nativity scenes on public property. Since the nativity displays are explicitly Christian in nature, their erection on public property is considered government sponsorship of (sectarian) religion. Unfortunately, it seems that many Christians, especially Evangelicals, are woefully ignorant about the First Amendment, the establishment clause, and the separation of church and state. What follows are comments left by Christians on the Wadena Nativity Display Facebook page. (page administrator have deleted hundreds of comments left by atheists in support of the removal of the nativity scene)  I would say enjoy, but I suspect readers of this blog will collectively sigh and shake their heads over the David Barton-esque ignorance displayed in many of the comments.
Each paragraph is a different comment. All spelling and grammar errors in the original.
Well honestly, if you're an atheist and don't believe in any of it anyway, then seeing a nativity scene should have no effect on you whatsoever. Any more than seeing a santa & reindeer. Just sayin'… Our country was built on Christian principles, whether you like it or not. What everyone has distorted is the meaning of the words which say 'freedom OF religion", not "freedom FROM religion'… I'm so sick of political correctness, and everybody being offended by everything. This kind of crap offends ME! I do notice that everyone (atheists included) have no problem celebrating the holidays, like Christmas and Easter… everyone likes a day off work, eh? Sorry for the rant, but I'm just tired of it…
Kudos to the citizens of Wadena for showing solidarity in your faith and 1st Amendment rights..Your elected officials…not so much. They need to grow a pair and stand up against the threats and bullying tactics of the unpatriotic, unconstitutional "Freedom" from religion liberal hacks. (I thought liberals were supposed to be "tolerant" of other peoples' beliefs?)
We are a CHRISTIAN Nation. Fight it all you want. it wont change . Stand proud and stand up for the Savior ! he does it for us daily.
We Need to stand for GOD!! I'm tired of all this stuff about how, We as Christians can't do this and can't do that and we will offend this person. I have a relationship with CHRIST!!! No one can take that away from me. I do not push my beliefs on anyone, if they have a question, I answer. We are to spread the good news of the Lord.
Why not? You atheists get special treatment because you whine like little babies. If YOU don't like something…then don't look at it! Grow up and stop trying to force your NON-BELIEFS on everyone else!
See, Tom..that the lib mentality…rights for JUST them and what they believe in or don't believe in. They are lonely, sad, bitter people who were never hugged enough as children.
No the atheists dont want to stop people from celebrating Christmas, but they sure do have an agenda. They want their voice to be heard loud and clear and they want us to shut up and be quiet. WELL we have a voice too and we will be heard – just like ALL the atheists who loudly proclaim they dont like "religious" stuff sitting around in public places. Its just bunk. Listen, the Christians will fight and our voices will be heard. We dont care who likes it.
A Nativity Scene is NOT an ENDORSEMENT of RELIGION but of an IDEAL and the SOURCE of an IDEOLOGY NOT A RELIGION! Christianity and being a Christian is NOT a RELIGION, IT is an IDEOLOGY! Catholicism IS a RELIGION, Baptist is a RELIGION!, Pentecostal is a RELIGION! ISALM is a so called RELIGION, The Jewish faith and culture is THE RELIGION on which the tenets of Christan IDEOLOGY is based and all the RELIGIONS based on Christian IDEOLOGY! WAKE UP AMERICA YOU ARE BEING HAD BY COMMUNIST PROGRESSIVE LIBERAL TRASH! (this comment is my favorite)
Twisting words and meanings to suit their own devilish divisive plans! Merry CHRISTmas to ALL
By putting up Nativity Scenes on private property, you're letting the atheists (and the constitution) win!!! Moving displays of Religious faith from public spaces to private ones is EXACTLY what the atheists are trying to accomplish!!!
Christianity is about a relationship, not a religion, and Christianity is The Freedom from Atheists Foundation! MERRY CHRISTMAS!!!!
You are my heroes Wadena!! I am proud to be an American and a Christian and I applaud your actions!! WWJD
Great job Wadena! God bless your efforts! They removed one display, and gained hundreds. Thank you atheists, for bringing this community together, in Christ's name!
I am of Christian faith and I think this is wrong for Atheist to make Christians take down something of our belief and faith. We have to watch violence every day from ungodly people so why can't we support our God?! I will be praying for everyone who was not supportive of the display. God Bless you all!
What holiday is that Youre talking about? my plastic jesus offends you and your lifestyle offends me. No one is forcing jesus on you….but you are forcing me to accept homos…You're a bigot.
I live in Oregon and can't attend your events or supporting person. But I believe in you and am a nativity scene lover, Jesus follower. Keep your head up and protect you constitutional rights FREE SPEECH and EXPRESSION.
A big THANK YOU from our family to all those who are holding the line against those who desire to clean our history and life in America from Jesus, the actual cause and center of this season and life. Thanks for helping keep CHRIST in CHRISTmas!
Well done all from me in Australia , They will never take away the christmas spirit and what the foundation of our countries stand for , This PC crap has to stop, I am not a religious person yet I am definitely not offended by this , they are saying it's atheists but I really think it's something else, Just saying , Anyway proud of you all xo and Merry Christmas
"But whoever denies Me before men, I will also deny him before My Father who is in heaven. Matthew 10:33 NAB God Bless the town of Wadena for acknowledging that Jesus is the Reason for the Season.
I just want to say that I'm proud of y'all for standing up for the Lord and for the holiday. With everything going on, it makes me sad that God is slowly being taken away in our country. Its good to know that there are still people that will stand up for Him. God bless y'all and Merry Christmas!
Somehow Separation of church and State has been misinterpreted through the years. Jefferson meant for it to protect the church from the state or govt interfering in the church's affairs. In other words- not a state-run church as England and other countries had at the time our forefathers came here to escape this type of persecution. Let's not let a group like Freedom from Religion become a dictator over our lives!!! Also contact Wallbuilders – David Barton.
God is with you! Stand strong! So wish I could give you a hug! My heart is so heavy for our nation, but you have made my burden a little lighter through your bold faith!
Would to God more people would stand up to the devil this way. We could win this battle if only Christians would take a stand. I would only add this, when you election comes around, I would make this a campaign issue and vote out every city counsel member and the mayor and vote in members that will put it back and stand up to the Freedom from Religion and the ACLU. If people would just stand up, they can't fight everyone. I find it hard to believe they would waste resources on this lawsuit when they have larger fish to fry. This is called Green Mailing and up until now, it has been mainly used on schools, not small townships. Thank you.
Greetings and Merry Christmas from Missouri!! Just read the story about your city council voting out their Nativity scene, and how the town rallied and put up HUNDREDS of nativity scenes. Listened to one lady's interview, how she felt the city was trying to "bully" people. I think that describes alot of people's feelings about having to constantly defend their Christianity, we are nearly bullied into giving in, giving up. Soooo glad you all didn't do that! Jesus is alive, and his birth is a wonderful thing to celebrate as a family. THANK YOU for standing firm in your faith, may God bless you all richly this season, and always!
Hi! I just heard about what you guys are doing. I am a senior in high school, and I am an active member of the Foreman First Baptist Church, here in Foreman, Arkansas. I think what you are doing is great! It really goes to show how many people still stand for what is morally right. I have a great respect for you all. It's a bit out of your way, but my family, as well as community, completely and totally, 100% back you up! Keep on keepin' on!!
We here in wadena Thank you so much. As for those who don't want nativity scenes up I say what Jesus said long ago forgive them they know not what they do.
I received an email today from a lady named Sharon from Branson, MO. She said: They used to live in Grand Forks, ND. They were so excited that we decided to bring Christ back to Wadena. So glad people took a stand. Guess it is hard to understand how 1 person has so much power to remove the manger scene. God bless those who took a stand.
Time they learn This is my Fathers world and it will always be and someday they will stand before him to answer for their rejection
I don't necessarily blame those who are grieved but complied to avoid lawsuits. I'm sure the hearts of the council members are rejoicing at what the people did. But those who THREATENED with the lawsuits… oh, don't get me started!
Just saw your post.. We have a family owned business in Florida,I always put on the sign that is on a main thoroughfare "JESUS IS THE REASON FOR THE SEASON " or CELEBRATE JESUS..But I have someone in family who is a nonbeliever and really thinks we should advertise more about the business.Instead of JESUS ..Well you just inspired me… to yes.. Put up on the sign"CELEBRATE JESUS..I know there will be some words to me about this.. This has always been my heart..Thank You…
Everyone needs to go to the freedom from religion page and post holiday greetings and Manger scenes on their posts. Let's spread good cheer!
Absolutely wonderful! I have a small nativity in my living room, but you can be assured, if my town had a problem like that we would build the biggest and brightest nativity all the Scrooges would have a hard time not seeing. Way to stick it to people that have such a thin skin!
I love what you guys are doing! I was so distressed to read about this attack on free speech and freedom of religion in the newspaper. I contacted Alliance Defending Freedom, a wonderful legal group, about the article I read. They got back to me and said that if anyone who LIVES in Wadena would like to contact them about the issue, they could possibly help. I believe this ban is not constitutional and that the intimidation and threat that was made is not right – perhaps they can help. But the proliferation of nativity scenes everywhere in town is a great way to stand up and demonstrate the truth. Awesome!
Telling the squeaky wheels enough's ENOUGH! If you don't like it..don't look. GOD BLESS!
Merry Christmas, Wadena, from Louisiana!! Had to come visit your site after seeing your Facebook post!! LOVE this idea!! Stand strong, fight the good fight, finish the race!! It's our 1st Amendment right that some interpret wrongly–it's Freedom OF Religion (the right to practice our Religion–express our Faith) NOT Freedom FROM Religion!!!
God Bless you all! They haven't taken our Nativity from the Courthouse yet but when and if they do, I hope people in my town will stand up for what is right like you guys have. If it makes Christians happy and doesn't hurt anyone else, then how can something be offensive? If it were a Menorah that was forced to be taken down then that would be prejudice. Not that I would have any issue at all with a Menorah. As Christians need to be strong now more than ever. Political correctness is killing our country! I support separation of church and state but you lose me at Christmas decorations or any other religion's holiday decorations.
God bless you Minnisota….remember a vote for Trump will put an end to government suddenly taking everything Christian from the United States….why is it only Christians are being attacked, hmmm?
I'm going to say this… I see a lot of trolls on pages with Christians in it… and best believe they need to stop harassing those who keep to themselves. They need to stop trying to start a war trying to come on here like we are going to stand down our faith. Remember if the Christian crusades never stop the battle, what would they even think we would stop? Amen! Keep going with your faith in Jesus christ.
Thank you, Wadena!! You are taking America back into the hands of God – where our forefathers placed us for the greater good!! May God bless all of you for your great actions!! GOD bless America!
Hey Wadena…this Pillager family stands with you! The world needs Jesus and we are proud of your town taking a stand. This is not the hour in history to back down from adversary. People are dying around us without salvation, this broken world needs Jesus and we love the nativity and all it stands for. God sent as a man to die for our sins to break the bondage of Hell and the grave for our salvation! We're proud of you! Jesus is coming soon so for the atheists who are fighting against the faith we are praying for you, it's not too late…
Just a reminder of how our right to religious freedoms as Christians are being squashed by people who have no right to control whether people celebrate their faith. Thank you for reminding us the Reason For The Season.
Wadena, I hope people all over the country follow your example of how to defeat the enemy. Score: Satan 1, Wadena 1000+
Whatever it took. If it was any other religion, it wouldn't have been an issue. The "freedom from religion" people, by their own admission, only go after Christian issues. They admitted they were afraid of Muslims!
Support from Ireland! It iritates me so much that others want to hijack our Christmas celebrations! They don't want to give up the holiday; gift giving, partys etc., but they want to cut Christ out of it!
As a pastor and preacher of Gods word …. Amen wadena "But whosoever shall deny me before men, him will I also deny before my Father which is in heaven." Matthew 10:33 KJV
Thank you for standing up to the haters, Wadena. I grew up thinking we all had rights. But I guess my right to celebrate isn't as important as someone's who doesn't want to. *smh* We need to take our rights back and yours is a good first step.
God used that Atheist Group to being the Good News of Jesus' Birth to even more People like He used Cyrus to bring His Chosen People back to the Promised Land. Geaux Wadena!
Here's the issue that people DO NOT understand about the "Separation of Church and State" (simplified version) It DOES NOT mean the state, city, or municipality cannot display a Nativity scene! It means the state cannot establish a Religion! I say display it and quit being wimps! They will not be successful in any tort action, and because the particular group only consists of 4 people just going around pushing their perceived weight on small naive communities! Stand up for your God given rights!
STAND STRONG ! THIS IS WHAT OUR ELECTED OFFICIALS NEED TO HAVE HAPPEN ! …….. KEEP pushing back and don't give up till you have that display put back up by your town !!! AMERICA was built on BLOOD, SWEAT, AND TEARS not Free phones, hurt feelings, and handouts !
Thank you Wadena for standing up to Christian bullying!! Separation of Church and state means the state can't make you take down your nativity. Shame on people for complaining. God Bless you Wadena for all your nativities!!
I'm just curious, has any Christian (or Christian group) ever taken an Atheist-Group to court for "Not" displaying a Nativity scene? I doubt it. Can you see the silly hypocrisy in all of this? It's sad and deeply rooted in something less than love. We need to pray for those who's minds and hearts are filled with exhausting thoughts of contempt towards those of us who love our Lord and Savior Jesus Christ and are able to display that love freely during this beautiful season of Joy. Please pray also for Peace on Earth.
We have a nativity set up on our property. Way to go Wadena! Stand up for Christ. Christmas is about Christ. Separation of church and state doesn't mean what these people think it means. They are just bullying Christians, but Jesus died for them and loves them too! Merry Christmas Wadena!
So Atheist can put a display on government property but religious ppl can't …how f☆ck up is that
Great job! We The People have to stand up and say "enough is enough" for those atheists and others who are trying to keep pushing God and Christians out of our society.
I applaud you for standing up to these bullies who want anything related to Christianity removed from our lives!
I absolutely Love it, the Atheists never are bothered by these Nativities, they just like to cause trouble and hate. Hallelujah that your town has stood up for Religious Freedom, nowhere in the Constitution does it say a state cannot have God. Separation of Church and State is merely a sick interpretation by a proud bunch of men. God will straighten this out one day. Thank you for this.
I've said this for years. There should be tens of thousands of nativity scenes put on public land by private citizens. Let's see how many lawyers, judges, and police it takes to get rid of them all or how many of them really have the resolve and/or desire to enforce really stupid judicial rulings
Great job Wadena! This is what America is about. Tyranny can never take hold if We The People do not allow it. In no way does a public display of an historic event, and the very reason we celebrate Christmas violate the Constitution. I'm proud of you!
Saw the Fox News segment. Why do people have to be like this. I live in Elkhart Indiana where one student made Concord High School take out the live nativity. These people make me sick. Keep putting them up. We have rights that we need to stand for.
End of comments