As Polly and I travel the roads of Northwest Ohio and Southeast Indiana, we are always on the lookout for God's True Church®. Here are a few of the churches we stumbled upon in recent months.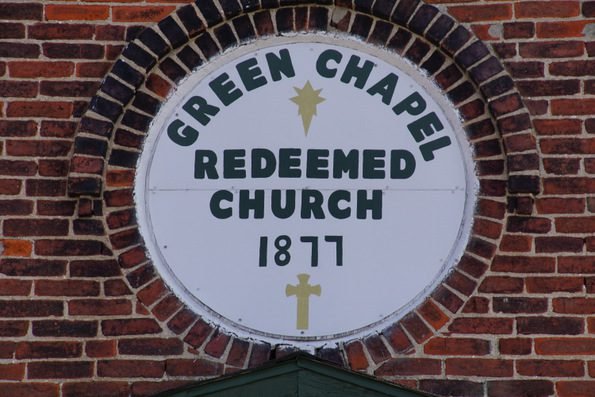 Green Chapel Redeemed Church, Wolcottville, Indiana, Melvin Heiniger, pastor.
The front page of Green Chapel's website has a NOTE FROM THE PASTOR:
Hello to all and much love. My name is Melvin Heiniger and I am the pastor at Green Chapel Redeemed Church. Thank you so much for taking 5 minutes to visit our website. I truly believe that every individual must evaluate their life. and make one very important decision . What will happen to me when I pass from this life? Will I go to a place called Heaven, or wind up in a place called hell where there awaits only suffering and pain. Some may say that if we do good things, we will go to heaven. According to the Bible, That is not so.

Romans 3:23 states, "For all have sinned and come short of the glory of God."

1 John 1:8-9 says, "if we say we have no sin, we deceive ourselves, and the truth is not in us. If we confess our sins, he is faithful and just to forgive us our sins, and cleanse us from all unrighteousness." I guess now we know that we all make mistakes.

Now for the Great news! John 3:16  says, "For God so loved the world that he gave his only begotten son, that whosoever believeth  in him, should not perish but have everlasting life." Wow… isn't it nice to know we don't have to worry anymore!  Romans 10:13  says "for whosoever shall call upon the name of the lord, shall be saved."  That "Whosoever" means YOU!!

I must ask, do you know Jesus as your Lord and savior? If not, do you want to? Is something inside of you saying "this feels right?" I hope you will say this little prayer with me and accept Jesus!

Just say, Jesus, I repent of my sins and make you my lord. I believe you came and died for me. Then arose that I could make Heaven my home. Help me be what you have called me to be!!!
Congratulations. You are now a Christian!

Welcome to the family of God! Please feel free to call and share your life changing experience with me! God bless and keep you!
Good news! I prayed the prayer and I am now a — drum roll, please — Christian!
Green Chapel has a youth program called Juveniles for Jesus. Hey, I just report what I see.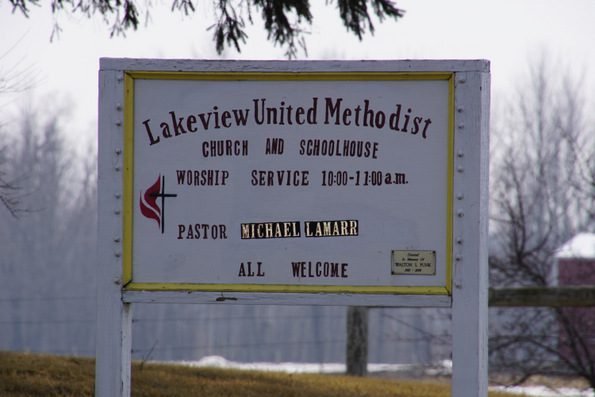 Lakeview United Methodist Church, somewhere on a back road in Northeast Indiana, Michael Lamarr, pastor.
The church does not have a website. I have awarded Lakeview the Crooked Lettering of the Year Award, given to the church that can't be bothered to cash in a certificate of deposit to pay for a professionally lettered sign.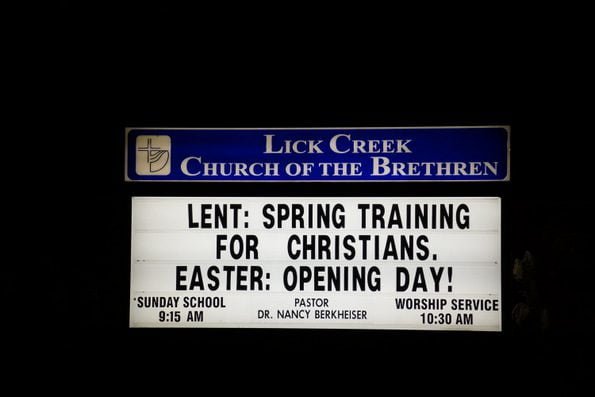 Lick Creek Church of the Brethren, Bryan, Ohio, Dr. Nancy Berkheiser, interim pastor. Organized in 1853 — the first church organization in Williams County — Lick Creek is known for "steak suppers, homemade ice cream and made from scratch apple dumplings."
According to the church's website, Lick Creek "follows the teaching of Jesus." The church's mission is to "provide spiritual direction, unity and purpose to all people by continuing the work of Jesus Christ peacefully, simply, together."
If I were asked to give advice to this church, I would tell them…immediately, without delay, gather up the book the stupid sign message came from and burn it. Baseball bears no resemblance to Lent and Easter. In the future, THINK before putting a lame message on the sign. Hint: 99.99 percent of church sign messages are lame.  Don't make it easy for unbelievers to make fun of your sign. Will the Lick Creek church listen? Of course not. Putting stupid ass messages and clichés on church signs is the in thing to do.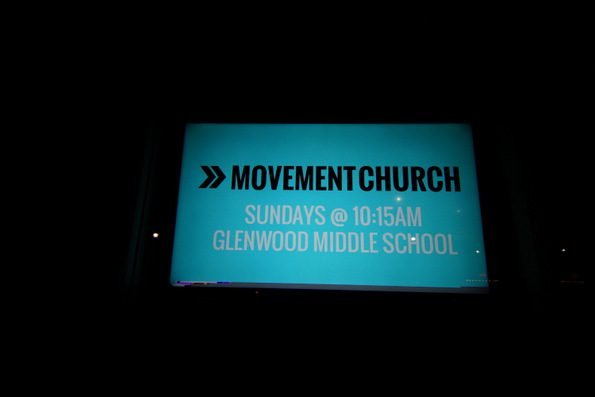 Movement Church, Glenwood Middle School, Findlay, Ohio, Eric Ferguson, lead pastor. Movement Church is a cool, hip Evangelical church for millennials (based on photos on the church's website). According to Movement's website, the church is:
We are about restoration
We are about relationships
We are real
We keep it simple
We take action
We always look outward
We are generous
We are about multiplication
According to a 2015 Findlay Family news article, Movement Church is:
a place for people to learn more about God, no matter what stage he or she is at in seeking God. The church places a strong emphasis on connecting to the community with outreach and volunteer projects.
Movement Church, similar to countless other Evangelical churches established over the past two decades, wants to put a friendly face on Christianity. However, as country folks will tell you, you can't turn a sow's ear into a silk purse, and Movement Church — based on their doctrinal statement — is no different theologically than nearby Fundamentalist churches Trinity Baptist Church and Calvary Baptist Church. Behind the nice smiles and promises of kindness and servanthood lies commitment to the inerrancy of scripture and the eternal damnation of all those who refuse to join the movement.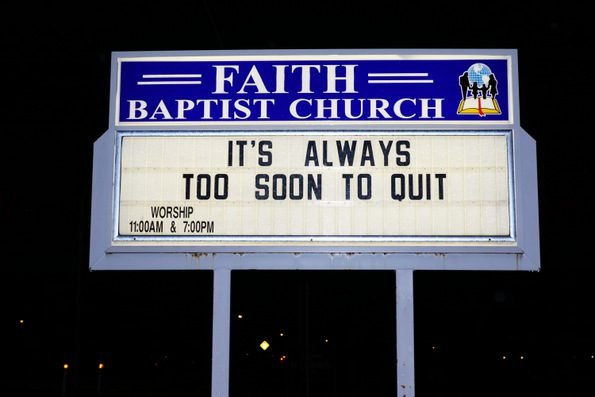 Faith Baptist Church, Ottawa, Ohio. No pastor name or website available.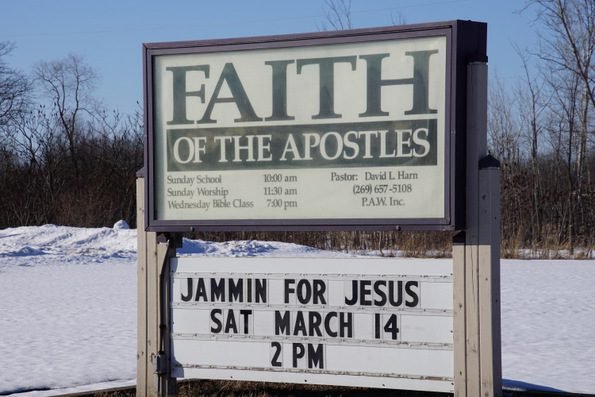 Faith of the Apostles Church, Paw Paw, Michigan, David Harn, pastor. Faith of the Apostles periodically has a service called Jammin for Jesus — a diverse worship experience you won't want to miss. According the church's website, Faith of the Apostles members believe:
WE BELIEVE the Bible to be the infallible Word of God.
WE BELIEVE in JESUS ONLY, the visible expression of the invisible God.
WE BELIEVE in one God whose Name is JESUS, who is Father in Creation, Son in Redemption and Holy Ghost the Comforter.
WE BELIEVE in water baptism by immersion in the Name of Jesus Christ for the remission of sins.
WE BELIEVE in receiving the Holy Ghost evidenced by speaking in other tongues as on the day of Pentecost.
WE BELIEVE in living a Holy and Sanctified life apart from which one cannot please God.
WE BELIEVE in the Rapture, when our Lord Jesus Christ will appear to catch away His Church.
WE BELIEVE in the Resurrection of the dead and the Final Judgment wherein all who were not in the first resurrection will be judged according to the deeds done in the body.
WE BELIEVE in a real HEAVEN with Eternal Life and a real HELL with Eternal Damnation.
Based on their statement of beliefs, I suspect Faith of the Apostles is some sort of Jesus-only apostolic or Pentecostal church.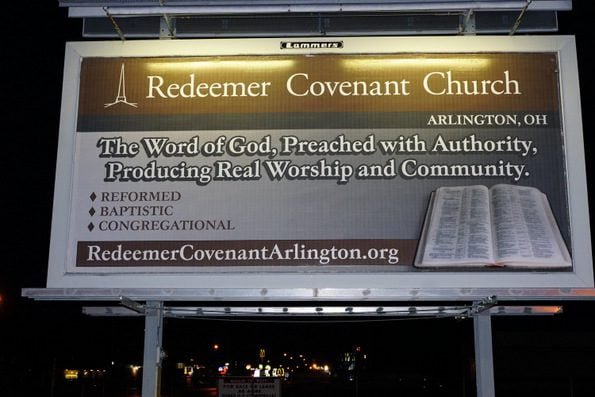 Redeemer Covenant Church, Arlington, Ohio, Caleb Hackworth, pastor. Redeemer is a Reformed (Calvinistic) Baptist church affiliated with FIRE — Fellowship of Independent Reformed Evangelicals. Buzz words abound: Reformed, Baptistic, Congregational, Integrated Family Worship, Word of God Preached with Authority —  Producing Real Worship and Community. The church is currently studying the Westminster Shorter Catechism. Redeemer is also a part of the Northwest Ohio Reformation Society and the Alliance of Confessing Evangelicals. Put it all together and what you end up with is a Calvinistic, Independent, theologically Fundamentalist Baptist church.