Mass Shooting in the United States from 1990-February 2018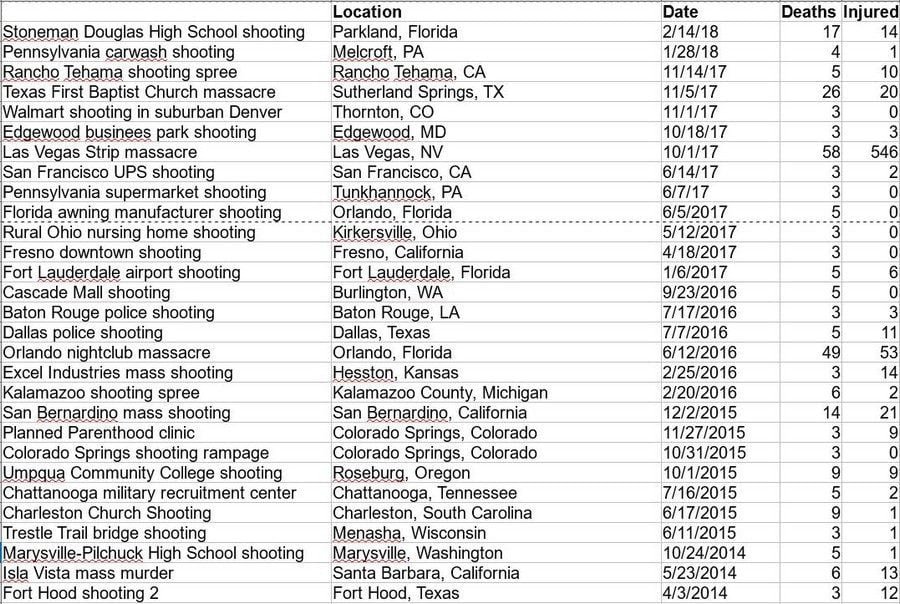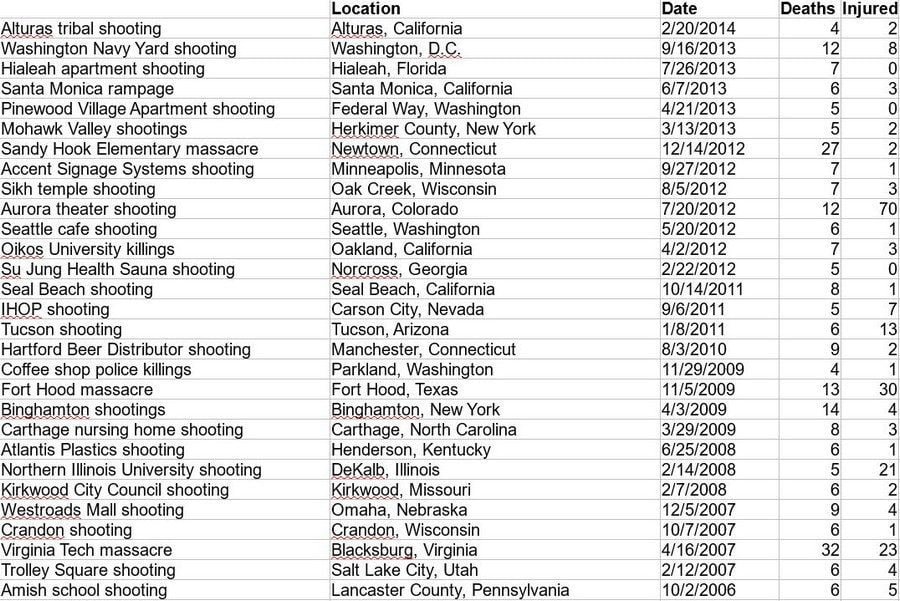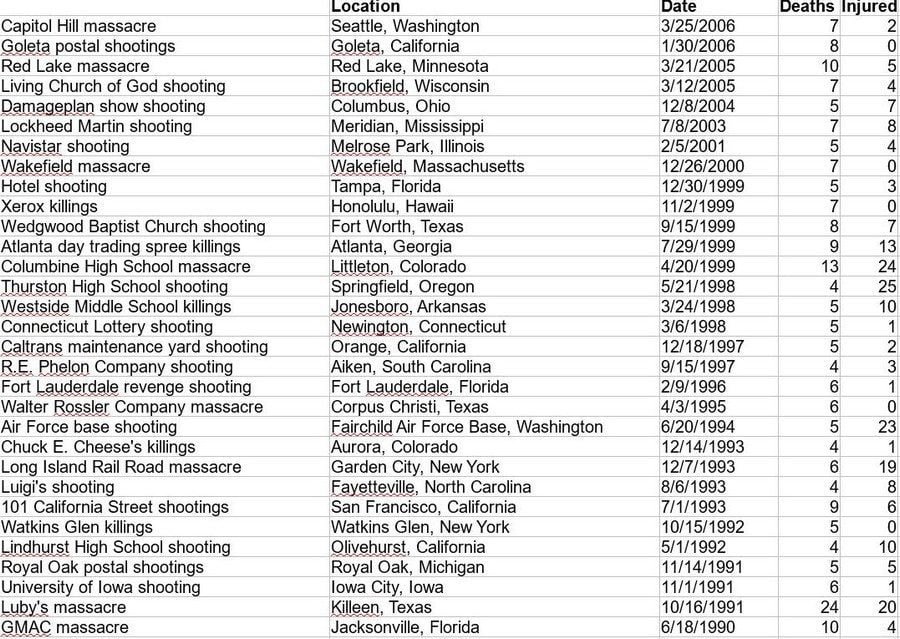 Source: Mother Jones
Three decades of mass of shootings; over 300,000 homicides; over 600,000 suicides. According to Wikipedia, 1.4 million Americans have been killed using firearms between 1968 and 2011.Wikipedia also states:
Compared to 22 other high-income nations, the U.S. gun-related murder rate is 25 times higher. Although it has half the population of the other 22 nations combined, the U.S. had 82 percent of all gun deaths, 90 percent of all women killed by guns, 91 percent of children under 14 and 92 percent of young people between ages 15 and 24 killed by guns. In 2010, gun violence cost U.S. taxpayers approximately $516 million in direct hospital costs.
By some estimates, Americans own over 300 million firearms, yet most households and individuals do not own a gun. Surprisingly, at least to me, is the fact that most Americans are reticent about banning guns or enforcing strict firearm laws. This disparity shows how effective the NRA and gun lobby are at getting their message out. Like it or not, the United States is a nation of guns. Add to our personal weapon caches the vast weapons of violence, carnage, and death used by our military, and it is hard not to conclude that we are a violent people who love weapon of mass destruction. The U.S. government searched everywhere for Saddam Hussein's weapons of mass destruction. They, of course, found none. Perhaps the search for such weapons should start here within our borders and homes.
What is needed is comprehensive gun control legislation. (Please read Another Day, Another School Massacre) Bruce, you are WRONG! Guns don't kill people, people do! Really? Are you so stupid that you cannot see the insanity of such an argument? Cars don't kill people, people do!  Yet, we have all sorts of laws and regulations that govern car ownership and use, including testing and licensing requirements. We wisely, in the name of public safety, regulate automobile ownership and use, yet many gun owners demand the right to own any kind of firearm, without restriction. Such thinking is a threat to public health and safety in much the same way as are people driving unlicensed, unregulated automobiles on highways, streets, and country roads.
Month after month, year after year, angry, often mentally ill, people use firearms to slaughter their fellow Americans. Every time such carnage happens, Republican/conservative political leaders offer up "thoughts and prayers" while reminding us that guns are not the problem. If the outrage from the survivors of the latest school shooting is any indication, younger Americans are waking up to the reality that guns ARE the problem. Emperor NRA stands before them and says, the Second Amendment is sacrosanct and banning guns won't stop mass shootings. These angry students wisely reply, BULLSHIT! They can see that the Emperor has no clothes. They see, oh so clearly, that unrestricted gun use and ownership is one part of the problem, along with the lack of mental health care for troubled teens and adults.
These young people are saying, NO MORE THOUGHTS AND PRAYERS! We want immediate and decisive action on gun control. It remains to be seen whether their outrage can be turned into a movement, one that perhaps mimics the student anti-war protest movement of the 1960s and 1970s. Back then, protesting students helped to bring an end to the Vietnam War — a decade of immoral American violence and bloodshed in Southeast Asia. I hope that today's protesting students can put such pressure on the U.S. government that it will force our political leaders, after hundreds of thousands of firearm deaths, to finally enact strict, comprehensive gun control laws.