As Polly and I travel the roads of Northwest Ohio, Southern Michigan, and Southeast Indiana, we are always on the lookout for God's True Church®. Here are a few of the churches we stumbled upon during our travels.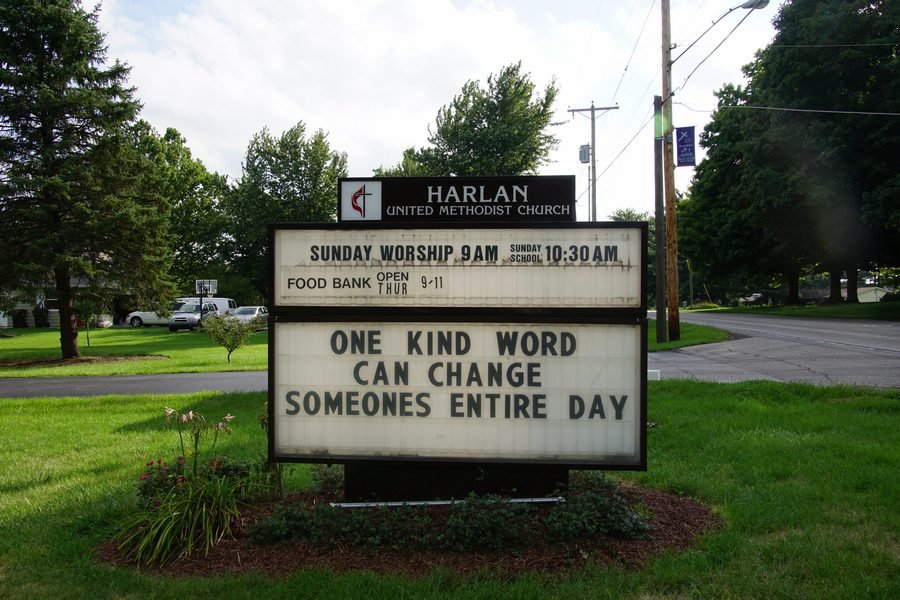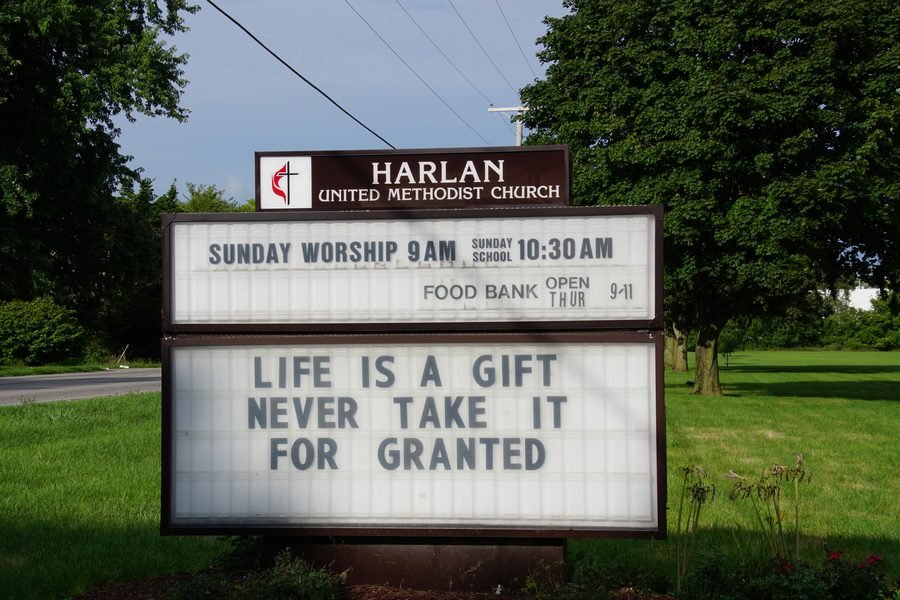 Harlan United Methodist Church, Harlan, Indiana. Harlan United Methodist's website states that the congregation's vision is "To provide, for our community, a Methodist based path for growing relationships with Jesus Christ."
From the church's January 2017 newsletter:
Have you ever thought about what has happened because Christ came into the world? That baby in the manger of Bethlehem grew up to become our crucified and risen Savior – and the world has never been the same. Jesus' compassion has made the world more compassionate. His healing touch has made the world more humanitarian. His selflessness has made the world more self-effacing. Christ drew a rainbow of hope around the shoulders of men and women and gave them
something to live for. If Christ had not come, our world would indeed be a hopeless world. If Christ had not come, ours would be a lost world. There would be no access to God, there would be no atonement for sin, there would be no forgiveness, and there would be no Savior. Yes, Christ came into the world and made it a better place. And He will do the same for you if you will open your life to Him.
Harvest Life Fellowship, Defiance, Ohio, Tim and Lisa Hacker, pastors. The church's website has a message from its pastors for those who visit their website:
Welcome! We're glad you have ventured onto this page.

In the last few years, God has been moving in unprecedented ways bringing a fresh wind to His body. Even more, the people of our church have been going out among their friends, family, co-workers, and into the community where we are seeing God move by His Spirit to change lives, heal, deliver, and bring people into a new level of relationship with Jesus Christ.

Our message to you is pretty simple. God is in a good mood and heaven is invading earth!

This website has some pretty cool testimonies on it for you to read and be encouraged by. We will also be putting up sermons from time to time for you to download or listen to via streaming audio and video.

If you are able, come join us for our weekly Sunday meeting or one of our small groups for "Christian practice". We'll do our best to equip you and send you out onto the "field" ready to bust through the enemy's line and bring God's touch down to a world in need.

We believe that you are destined to be a "supernatural being having a temporary earthly experience" and not the other way around.

God is rocking our world!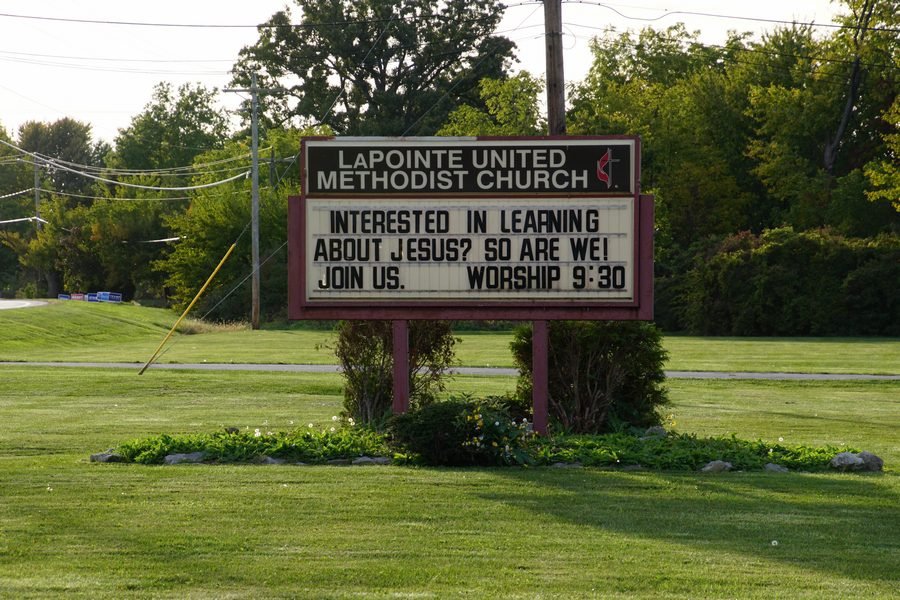 LaPointe United Methodist Church, Port Clinton, Ohio, Paula Stewart, pastor. (Church's Facebook page) To answer the question, Interested in learning about Jesus? my response is no!. Next question, please.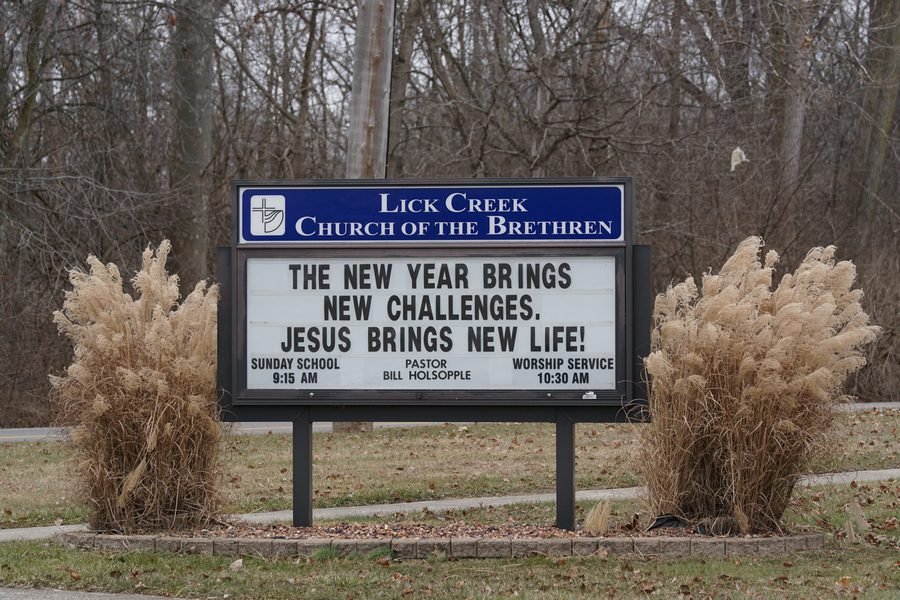 Lick Creek Church of the Brethren, Bryan, Ohio, Bill Holsopple, pastor. According to the church's About Us page, Lick Creek Church is:
…a friendly church.  You're greeted with a smile and a handshake whether it's your first visit or your 100th visit.  We even take time out during worship service to greet each other!  We're known for our steak suppers, homemade ice cream and made from scratch apple dumplings. Lick Creek Church follows the teaching of Jesus.  Our mission is to provide spiritual direction, unity and purpose to all people by continuing the work of Jesus Christ peacefully, simply, together. Hymns and music take an active part in our worship service along with Scripture readings and children's story.  And, of course, there is an uplifting message from our pastor. We offer Sunday School classes to young and not so young prior to worship service.  We recently remodeled two of our Sunday School rooms that are attractive to youngsters. Our members and friends enjoy potluck meals and opportunities to gather in our homes or local restaurants.  We also have the ideal location to view the annual Bryan fireworks show, which we celebrate with a hotdog roast and popcorn. Most importantly, Lick Creek Church of the Brethren displays love for our fellow friends and members, as well as to our community, through our service to God. In addition, we continue the teaching of Jesus by conducting Love Feasts in which church members and friends attend a simple meal, participate in Scripture readings, and conduct foot washings as Jesus did with his Disciples.
Maranatha Chapel, Harlan, Indiana. (Church has no web presence.) The church congregation wants passersby to know that the Bible is greater than all other books; or perhaps they want people to know that the words on the pages of the Bible are greater than all other words. Regardless, this church will always be remembered for a sign message it displayed in 2008: Do You Want a Muslim for President? This message told me all I need to know about Maranatha Chapel.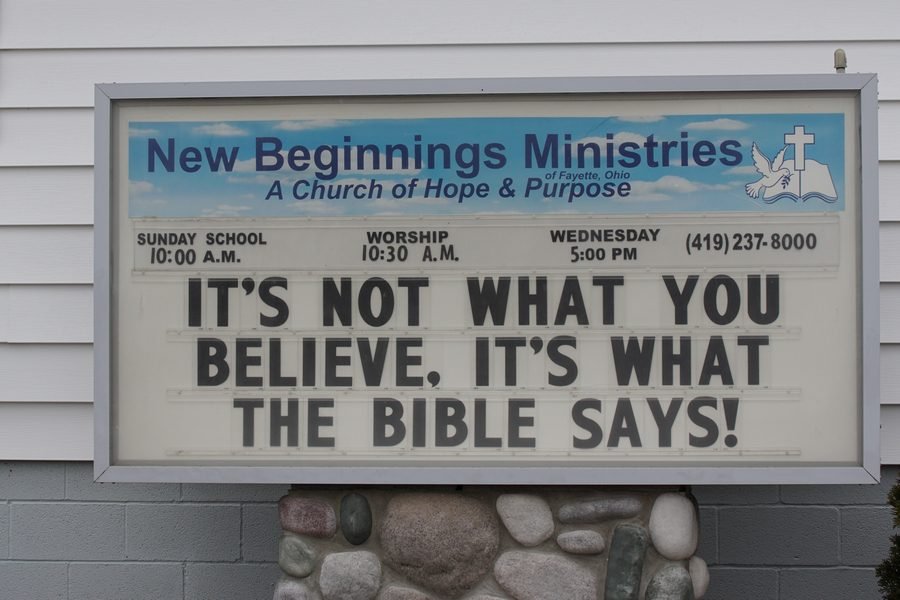 New Beginnings Ministries, Fayette, Ohio, Karen Joy King, pastor. According to the church's Facebook page:
God has raised up New Beginnings Ministries of Fayette, Ohio, to be a church which prepares people to live victoriously each day and to be ready for the soon return of Jesus Christ. Many are lost and don't know God. Many are saved and don't know God. Many will miss the Rapture because they are not ready nor looking for it as the Scriptures command. It is our purpose to lead the unsaved to Christ for salvation and the filling of the Holy Spirit. It is our purpose to comfort and strengthen each individual who attends.

Many of God's people today are struggling, defeated, and not strong in the Lord as we are commanded to be. The joy of the Lord is to be our strength, but through improper teachings and living, that joy has been stolen, rendering Christians impotent for God. God's unadulterated truth changes lives if properly taught and accepted.
New Beginnings Ministries is here to be a safe haven where people can meet God, not just be taught about Him; but to know Him — to be accepted, loved, encouraged, and strengthened so they can be all God wants them to be and then be able to minister to others.

Jesus died for everyone, but only those who repent of their sins and accept Christ as their Savior will be saved. Through salvation and the filling of the Holy Spirit, eternal life can be theirs, which will be more glorious than anyone can imagine.
New Beginnings wants passersby to know that their beliefs don't matter; all that matters is what the Bible says — infallibly interpreted, of course, by Pastor King. Something tells me that at New Beginnings beliefs really do matter, and that having wrong Bible-based beliefs are not tolerated — i.e beliefs that contradict the claim that Jesus died for everyone and that someone must be filled with Holy Spirit to gain eternal life.