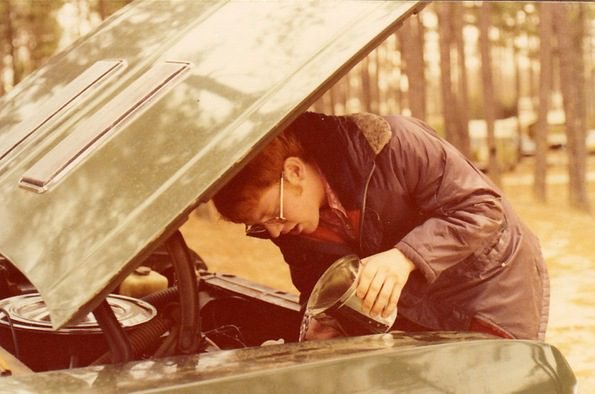 In the spring of 1972, after fourteen years of marriage, my parents divorced. By then, my mother was generally considered a nut job. Her post-divorce actions: suing (and later winning) Winebrenner Nursing Home over wage discrimination, and marrying her recently-released-from-Texas-prison first cousin, only reinforced how she was negatively viewed by others. My adulterous father, on the other hand, was viewed as the aggrieved party. Several months after my parents' divorce, my father married a nineteen-year-old local girl with a baby. Gene Millioni, the pastor of Trinity Baptist Church in Findlay, Ohio — an IFB church — performed the ceremony.
I was angry. How could my parents divorce, adding yet more turmoil to our home? And how could my supposedly Bible-believing pastor marry my father and his new teenager girlfriend? And who was this woman who thought she was going to be my new "mom?" After several months of seething anger, I calmed down a bit, accepting my new reality. Shortly after my father remarried, he moved us from a rental home on Cherry Street to one on the south side of town. This was par for the course when it came to my father. Rent a house, live there awhile, get behind on the rent, run out of ways to manipulate the landlord, and then be forced to move. At least this move was in the same town, same school.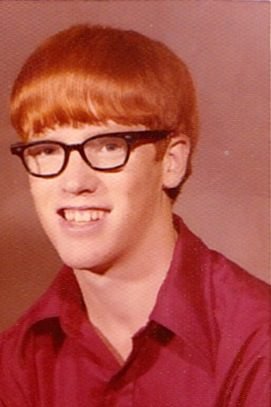 After my parents' divorce and my father's remarriage, my parents and siblings stopped attending church. I, however, threw myself headlong into the church. That fall, I was saved and baptized, and a few weeks later I announced to the church that God was calling me to be a preacher. I was fifteen. The church became my surrogate family. My parents had stopped being responsible caretakers years before, so I was pretty much on my own. I spent very little time at home. School, playing sports, attending church, and hanging out with my friends consumed most of my time. I wanted nothing to do with my father's new wife, a feeling that was returned in spades. Our relationship would later explode, with her hitting me in the face with a leather belt, and me picking her up and hurling her into a cement wall, fracturing a vertebrate in her back.
In early March 1973, my father gathered us together and let it be known that we were moving to Tucson, Arizona. Not when school was over, but soon, as in, right away. My father was trying to outrun his creditors. Two weeks later, our household goods were auctioned off, and what remained was packed into a U-Haul. Off we went, 1,900 miles to Tucson. I cried on and off during our trip. My father had moved us here and there repeatedly over the years. A great adventure, he called it, but I hated him for repeatedly uprooting my life. We had lived in Findlay almost three years; the longest we lived anywhere. I attended the same school system for eighth, ninth, and most of tenth grades. Finally, my father was getting his act together. I had made friends both at church and school. I played city league basketball and baseball, and was actively involved in youth group activities. I had even preached my first sermon. And now, with a snap of his fingers, my father was burning my life to the ground. I felt I had a number of reasons to be wrought with emotion.
As I had done numerous times before, I adapted to my new circumstances. I found a new church to attend, the Tucson Baptist Temple. I tried to involve myself in the church's youth group, but I never felt like I belonged. Besides, I missed my friends in Ohio. After classes ended at Rincon High School, I packed my meager belongings, hopped a Greyhound Bus, and moved to my mother's home in Bryan, Ohio. Bryan wasn't Findlay, but I did have some friends there from my days attending First Baptist Church in the 1960s. Reacquainting myself with these friends provided a short respite for me, but as summer wore on, I found myself yearning for the seeming stability and normalcy of my past life in Findlay.
In August 1973, I moved to Findlay and enrolled in eleventh grade at Riverdale High School. A young family at Trinity Baptist had agreed to let me live with them. While I would have to attend yet another new school, I would still be going to Trinity and have my old friends back, so I thought I could live with attending Riverdale. Besides, Riverdale was a small country school. This would afford me the opportunity to play high school basketball. Unfortunately, after a month or so, the family I was living with had a falling out with the pastor of Trinity, and they decided to start attending a Bible church in nearby Arlington. Once again, I was forced to abandon my friends for people I did not know.
In early October, the family I was living with let Bruce Turner (Please see Dear Bruce Turner), the youth pastor at Trinity, know that I could no longer live with them. No reason was given as to why other than it was "not working out."  As I ponder this point in my life, I can't help but wonder if the real reason was that the husband thought I was getting a bit too friendly with his wife. Regardless, I had to move. Bruce found me a new home, this time with Gladys Canterbury. Gladys, in her sixties, was a devout Fundamentalist Baptist. While I wondered how it would work out living with a senior citizen, doing so allowed me to regain much of the life I left behind when my father moved us to Arizona, so I agreed to move in with her.
Gladys went to court and had me made a ward of the court. This action gave me access to medical insurance and provided Gladys with a monthly check for caring for me. To provide for my own personal needs, I started working at Bill Knapp's Restaurant as a busboy. I arranged my class schedule in such a way that I would be finished with my classes around noon. I would then walk or ride my bike to Bill Knapp's, arriving in time to work the lunch schedule. Afterward, I would take an extended break and work the dinner schedule. Once again, I adapted to my new reality.
By May of 1974, I was tired of living with Gladys. She was a taskmaster, and often refused to let me hang out with my friends. I was used to going and doing whatever I wanted, so I found Gladys' approach to caring for me to be quite oppressive. Certainly, she meant well, but I didn't want to hang out with a senior citizen.  I suspect my feelings weren't much different from those of my friends. Teenagers, right? I had also learned that Bruce Turner was leaving Trinity. He was my surrogate father, and his departure left a huge hole in me emotionally.
The second week of May, I called my mother and asked if I could move back in with her. She said yes, and a week later she drove to Findlay and picked me up. My secretive move caused quite a bit of turmoil. Gladys threatened to have the police return me to her home, but nothing came of her threats. I started attending First Baptist Church of Bryan, quickly reconnecting with old friends. I found employment at several places: Bob's Dairy Freeze, Everhart's Restaurant, and Myer's Marathon.
I turned seventeen in June of 1974. I took driver's training at Bryan High School, and prepared to enroll in my senior year. However, Bryan High told me that I would have to repeat eleventh grade; not because of failing grades, but because I left Findlay before school ended. Findlay High denied me credit for my entire junior year because I missed the last ten days of school. I was so angry over this decision that I decided, "fine, I'll drop out of school!" And so I did.
By October of 1974, my mother was, once again, a patient at Toledo State Mental Hospital. For the next six weeks, I was the head of the home. Both of my younger siblings were still in school. I made sure they went to school, and then I went to work. Outside of that, life at my mother's house was pretty much one long party. Somehow, my father got wind that we were living without parental supervision, and in November he came to Ohio, picked us up, and moved us back to Arizona. By then, he had moved to Sierra Vista and opened a gun store with a settlement check he received from Ohio Workmen's Compensation for his back.
After settling into my new reality, I found a stocking job at Food Giant. I learned that I was quite good at grocery work, skills I would later ply into several good jobs. After visiting several churches, I decided to join Sierra Vista Baptist Church — a Conservative Baptist Association congregation. I quickly became involved with the church's bus route and helped teach Sunday School. It was not long afterward that I started dating a girl named Anita Farr. Anita was, I believe, two years older than I. Anita would become my first real love. I was smitten, and it was not long before we talked of getting married. Anita was in college, so marriage would have to wait, but I had no doubt that she was the one for me.
I turned eighteen in June of 1975. Two months later, Anita returned to college. We planned to see each other as often as we could on weekends. I drove to Phoenix several times that fall. I would stay in the dorm and then we would spend the weekend running around and attending church. Everything seemed headed in the right direction, until it wasn't. You see, I was immature and prone to jealousy. Anita was a free spirit who loved flirting with men. It was not long before our relationship crashed and burned.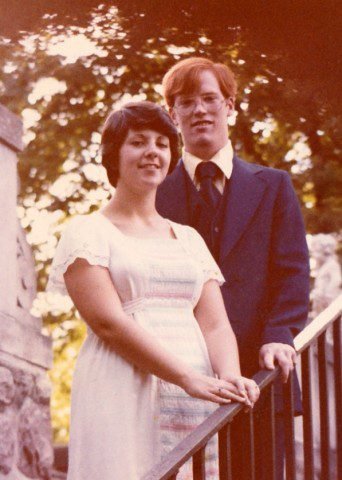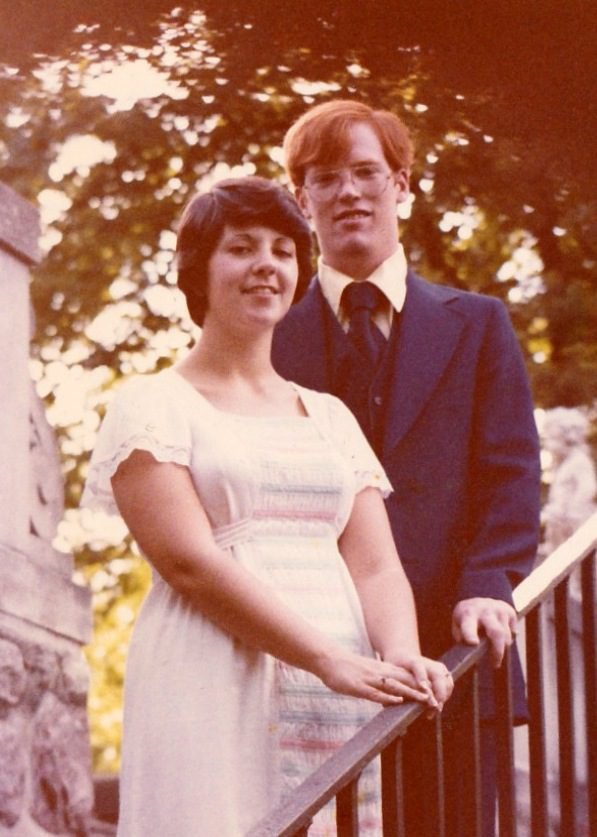 Two weeks later, I packed up a couple of suitcases and caught a Greyhound Bus to Bryan, Ohio. I moved back in with my mom and took a job at Foodland as their dairy manager. I spent the next ten months having one of the most thrilling times of my life. I was an adult, had a good job, rented an apartment, owned my own car, and spent every waking hour either at work, church, or running around with my friends. I had no interest in serious relationships with the opposite sex. Anita cured me of that. I dated a good bit, but the moment things started turning serious I was off and running away. I was what you might call a serial dater.
In the spring of 1976, I decided it was time to act upon my call to the ministry. One friend of mine, Randy Rupp, laughed at me when I told him I was going to Bible college. He said, "you'll never go!" But go I did, packing up my earthly belongings once again, and moving to Pontiac, Michigan to enroll for classes at Midwestern Baptist College — an Independent Fundamentalist Baptist (IFB) institution. And with this move, my wanderings came to an end. Well, kind of . . . well, not really . . . but for twenty-nine months Midwestern was my home.
It was there I met the love of my life and got married. I thought, "everything is moving in the right direction!" Get married, graduate, start a new church, that was the plan. However, God/Bruce had other plans. Seven months after Polly and I said "I do" we . . . you guessed it . . . moved. And over the past forty years we have moved numerous times. New houses, new communities, new churches. The reasons and circumstances for these moves are many, but the driving motivation was, I believed at the time, God. After years of counseling, I now know that wanderlust drives my desire and need to move. Even today, wanderlust whispers in my ear and says, "hey wouldn't you like to live in ____________?"  Always restless, I am — a restlessness birthed a lifetime ago as my father moved me from town to town, state to state, and house to house. While my reasons for moving  — mostly religious in nature — are different from my father's, I still followed in his footsteps. We try so hard to break free from our parents, yet when it comes time for me to give an account of my life, it seems that the proverbial apple didn't fall far from the tree. Like it or not, I am the son of Robert and Barbara Gerencser. Well, not really. Have I told you the story about my father not being my "real" father? I'll save that for another day.
About Bruce Gerencser
Bruce Gerencser, 61, lives in rural Northwest Ohio with his wife of 40 years. He and his wife have six grown children and twelve grandchildren. Bruce pastored Evangelical churches for twenty-five years in Ohio, Texas, and Michigan. Bruce left the ministry in 2005, and in 2008 he left Christianity. Bruce is now a humanist and an atheist. For more information about Bruce, please read the About page.
Bruce is a local photography business owner, operating Defiance County Photo out of his home. If you live in Northwest Ohio and would like to hire Bruce, please email him.
Thank you for reading this post. Please share your thoughts in the comment section. If you are a first-time commenter, please read the commenting policy before wowing readers with your words. All first-time comments are moderated. If you would like to contact Bruce directly, please use the contact form to do so.
Donations are always appreciated. Donations on a monthly basis can be made through Patreon. One-time donations can be made through PayPal.