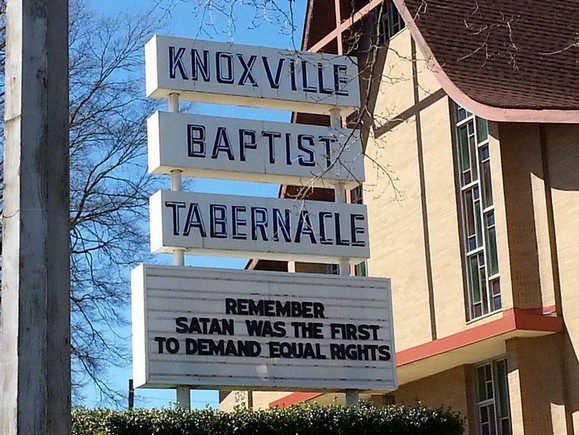 Repost from 2015-2016. Edited, updated, and corrected.
Knoxville Baptist Tabernacle, pastored by Tony Greene, is an Independent Fundamentalist Baptist (IFB) church in Knoxville, Tennessee. According to the church's website:
In May, 1952, Dr. R.W. "Bob" Bevington led a group of earnest Christians in establishing the Knoxville Baptist Tabernacle. The Tabernacle was founded on the principles of strong Bible preaching, house-to-house soul winning, separation from the world, and support for world-wide missions.

Through the years, some of America's greatest preachers and soul-winners have spoken from our pulpit– men such as John R. Rice, Lee Roberson, Billy McCarroll, Fred Garland, Dolphus Price, Lester Roloff, among many others.

The Tabernacle was a participating host for many years of the International Fellowship of Fundamental Baptists.

Prior to Bro. Bob's Homegoing in 2009, the Tabernacle called Bro. Tony Greene as its second pastor.  Bro. Greene continues the ministry in the same vein as Bro. Bob, with a strong emphasis on evangelism…
The church also operates a Christian school.
Several years ago, the sign at the top of this post caused quite a bit of controversy. WATE.com reported (link no longer active):
A sign posted by a Knoxville church continues to raise eyebrows and spark both discussion and outrage after it was posted online.

The sign posted by Knoxville Baptist Tabernacle Church read "Remember Satan was the first to demand equal rights." Many people posted the picture to the WATE 6 On Your Side Facebook and Twitter pages, starting a debate about what the sign really means.

The pastor says the purpose of the sign was to send a message about unity and spark conversation in the community. He says it wasn't meant to offend anyone.

Our sign referencing Satan demanding his equal rights to ascend into the heavens and be God was simply 'I' and all about that individual," said Pastor Tony Greene. "It was not a statement against any one group in particular, you know what about the rights of the unborn babies, the rights of children, the rights of everyone?"

After the picture was posted on Facebook, there was mixed reaction to the message. Stephanie Settlemyre said, "As a Christian, I find this highly offensive, these kinds of signs and messages are exactly the reason why people are turned off by Christianity."

Adam Miller posted, "Honestly thought that the photo was shopped, I thought, "surely someone wouldn't post such a thing," said Miller. "Makes me sad I was wrong, and doubly sad that these folks are in my back yard."

Ashley Smith wrote, "Church offends many anyway, you could write Jesus loves you and someone would get bent out of shape."

Now the sign reads: "Glad you reading, did not intend to offend, we all need Christ."

Pastor Greene spoke about why he made the change.

"We are a diversity congregation of people. We've reached people that know us and know our stand in this community know what we've done," said Greene. "My heart breaks in the dividedness of our country."

Greene says they like to interact with the community and they typically change the sign once a week. Greene says they will have another message posted later this week…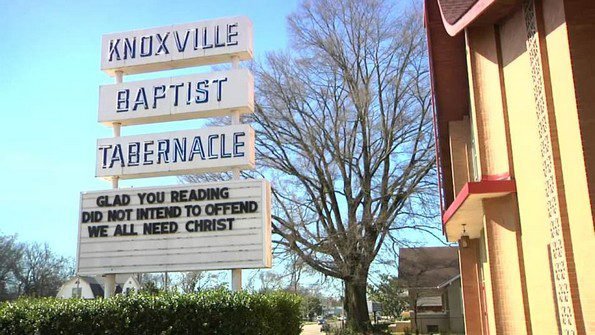 Does anyone believe that Pastor Tony Greene and the Knoxville Baptist Tabernacle didn't mean to offend? Does anyone believe they had no particular group of people in mind? Of course not. It is in the DNA of IFB pastors and churches to offend anyone and everyone who believes, thinks, acts, or lives differently than they do.
Pastor Greene's message is clear: those demanding equal rights — you know, LGBTQ people — are in league with Satan.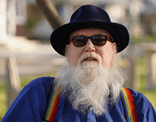 Bruce Gerencser, 64, lives in rural Northwest Ohio with his wife of 43 years. He and his wife have six grown children and thirteen grandchildren. Bruce pastored Evangelical churches for twenty-five years in Ohio, Texas, and Michigan. Bruce left the ministry in 2005, and in 2008 he left Christianity. Bruce is now a humanist and an atheist.
You can contact Bruce via email, Facebook, Twitter, or YouTube.
Your comments are welcome and appreciated. All first-time comments are moderated. Please read the commenting rules before commenting.