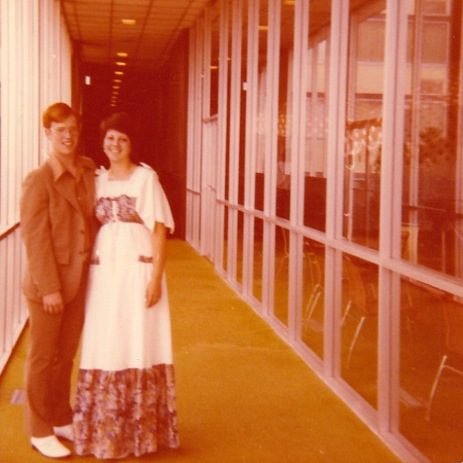 In August of 1976, I packed my meager belongings into my dilapidated, rust-bucket of a car and moved two hours northeast to the Midwestern Baptist College dormitory. Midwestern, located in Pontiac, Michigan, was a small, Independent Fundamentalist Baptist (IFB) college. I planned to study for the ministry. Well, that, and chase girls. I thought, at the time, that Midwestern would provide me an ample supply of Baptist girls to date. Playing the field, was my goal. However, "God" had different plans. By the end of September, I was in a serious relationship with a beautiful dark-haired preacher's daughter named Polly. To say that I was smitten is a gross understatement. In February of 1977, we became engaged, and in July 1978, we tied the knot at the Newark Baptist Temple in Heath, Ohio.
Forty-five years ago, I met a young woman who altered the course of my life. How we got to where we are today requires a book-length telling, but for today, let me share with you the story of our first Christmas.
Polly's family gathered for Christmas on Christmas Eve. On a snowy Christmas Eve afternoon, I left my mother's home in Bryan, Ohio, and traveled four hours south to Newark, Ohio — the home of Polly's parents and aunt and uncle. The family gathering that year was held at the home of Jim and Linda Dennis (both deceased). Jim, married to Polly's mom's younger sister, was the pastor of the Newark Baptist Temple — an IFB congregation. Both Jim and Polly's father were graduates of Midwestern Baptist College.
Prior to the family gathering, a short, dutiful Christmas Eve service was held at the Baptist Temple. Jim, ever the jokester, pointed out to the congregation that his niece, Polly, had a guest with her. "They have a shirttail relationship. We just don't know how long the shirttail is." Polly and I were thoroughly embarrassed. No one in Polly's family, at the time, thought our relationship would last. I was Polly's first boyfriend, so her family thought I was just a fad that would quickly pass.
After church, we drove to the Dennis' home. Polly's mom had her sister and cousin ride with us, just in case we did something nefarious; you know like hold hands or kiss. We safely arrived to the Dennis' home with our virginity intact.
Until my arrival in Newark, Polly and I had never kissed. That's right, we had been dating for four months and had not yet kissed each other. The reason for this was simple. Midwestern banned, under threat of immediate expulsion, all physical contact between unmarried dating couples. Called the six-inch rule, this ban caused all sorts of psychological trauma for dating couples. You see, it is normal for couples to desire and have physical contact with each other. "Normal" at Midwestern, however, was determined by the Bible, sexually frustrated preachers, and arcane rules imported from Bob Jones University — the college where the founder of Midwestern, Tom Malone, received his ministerial training.
Getting caught touching a member of the opposite sex was a sure way to get yourself "campused" (grounded from all outside activities, including dating). Repeat offenders were "shipped" (expelled). Polly and I both received demerits for breaking the six-inch rule. Our sin? I played on the college basketball team (not a big feat — think intramural basketball). One day at practice, I slapped at a basketball, severely dislocating a finger. I went to the local ER and oh-so-painfully had the finger put back in place. It remains crooked to this day. I had to wear a finger splint for several weeks. Male students were required to wear ties to classes. The splint hindered my ability to tie my tie, so one morning I asked Polly to do it for me. Keep in mind we were standing in the middle of dorm common area when Polly tied my tie. If we had plans to break the six-inch rule, this would not have been the place we would have done so. Unfortunately, a couple sitting nearby turned us into the disciplinary committee. The next week, we appeared before the committee and were shamed for our licentious, immoral behavior. I suspect the only reason we weren't punished more severely was because of who Polly's uncle and father were (Jim Dennis was a college trustee at the time).
As you might imagine, by Christmas, our hormones were raging. We looked forward to getting away from the college and its rules so we could privately and intimately express our love to one another. College administrators warned unmarried students that the six-inch rule still applied while they were home for Christmas break. I thought, at the time, "yeah, right. Catch us if you can."
Polly's parents lived in an upstairs apartment on Union Street. I spent a total of twenty-four hours with Polly that first Christmas. Our first kiss came when Polly's mom asked her to go to the apartment complex's laundry room to do some laundry. Seeing an opportunity for some old-fashioned necking, I went along, and it was there we had our first kiss. We did a lot of laundry that day. 🙂
Come Christmas Day, it was time for me to go home. Polly begged her mom to let me stay one more day, but she refused. Polly's mom would spend the next fifteen months doing all she could to destroy our relationship — including forbidding us to marry — which we ignored, telling her we were getting married with or without their blessing. Needless to say, she and I have had an on-and-off-contentious relationship for 45 years. Our relationship has improved in recent years. Polly's dad died last year, but I suspect Mom will always believe "Polly could have done better."
Many kisses would follow that first kiss on Christmas Eve, 1976. After our return to Midwestern after the break, Polly and I had a real problem on our hands. You see, we had crossed a physical line, and once that line was crossed there was no going back. We spent the next nineteen months breaking the six-inch rule, only double-dating with dorm couples who had the same "moral" standards we had. Summer breaks allowed us the freedom to act "normally," but while classes were in session, we had to sneak around to just kiss one another. While we both were virgins on our wedding day, we both knew that if we waited much longer to get married, we would likely have given in to our passions. A week or so before our wedding, Polly's mom let us go to The Dawes Arboretum south of Newark without a chaperone. We spent several hours enjoying one another's embrace, coming oh-so-close to rounding third and sliding into home. As it was, Polly was on a strict curfew, and we were late. Boy, did we get a lecture when we arrived home. Here we were, 19 and 21, getting married in a matter of days, and we were being treated like children.
One memory about our first Christmas stands tall in my mind. Polly and I were sitting on the couch, close enough to touch one another, but not so close as to arouse her eagle-eye mom's attention, watching a TV special starring Captain & Tennille. One of the songs they sang was their 1975 number one hit, "Love Will Keep Us Together."
Forty-five years later, that song is still true. Love, indeed, has kept us together.
Bruce Gerencser, 66, lives in rural Northwest Ohio with his wife of 45 years. He and his wife have six grown children and thirteen grandchildren. Bruce pastored Evangelical churches for twenty-five years in Ohio, Texas, and Michigan. Bruce left the ministry in 2005, and in 2008 he left Christianity. Bruce is now a humanist and an atheist.
Connect with me on social media:
Your comments are welcome and appreciated. All first-time comments are moderated. Please read the commenting rules before commenting.
You can email Bruce via the Contact Form.