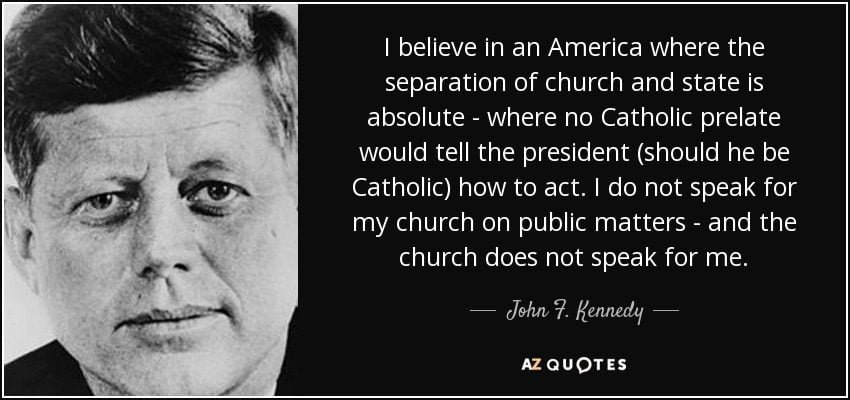 I spent fifty years in the Christian church. Twenty-five of those years were spent pastoring Evangelical churches in Ohio, Michigan, and Texas. I attended an Independent Fundamentalist Baptist (IFB) Bible college in the 1970s. Most of my Christian life was spent either attending or pastoring Baptist churches. As a young aspiring pastor, I was taught that there was a strict separation between church and state; that freedom of religion was absolutely crucial to the life of the American Republic and to the status of religion. Church and state were on equal planes, each having its sphere of influence. Churches and preachers didn't meddle in matters of state, and the government was expected to keep its nose out of church business. In the late 1970s, things began to change with the establishment of the Moral Majority by Paul Weyrich, Ed McAteer, and Jerry Falwell. Throughout the 1980s and 1990s, scores of parachurch groups were started for the express purpose of reclaiming America for God. These promoters of American nationalism and exceptionalism flexed their muscles during the 2016 presidential election, delivering to Americans their next president, Donald Trump.
The last thirty-plus years have brought a radical change in Evangelical thinking concerning the freedom of religion and separation of church and state. The impenetrable barrier between church and state that President John F. Kennedy spoke of in the 1960s is now considered a fabrication of libtards who are hellbent on destroying Evangelical, conservative Catholic, and Mormon Christianity. One former presidential candidate, Rick Santorum, even went so far as to say that the separation of church and state is a myth; that the founding fathers never meant to exclude Christians and their religion from influencing and controlling government. These deniers of separation of church and state believe, to the man, that the United States has been uniquely chosen by God — a special nation above all others. Believing that the United States is a Christian nation, these theocrats spend their waking hours attempting to take over government at every level. Having trampled over the wall of separation of church and state, these warriors for God intend on returning America to what they consider its Christian roots.
While Evangelicals have discarded the notion of the separation between church and state, considering it a myth, they continue to say that they support the First Amendment and the idea of freedom of religion. However, their idea of freedom of religion is far different from what has generally been understood in the past. Freedom of religion and separation of church and state go hand in hand. Can we have the freedom to worship or not worship as we please if the government gives preference to Christianity? No! As history clearly shows, any time religion and state are joined at the hip, freedoms and liberty are lost and people die. Who is it that is clamoring for the national registration of Muslims and the banning of immigrants from non-Christian countries? Who is it that is demanding that teacher-led prayer and Bible study be permitted in public schools? Who is it that wants creationism taught as science and the Ten Commandments posted on public school classroom walls? Who is it that is tirelessly working to overturn societal progress on same-sex marriage, LGBTQ rights, and abortion? Who is it that is clamoring for the government to adopt a nationwide voucher program that will pay for students to attend private Christian schools? Evangelicals and their conservative compatriots in other sects, that's who.
So, when Evangelicals talk about the freedom of religion, remember what they really mean is freedom for THEIR religion, and their religion alone. While they with their lips say that they support the freedom of all religions, what they really mean is that they support your right to worship your God freely as long as it doesn't interfere with or influence the American religion, Christianity, and its control of government. Muslims, Buddhists, and other non-Christian religions will be tolerated only so far as they stay out of the way. According to theocratic Evangelicals, their God alone is the one true ruler over all, and the Bible is the standard by which we should govern our lives socially and politically. And those atheists who have tirelessly worked to make sure the wall of separation of church and state is absolute? They will be expected to stop harassing fine Christian school officials and government leaders who only want to follow the dictates of God and the Bible. People who spent their lives working to change the legal system and its brutal punishment of the poor and people of color will likely see a return to the days of an eye for an eye and a tooth for a tooth. Again, appeals will be made to the Bible and its code of justice. It should not surprise anyone when Evangelicals call for re-criminalizing homosexuality, adultery, fornication, abortion, and marijuana use.
Remember these things the next time your Evangelical friends, family members, or coworkers say they support the freedom of religion. You might want to ask them what they mean by "freedom of religion." Do they mean freedom equally for all religions? Do they mean freedom to not believe in any gods at all? Do they support the separation of church and state? If not, do they believe America is a Christian nation? Would they be okay with a Muslim president or building a mosque next door to their Baptist church? If Christian prayers and Bible readings are permitted in public schools, would they be okay with Muslim prayers and Buddhist teachings being given the same level of support? As you ask these types of questions, you will likely find out that what your Evangelical acquaintances really mean when they say "freedom of religion" is freedom for the Christian religion, for "Biblical" Christianity. Believing that secularism equals socialism and communism, these worshipers of the Christian God want a culture that is dominated and controlled by Christian beliefs and philosophies.
Now that God's Only Party (GOP) controls most state governments, and will likely regain control of Congress in 2022, we can expect to see attempts to derail and destroy the social progress of the last sixty years. I suspect that savvy Evangelical parachurch groups will use state and federal courts to bulldoze the wall of separation of church and state, leaving its rubble as a monument to the days when social progressives thought they could challenge the authority of the Christian God. And it is for this reason that those of us who value religious freedom must not idly stand by while Evangelicals attempt to remake America into a new version of the 1950s. Don't think for a moment that such monumental societal change cannot happen. It can and it will if we stand by and do nothing. One need only watch what is happening with abortion rights and transgender rights to see how quickly things can change. Just because Joe Biden and the Democrats currently control the government doesn't mean the culture war is over. It's not, and if we don't fight, we are sure to wake up one morning and see the Christian Flag flying over the White House.
Note
If you do not support the following groups, I encourage you to do so.
Americans United for Separation of Church and State
Freedom from Religion Foundation
American Civil Liberties Union
Bruce Gerencser, 66, lives in rural Northwest Ohio with his wife of 45 years. He and his wife have six grown children and thirteen grandchildren. Bruce pastored Evangelical churches for twenty-five years in Ohio, Texas, and Michigan. Bruce left the ministry in 2005, and in 2008 he left Christianity. Bruce is now a humanist and an atheist.
Connect with me on social media:
Your comments are welcome and appreciated. All first-time comments are moderated. Please read the commenting rules before commenting.
You can email Bruce via the Contact Form.