My wife and I have thirteen grandchildren, aged two to twenty-one. Three of our grandchildren are ages 16, 15, and 14. All three are intelligent kids, straight-A students. I have found it interesting and enjoyable to watch them grow up. They are now at that age where they are not adults, but neither are they children; conversant in the things of the world, yet without much real-world experience. All three of them read my blog. They peruse my bookshelves, trying to size up the man they call Grandpa. My grandchildren don't know much about Bruce Gerencser, the preacher. I had left the ministry by the time they were born. The Grandpa they know is disabled, unable to drive, a man who is a curmudgeon who loves to talk about politics, religion, sports, and make snarky, sarcastic jokes. My oldest grandson, the fourteen-year-old, and I were in the garage looking for my Hitachi corded power drill the other day. I need it for a project we were working on in the house. The drill was nowhere to be found. In the space of a few seconds, I said, fuck, fuck, fuck, fuck, fuck. 🙂 Evidently, one of my children "borrowed" the drill and hadn't returned it (I've threatened to put RFID tags on my tools so I will know where they are.) That meant I had to use "the beast," a 1/2 inch drive Black and Decker drill I have owned for twenty-five years. As we came into the house, my grandson said with a smile on his face to his father, "Grandpa said the "F" word five times in two seconds!" We all laughed . . . and then I said fuck again. 🙂
Yesterday, my oldest son was over with his family for dinner. Polly and I made: fried catfish, fried shrimp, hushpuppies, asparagus (from our garden), and coleslaw, complete with beer, pop, or unsweet iced tea. After dinner, I noticed my son was trying to straighten up the sign I recently put up over our liquor cabinet. I said, "what are you doing?" I then told him that I meant for it to be crooked on purpose.
My sixteen-year-old granddaughter and fourteen-year-old grandson were perplexed. The grandfather they knew NEVER hung up ANYTHING crooked. EVER! Their father grew up in a home where a tape measure, shims, plumb-bob, and a level were never far away. He and his siblings have "fond" memories of helping me perfectly align the pulpit in the church's front and center. I mean, perfectly align. Welcome to Obsessive-Compulsive Personality Disorder.
By the way, this is the first time I have ever deliberately hung something crooked. I doubt I will continue down this decadent path. 🙂
Why the crooked sign? I love its take on the Bible verse: as for me and my house, we will serve the Lord. 🙂 The crooked sign also reminds me of how Polly walks when she has drunk too much wine. 🙂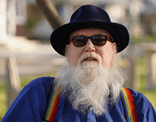 Bruce Gerencser, 64, lives in rural Northwest Ohio with his wife of 43 years. He and his wife have six grown children and thirteen grandchildren. Bruce pastored Evangelical churches for twenty-five years in Ohio, Texas, and Michigan. Bruce left the ministry in 2005, and in 2008 he left Christianity. Bruce is now a humanist and an atheist.
You can email Bruce via the Contact Form.
Your comments are welcome and appreciated. All first-time comments are moderated. Please read the commenting rules before commenting.