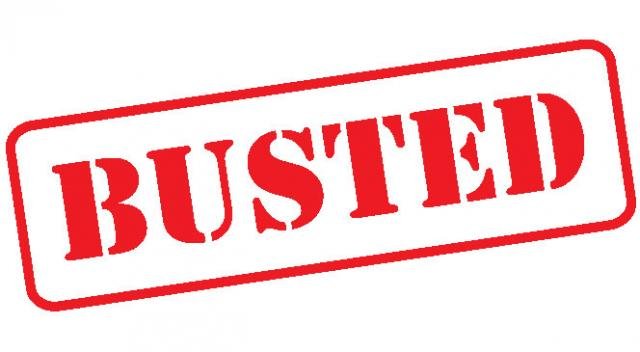 The Black Collar Crime Series relies on public news stories and publicly available information for its content. If any incorrect information is found, please contact Bruce Gerencser. Nothing in this post should be construed as an accusation of guilt. Those accused of crimes are innocent until proven guilty.
In July 2017, I wrote a post detailing alleged social security fraud  by William "Robbie" Conn, pastor of Jeffersonville Assembly of God in Jeffersonville, Kentucky, and his wife Tonya.
Lex-18 reported at the time:
A federal grand jury indicted a Montgomery County pastor and his wife. Both are accused of committing fraud involving the Social Security Disability Insurance and Medicare programs.

The indictments for William "Robbie" Conn and his wife Tonya came down earlier this month in United States District Court for the the Eastern District of Kentucky in Lexington.

They allege Conn and his wife defrauded the government programs of more than $100,000 over six years.

The court documents said William Conn, a longtime pastor at Jeffersonville Assembly of God, learned he had a heart problem that required surgery in May 2009.

According to the indictment, Conn applied for Social Security Disability, and it was granted.

The indictment alleges the church board then agreed to pay William Conn's salary to his wife Tonya. In doing so, "William 'Robbie' Conn could receive social security benefits, while still receiving a salary from Jeffersonville Assembly of God," the indictment states.

It goes on to allege Conn continued to receive benefits while working until 2015.

Conn and his wife both face seven counts each with a possible five years of prison time or more for each count.

We reached out to Conn and his wife several different times but never heard back.

Churchgoers said off-camera that they were shocked by the allegations. One said Conn called the accusations "not true" at a service Wednesday night.
Late last year, a commenter said the charges against the Conn's had been dropped. I asked her for evidence of this, but she never responded. In December 2018,someone sent me evidence that clearly refutes what the aforementioned commenter said. In September 2018, Robbie Conn signed a plea agreement, admitting his guilt. As part of the plea agreement, the charges against his wife were dropped. You can read the plea agreement here.
On September 28, 2018, the Mt. Sterling Herald reported:
William "Robbie" Conn, pastor at Jeffersonville Assembly of God Church, pleaded guilty last week to a federal charge against him.

Robbie Conn and his wife, Tanya D. Conn, were charged in a seven-count indictment in July 2017 with defrauding the government of more than $100,000 over six years.

At a pretrial conference Sept. 19, Robbie Conn agreed to be rearraigned and pleaded guilty to one count, according to court documents. He also waived the right to appeal the guilty plea and conviction and except for claims of ineffective counsel, he waived the right to attack collaterally the guilty plea, conviction and sentence, those documents show.

Sentencing is scheduled for 2 p.m. Jan. 24 in U.S. District Court before Chief District Judge Karen K. Caldwell.

Robbie Conn was allowed to remain free on bond until sentencing.

He faces a potential sentence of not more than five years imprisonment, a fine of not more than $250,000 and a term of supervised release of not more than three years.

The charges against Tanya Conn are to be dismissed.

As part of his plea agreement with prosecutors, Robbie Conn admitted that he made a false document and in that document contained a statement that was false, according to court documents.

In the plea agreement, Robbie Conn confesses that he acted "knowingly and willfully" and that the document pertained to a matter within the jurisdiction of the executive branch of the U.S. government, namely the Social Security Administration and Medicare, court documents show.

As part of the plea agreement, Robbie Conn admitted to a set of facts set out by prosecutors, according to court documents. They include:

That Robbie Conn was a pastor at the Jeffersonville Assembly of God from a period of at least 2009 through the date of the indictment.

In May 2009, Robbie Conn applied for disability benefits related to a heart condition.

The Social Security Administration (SSA) approved Conn's application and paid him monthly benefits for himself and his three children from then until the date of the indictment.

Two primary factors for SSA disability benefit eligibility are a disabling condition and inability to work as a result.

In February of 2010, Robbie Conn received a heart transplant. He returned to the Jeffersonville Assembly of God as early as May 2010. Part of his return included performance of funeral and other miscellaneous, religiously affiliated services for which he was compensated, but never informed SSA of his change in status, that is, his ability to return to work.

On Aug. 14, 2015, Robbie Conn visited the SSA office in Lexington. He completed a SSA Statement of Claimant or Other Person Form (Form SSA-795), wherein he falsely stated that he does not work or do anything that could be perceived as work such as volunteer. He signed this document under penalties of perjury.

At the time he signed this document, Robbie Conn knew he had been regularly preaching at the Jeffersonville Assembly of God, as well as at other religious-based gatherings, since at least May of 2010.

As a result of Robbie Conn's conduct, he and his children received $111,382 from the SSA, to which they were not entitled. Conn also received $26,808.87 in medical services funded by Medicaid, the funding for which he was not entitled.

Tanya Conn was reportedly receiving her husband's salary during this period.

As part of the plea, Robbie Conn agreed to cooperate fully with the U.S. Attorney's Office by making a full and complete financial disclosure, including a statement or affidavit identifying all assets in which he has any interest.
As you can see, neither Pastor Conn or his wife were found innocent. Robbie Conn admitted he was guilty, and as part of his plea agreement the charges against his wife were dropped.
This story is a good example of why I asked for evidence to the contrary when people claim a posted story is wrong. Just because a church member, family member or supporter says a Black Collar criminal is innocent doesn't make it so. Sadly, people have been known to lie just to protect the "good" name of their pastors or other church leaders. What matters is facts.
Robbie Conn'e sentencing has been postponed.
Robbie Conn was sentenced to six months home detention. Astoundingly, Conn still thinks his arrest and conviction was all a big misunderstanding; that he didn't intentionally lie to government officials.  The Mt. Sterling Advocate reports:
In a previous letter to the judge Robbie Conn wrote that "my continuing treatment is very costly. I have so many bills that I am doing my very best to pay on. It was never my intent to do any wrong or to defraud anyone in any way. Me and my wife have always worked very hard, paid our taxes and have always tried to be honest and respectable citizens. I had no choice but to do what I needed to do in order to live."

Conn's attorney, James Lowry IV of Lexington, told the judge that his client did not intentionally lie. He said Conn simply shifted the administrative work of the church to his wife, Tanya, after his heart transplant while he continued to preach.

….

Prosecutors claimed Robbie Conn lied to the government by saying he was not working while he continued preaching after his heart transplant, collected benefits and his wife collected his pay.

Conn reportedly stated in federal documents he was unable to work. During this time he served as pastor at Jeffersonville Assembly, where he still remains, according to prosecutors.

Assistant U.S. Attorney Kate Anderson asked the judge to balance the need for punishment against the defendant's health. She encouraged the judge to establish some sort of deterrent to others who might consider breaking the law.

This "was a much more complex deception than giving a bit of misinformation," she claimed.