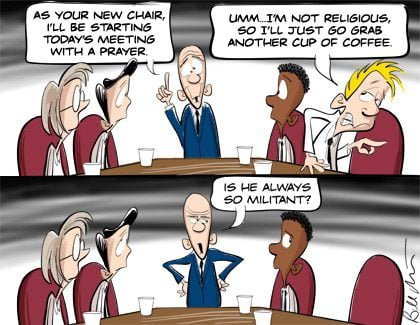 Andre asked:
Suppose you were at a dinner party and the host puts you on the spot to pray for the meal in front of 10-20 guests. Do you be a good sport and make up a prayer or politely decline, creating an awkward situation.
This is a great question, one that can be answered several different ways. Since all of my family and friends know I am no longer a Christian, I doubt any of them would ask me to pray. I can't think of any social setting where I would now be asked to pray. Everyone knows I am an atheist, so I doubt they would want a godless heathen blessing their food.
Each of us must determine how we would respond when asked to pray. If a person is an atheist or an unbeliever, but hasn't come out yet, then it might be appropriate for them to pray if asked. No harm will be done since the God they are praying to is a fictional being. Their prayer, like every other prayer, will hit the ceiling and bounce right back. No harm, no foul.
A dinner party is not a good place to declare to the world that you are an atheist or that you are no longer a Christian. Such a pronouncement will surely dampen the spirit and you will be blamed for ruining the party. The best advice I can give is to size up who is there and act accordingly.