As an Evangelical Christian, I viewed life this way:
Life is given to us by God.
Life is a preparatory time for life after death.
Troubles, trials, and adversity will certainly come our way, but these things are part of God's plan for us. He is testing us, trying us, and developing a longing in us for Heaven.
While pleasure and happiness have their place in the human experience, it is far more important to know the joy of the Lord, and if need be, to deny oneself pleasure and happiness for the sake of God's Kingdom and the eternal reward that awaits those who run the race God has set before them.
While there is nothing wrong with material things, they do have the power to corrupt and distract us from that which really matters. As the Westminster Catechism says: What is the chief end of man? Man's chief end is to glorify God and enjoy him forever.
Life is to be lived with God, his will, and eternity always in the foreground.
Death is a promotion from this life to the next. While we will leave our loved ones behind for a time, we know that if they are followers of Jesus, we will see them again in Heaven.
As an atheist, I view life this way:
Life is given to us by our parents.
This life is all we have. There is no life after death, no second chances, no do-overs. This is it.
Troubles, trials, and adversity will certainly come our way. These things happen to everyone, and it is the price we pay for being among the living. Sometimes, these things happen due to our bad choices or rash, foolish decisions. However, many things befall us simply due to bad luck. Wrong place. Wrong time. Wrong circumstance. Bad genes.
Pleasure and happiness are to be sought after since this life is all we have. In seeking pleasure and happiness, we should consider how seeking these things affects others, but we should not allow others to stand in the way of our pursuit of pleasure and happiness. Life is too short to allow others to dictate the parameters by which we live our lives.
We should seek after those things which give our life meaning and purpose. While there is a place in the human experience for living for the sake of others, this should not be at the expense of our own meaning and purpose. While narcissism is not a trait most humans value, neither is living a life that belongs to everyone but the person living it.
Since life is defined by the space between birth and death, it is important for us to live each day to its fullest. Every day we live means we are one day closer to death. While death may provide a release from pain and sickness, it is bittersweet. Bittersweet because we are leaving behind those things which mattered to us. Above all, we are leaving behind those we love.
Several years ago, I watched the final show of the acclaimed HBO series Six Feet Under. The show is about the Fisher Family and their funeral home business. For five seasons, viewers are taken on a journey with the Fisher family and death. I found Six Feet Under to be one of the best dramas I have ever viewed. In the final episode, the writers tried to tie together all the loose ends. A few episodes before, Nate Fisher had a brain aneurysm and died at age 40. He left a wife, two children, and a complicated life. The writers focused on Nate, his contradictory life, and its effect on everyone his life touched.
The last few moments of the show were the most powerful moments I have ever experienced while watching TV. I wept as the show moved through the lives of all the Fisher family as they aged and one by one died. All of them dead. No one escaped. While it would be easy to say "how sad," I found it to a reminder of how important it is to value and cherish the life we have. We spend so much time doing things that are meaningless or add nothing to our life. I know it is very easy to get sucked into normalcy, to just go with the flow. We tell ourselves, Tomorrow . . . . Perhaps a Bible verse is appropriate here:
Boast not thyself of to morrow; for thou knowest not what a day may bring forth. (Proverbs 27:1)
Perhaps each of us needs to ask ourselves:
Am I happy?
What is it I want to do with my life?
What brings me pleasure and happiness?
What do I want to do that I have not yet done?
What are your answers telling you? What are your thoughts on what I have shared here?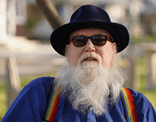 Bruce Gerencser, 64, lives in rural Northwest Ohio with his wife of 43 years. He and his wife have six grown children and thirteen grandchildren. Bruce pastored Evangelical churches for twenty-five years in Ohio, Texas, and Michigan. Bruce left the ministry in 2005, and in 2008 he left Christianity. Bruce is now a humanist and an atheist.
You can email Bruce via the Contact Form.
Your comments are welcome and appreciated. All first-time comments are moderated. Please read the commenting rules before commenting.