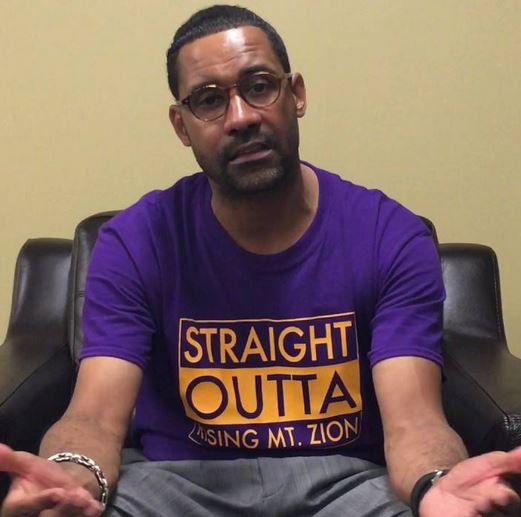 Roscoe Cooper, III, pastor of Rising Mount Zion Baptist Church in Richmond, Virginia, was charged yesterday with DUI.
A prominent pastor and vice chair of the Henrico County School Board was arrested for driving under the influence early Saturday morning.

Virginia State Police arrested 43-year-old Roscoe Cooper III around 1 a.m. on I-64 west of the Gaskins Road exit in the West End.

Cooper was charged with driving under the influence.

However, state police have not yet released the details surrounding Cooper's arrest.

Cooper, who is the school board's vice chair and represents the Fairfield District, is well known in the Richmond metro area.

He comes from a line of family clergy members and is the pastor of Rising Mt. Zion Baptist Church in eastern Henrico County.

Close friends and clergy members are asking the public not to rush to judgment.

"We are put on a high pedestal and sometimes people cannot accept that we all have issues," Sharon Broaddus, a family friend, said. "They expect the pastor to be perfect with no problems. What the church and the Christians should do now is rally around Pastor Cooper."

….
Here's Cooper's Jesus-worthy bio from the Rising Mount Zion's website:
Dr. Roscoe D. Cooper, III, a third-generation of spiritually powerful preachers, is a twice scholar graduate of Virginia Union University in Richmond, Virginia from which he earned a Bachelor of Arts Degree in Religion and Philosophy and a Master of Divinity Degree from the esteem Samuel Dewitt Proctor School of Theology, graduating Cum Laude. Additionally, he sought to show himself approved, completing post-graduate study at the Chicago Theological Seminary, and in 2013, received a Doctor of Divinity Degree from Richmond Theological Seminary.

​​Richmond born, reared and educated, his achievements and recognitions are noteworthy throughout the state, country and world in which he has readily and successfully combined his evangelistic duties with the concerns and needs of the community.  He is the recipient of numerous honors and rewards as an Outstanding Education Orator, a Prolific Communicator and Leader, Minister of the Year for four consecutive years, and a keynote speaker at the National Baptist Congress of Christian Education of the National Baptist Convention USA.  Additionally, he has been honored and recognized by the Richmond NAACP, served as a community representative to the Congressional Black Caucus Discussions in Washington, D. C., a productive President of the Baptist Ministers Conference of Richmond and Vicinity, the Chairman of the Board of Directors of the Capital Area Health Network, is a member of the Religious Advisory Committee of Virginia Senator Mark Warner, an invited participant in the Educational Seminar in Israel, and the elected Henrico County School Board Representative for the Fairfield District.

His first pastorate was at the Long Branch Baptist Church in Woodford, Virginia where he honorably and diligently served for three years.  In 2003, he was called to the historical Rising Mount Zion Baptist Church – Hartman Street, Henrico County as Pastor.  Since his arrival at Rising Mount Zion Baptist Church, the church has continuously embraced a direction of spiritual growth, and has revolutionized, strengthened, and excelled in every aspect of its existence under his leadership.  Pastor Cooper has more than quadrupled the membership, birthed several new ministries, and executed a comprehensive short and long term building and renovation plan, resulting in the funding and construction of phase 1 of a multi-million dollar sanctuary and administrative wing within his first ten years, refurbished the interior and exterior of the old buildings and the surrounding grounds to absolute condition and beauty.

He is a devoted family man who is a called  servant of God who is focused and inspired by the promises of God, unchained by the cross, intentionally lives his creeds, treads the path of excellence, credibly inhabits his sermons, and unashamedly proclaims the Word of God each time he stands.  Consistently, he nurtures the spirits, minds and hearts of his congregants with the powerful and unadulterated Word of God that encourages everyone to seek first the Kingdom of God, walk in His Way, take up the cup of salvation, and thank and glorify God for all things.

In spite of the indelible manifestation of God's favor on this branch of Zion and its people, and the teaching and preaching of the Good News Gospel, he remains and encourages others to remain humble,   study and witness the Word of God, and purposely relish the challenge to dare to make a difference!   It is evident that he is spiritually anointed, socially engaged, and academically prepared for the task at hand—to teach and preach the Good News Gospel, bring souls to Christ and soundly lead the flock that God has given him.
The Richmond Times-Dispatch reports:
A Henrico County School Board member accused of driving under the influence early Saturday is also facing a charge of refusing to take a breath test to determine the alcohol content in his blood, according to court documents.

….

The DUI is a misdemeanor. The breath-test charge is a civil violation that accuses Cooper, 43, of "unreasonably" refusing to provide a breath sample, according to court records.

According to Sgt. Steve Vick with Virginia State Police, Cooper was stopped just before 1 a.m. on Saturday on westbound Interstate 64 just west of the Gaskins Road exit.

….

Cooper, who is the pastor at Rising Mount Zion Baptist Church in Henrico, has other driving-related charges pending in Henrico General District Court. There's a pair of charges from June 30 that accuse him of driving 43 mph in a 25 mph zone and of driving without a license, according to court records. Cooper also faces a charge of driving 38 mph in a 25 mph zone on July 19.
Update
Cooper was arrested after a state trooper reported seeing a car on I-64 west driving in two lanes.

The trooper stopped the suspect, Cooper, and said he smelled like alcohol.

According to the arrest documents, Cooper admitted to having two drinks.

The arresting trooper said Cooper seemed nervous, was fumbling around and could not find his wallet or license.

Records show Cooper blew a point 0.10 on the breathalyzer test at the scene, so he was charged with drinking and driving, handcuffed and taken to jail. The legal limit in Virginia is 0.08.

According to the arresting docs, he was given another breathalyzer test, but barely blew on the tube three times, ending with a deficient sample. As a result, he was charged with refusing to take a test.

When asked if he had considered resigning from the school board, Cooper was defiant Thursday evening.

"I'm not convicted of anything. What am I resigning for?" Cooper asked. "I've still got a job to do and I'm excited about this year. There are great possibilities and potentials."

….
A November 15, 2017 Channel Six story reports:
Pastor and Henrico School Board member Roscoe Cooper III received a six-month suspended jail sentence after he was found guilty of driving while intoxicated. Cooper's driver's license has been suspended for a year.

Cooper was arrested in August after a Virginia State Trooper reported seeing Cooper's car driving in two lanes along Interstate 64 west in Henrico's West End. The trooper stopped Cooper and reported the Rising Mt. Zion Baptist Church pastor smelled of alcohol.

….