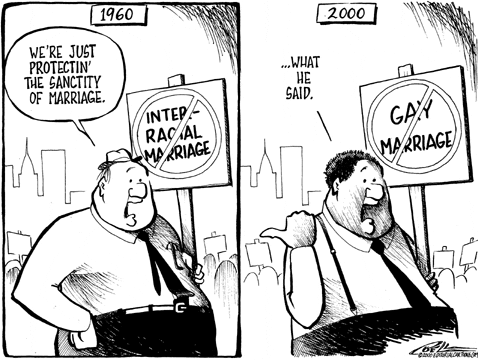 The American Family Association (AFA) ran an ad today in the Washington Post detailing their view on same-sex marriage. The full-page ad stated:
Marriage was neither manmade nor created by any law or Constitution. It was God's plan and purpose for civilization from the beginning. He created man and woman as distinctly separate but inherently compatible; each unique yet sexually complementary – providing both the means for and the ideal relationship within which to raise children from that union.

Before you now is a great question: Will you bend what God designed merely to suit the desires of man, knowing that you do so at the expense of children, perhaps even civilization itself? If you decide to affirm marriage as between one man and one woman, you breath life into the natural order and stand as an example to generations that will arise after your decision. But if you decide differently, you are choosing a path that will put the state on a legal and administrative collision course with hundreds of millions of Americans from all religions and faith practices who believe only God can define marriage. You would say by such a decision that mothers and fathers together are no longer relevant in the lives of children, and that religious expression about the sanctity and purpose of marriage would now become illicit. You would be saying that God has no place in our public square and, in a nation founded to secure freedom for those being persecuted for their faith, such a decision would be a tragic irony. In so doing you would not only risk another Roe v. Wade tear in our cultural fabric, but also effectively delegitimize the very power of the court itself to rule justly.

Before you now is a great challenge: If your decision to resolve this matter forces same-sex marriage on America, you will have settled nothing. We urge the Court to adjudicate rightly that which is God's alone to decide.
Let me break down the AFA's position:
Only God can define marriage and he defined marriage as one man and one woman
Legalizing same-sex marriage means bowing to the desires of man
Legalizing same-sex marriage will harm children
Legalizing same-sex marriage will harm civilization
Legalizing same-sex marriage says that mothers and fathers together are no longer relevant in the lives of children
Legalizing same-sex marriage says that religious expression about the sanctity and purpose of marriage is illicit
Legalizing same-sex marriage says that God has no place in the public square
Legalizing same-sex marriage will risk another Roe v. Wade tear in our cultural fabric
Legalizing same-sex marriage will delegitimize the power of the Supreme Court to rule justly
In other words, legalizing same-sex marriage with destroy the United States and Western Civilization. The AFA ad is fear mongering at its best.
I find it interesting that the AFA, a fundamentalist Christian group, trots out the generic God when it suits them. Last month, in an article titled Evangelicals and Their Duplicitous Argument for the Generic God, I wrote:
Evangelicals are quite specific when it comes to God. There in ONE God, their God, the triune God revealed in the Christian Bible. All other gods are false gods. While it is increasingly common for Evangelicals to embrace Catholics as fellow Christians, it was not that long ago that most Evangelical churches and pastors believed the Roman Catholic church was the harlot of Revelation 17 and worshipers of a false God. While it is encouraging to see some Evangelicals consider the thought that Catholics and Mormons might worship the same God as they do, the overwhelmingly majority of Evangelicals believe their God is the one, true God. No other gods need apply.

What I find interesting is how duplicitous Evangelicals can be when it comes to the mentioning of God in the founding documents of the United States, on our money, and in the Pledge of Allegiance. Evangelicals, knowing that the constitution forbids the establishment of a state church, argue before congress and the courts that the founding fathers spoke of a generic god, that the God mentioned in the Pledge of Allegiance is no god in particular. And since the documents, laws, and the like use the word god in a generic sense, they do not violate the establishment clause or run afoul of the separation of church and state…

…Why is it that Evangelicals run from this fact when they speak before congress or the courts? Why do they argue that these mentions of God are generic and not a reference to any specific god? Again, the answer is quite simple. They know admitting that these documents use the word God is a specific sense weakens their argument for their continued use. If the Pledge of Allegiance or In God we Trust on our money reference a non-specific God, then it makes it harder for atheists and secularists to argue that these things are unconstitutional. (harder, not impossible)…
Wildmon's and the AFA's God is the Evangelical/Fundamentalist Christian God. All others Gods are false Gods. While their ad implies they support religious pluralism, behind the scenes they are working towards the implementation of a Christian theocracy. Wildmon and others like him are the Evangelical version of Muslims who want to see sharia law enforced throughout the world. In their mind, there is one law book, the Christian Bible. Think for a moment, what would America be like if the Bible was the law book? (Please check out Right Wing Watch to find out what Tim Wildmon really believes.)
The American Family Association, founded by the late Don Wildmon and now controlled by Tim Wildmon, is considered a hate group by the Southern Poverty Law Center (SPLC). Here's some of Tim Wildmon's statements about homosexuality and same-sex marriage, courtesy of the SPLC website:
"What we reject is the idea that you can take homosexuality, which in the Bible is defined as a sin … it's unnatural, it's immoral, it's unhealthy, and laud it and call it wonderful and say this is the same as heterosexuality. It is not. … We know this is a destructive lifestyle and behavior… ." Sandy Rios in the Morning," AFA Radio, Oct. 2, 2012

"Our president is promoting the gay, lesbian, bi-sexual, transgendered and queer agenda like there is no tomorrow. God says homosexuality … should be repented of, not embraced and celebrated as a valid 'alternative lifestyle'… . The Scripture shows us that God sometimes destroyed nations for their rebellion against his moral standards and their lack of repentance. It will happen to us as well if we continue down this path." AFA Journal, July/August 2014

"Putting a man like [Michael] Sam, who says he is sexually attracted to men, in with all that beefcake seems unfair to the straight players and a distraction to Sam. … Would you put a heterosexual man in the locker room/showers with all the female cheerleaders?" Fundraising E-mail opposing Michael Sam, the first openly gay NFL player, being allowed to play professional football, July 25, 2014

"They have these effeminate, a lot of them, actions. They walk like a girl, a lot of them. … [I]t makes you wonder, how did that develop, where does that come from?" "AFA Today," AFA Radio, claiming he can recognize gay men by their mannerisms, as reported by Right Wing Watch on Jan. 31, 2014
Tim Wildmon also stated:
"The very idea of the entire nation sitting around and waiting to see if a handful of judges overturn traditional marriage with a nonchalant wave of the hand is absurd. We need to anchor marriage in a constitutional amendment, and we need to do it soon."
On this point, I totally agree with Wildmon. Since people like Wildmon are offended by the very thought of a gay person enjoying the same civil and legal rights as they do, they have the option of making their viewpoint the law of the land through a constitutional amendment. Doing so would Supreme Court proof the "sanctity" of heterosexual marriage. Why don't Christian fundamentalists pursue this path of redress? Simple. They know that such an amendment would NEVER survive the ratification process. Article 5 of the US Constitution states:
The Congress, whenever two thirds of both houses shall deem it necessary, shall propose amendments to this Constitution, or, on the application of the legislatures of two thirds of the several states, shall call a convention for proposing amendments, which, in either case, shall be valid to all intents and purposes, as part of this Constitution, when ratified by the legislatures of three fourths of the several states, or by conventions in three fourths thereof, as the one or the other mode of ratification may be proposed by the Congress; provided that no amendment which may be made prior to the year one thousand eight hundred and eight shall in any manner affect the first and fourth clauses in the ninth section of the first article; and that no state, without its consent, shall be deprived of its equal suffrage in the Senate.
If the American Family Association is so certain that "hundreds of millions of Americans from all religions and faith practices…believe only God can define marriage", then is should be quite easy to get 38 state legislatures to ratify such an amendment, right?
Here's what Tim Wildmon and other culture warriors know. According to a February 2015 CNN poll:
63% of Americans say that gays and lesbians have a constitutional right to marry and have their marriages recognized by the law as valid. That's up from 49% in August 2010. Over that time, the share who see marriage as a constitutional right has climbed 15 points among Republicans to 42% and 19 points among Democrats to 75%
So much for "hundreds of millions of Americans from all religions and faith practices…believe only God can define marriage".
As of today, no Evangelical, Mormon, or Roman Catholic has made a convincing argument showing religious or personal freedom would be reduced in any way if the Supreme Court legalizes same-sex marriage. Churches would still be open, pastors would still be free to preach against fags, queers, and sodomites, and no church or pastor would be required to perform a same-sex marriage.
The feigned offense of Tim Wildmon and the American Family Association is little more than the shrill, pathetic objections of a group of people who are losing their power and clout. America has evolved and they haven't. There's little that can be done to reach people who think like this. Armed with an infallible Bible given to them by a supernatural God, they are certain they are right. In their world, being right is more important than equal protection under the law and equal civil rights for all.