Most Evangelicals believe that the second coming of Jesus Christ is imminent; that Jesus could either, depending on which particular eschatological viewpoint one holds, come in the clouds and rapture (carry away) True Christians®, or physically return to earth to establish God's millennial kingdom/new heaven/new earth. Evangelicals, since Israel became a nation in 1948, have been saying that this or that generation is the last one before Jesus comes again. Dates have been set for Christ's return, yet Jesus remains on a 2,000-year-long vacation. Of course, the reason for this is that Jesus lies buried in a grave somewhere in Palestine. Dead people — Jesus included — stay dead, so that's the obvious reason for Evangelicalism's coming Lord and King being AWOL. Deep in their heart of hearts, many Evangelicals know this. How can they not? Every person they know who has died has stayed dead. Yes, the Bible speaks of a resurrected Jesus, but until he actually makes a grand appearance – against which the odds are one gazillion to one — all we have in the Good Book are fanciful, fictional stories of a resurrected, coming-again Lord and Savior.
I am sixty-five years old. Evangelical preachers have been authoritatively saying that the return of Jesus Christ could happen at any moment — in the twinkling of an eye, as the Bible says in 1 Corinthians 15 — my entire life. As the years have gone on without Jesus returning, preachers have taken to using various clichés to "explain" his absence. One I heard quite often as a teen at First Baptist Church in Bryan, Ohio was this: IF THE LORD TARRIES. Jack Bennett — married to my uncle's sister — was the pastor at the time. He loved preaching on future events, and when he spoke of things we might do tomorrow or in the future, he would often say: IF THE LORD TARRIES.
The idea behind this cliché is that Jesus is at the start line revving his engine, ready to speed to earth to rapture True Christians® from the evil, lawless, wicked earth. A popular Evangelical children's song from yesteryear best illustrates this point:
Somewhere in outer space
God has prepared a place
For those who trust Him and obey
Jesus will come again
And though we don't know when
The countdown's getting lower every day.
CHORUS:
10 and 9, 8 and 7, 6 and 5 and 4,
Call upon the Savior while you may,
3 and 2, coming through the clouds in bright array
The countdown's getting lower every day.
10
9
8
7
6
5
4
3
2
1
BLAST OFF!
Jesus was crucified, suffered and bled and died,
But on the cross He did not stay
He made this promise true, I will come back for you,
The countdown's getting lower every day.
Sing along with Brother Bruce, brethren! You know you want to!
The countdown is getting lower every day . . . so low that it has been stuck on one for what seems like forever. Why is this? Because Jesus is tarrying; he is waiting. Ask Evangelical preachers what is causing Jesus to tarry, the most common answer is that there are more souls that need saving. If Evangelicals would only get off their lazy asses and go into all the world and preach the gospel to every creature, well, Jesus might get around to f-i-n-a-l-l-y returning to earth. It seems, then, that the moment Jesus returns is dependent on human volition; that Jesus can't return until soul 8,000,000,000,000,666 is evangelized. Wait a minute, I thought Jesus's return was imminent; that nothing was preventing him from splitting the eastern sky and planting his feet on the Mount of Olives. If Jesus is tarrying, this means his return is NOT imminent; that there's at least one thing standing between Jesus and the finish line.
Further, if Jesus is God, doesn't he know EVERYTHING? And wouldn't everything include the exact date and time for his Second Coming? Or maybe, as a very old deity, it takes a long time after his first coming before he is ready to come again. Doesn't Jesus, the lamb slain before the foundation of the world and the sovereign ruler over all, know exactly who will and won't be saved and when they will have their come-to-Jesus moment? How, then, is it possible for Jesus to "tarry?"
Did your pastors ever use the if Jesus tarries cliché? In what context did they use it? Please share your stories in the comment section.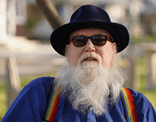 Bruce Gerencser, 65, lives in rural Northwest Ohio with his wife of 44 years. He and his wife have six grown children and thirteen grandchildren. Bruce pastored Evangelical churches for twenty-five years in Ohio, Texas, and Michigan. Bruce left the ministry in 2005, and in 2008 he left Christianity. Bruce is now a humanist and an atheist.
Connect with me on social media:
You can email Bruce via the Contact Form.
Your comments are welcome and appreciated. All first-time comments are moderated. Please read the commenting rules before commenting.