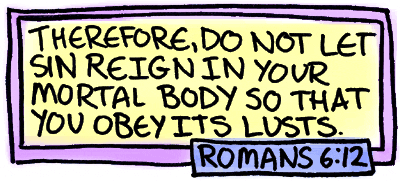 According to Evangelicals, the Holy Spirit lives inside of them (1 Corinthians 3:16, John 16:13 and Romans 8:9). This indwelling is what sets the Christian apart from the world — Satan's Kingdom. The Bible says that the Holy Spirit is greater than Satan. Satan walks to and fro across the earth like a roaring lion seeking whom he may devour. Non-Christians are easily devoured and destroyed by Satan, but not Christians. (2 Corinthians 4:4, 1 Peter 5:8). Supposedly, because the Holy Spirit is their teacher and guide (John 14:26), Spirit-filled, obedient Evangelicals are immune to sin. Ephesian 6 talks about Christians wearing spiritual armor as they battle Satan:
Put on the whole armour of God, that ye may be able to stand against the wiles of the devil. For we wrestle not against flesh and blood, but against principalities, against powers, against the rulers of the darkness of this world, against spiritual wickedness in high places. Wherefore take unto you the whole armour of God, that ye may be able to withstand in the evil day, and having done all, to stand. Stand therefore, having your loins girt about with truth, and having on the breastplate of righteousness; And your feet shod with the preparation of the gospel of peace; Above all, taking the shield of faith, wherewith ye shall be able to quench all the fiery darts of the wicked. And take the helmet of salvation, and the sword of the Spirit, which is the word of God: Praying always with all prayer and supplication in the Spirit, and watching thereunto with all perseverance and supplication for all saints… (Ephesians 6:11-18)
In some corners of the Evangelical world, Christians believe they can totally overcome sin and live sinless lives (sinless perfection), although many Evangelicals reject such thinking. But the Bible says that people who sin are of the devil (I John 3:8). This leads me to believe that God expects Christians to live above sin. Jesus told his followers, be ye perfect even as my father in heaven is perfect (Matthew 5:48). Surely Jesus would not have said this if it was impossible for Christians to attain this lofty standard. Doesn't the Bible say that Christians are new creations — old things pass away and ALL things become new (2 Corinthians 5:17)? Yet, as we look at how Evangelicals live their lives, what do we see?
There are numerous Evangelical websites dedicated to helping Christians who are "addicted" to porn. Other sites exist to help Evangelicals sexually toe the line. Yet, Evangelicals commit sexual sins at the same level as the unwashed, uncircumcised Philistines of the world. No matter how loud and long Evangelical preachers preach against sexual sin, church members continue to ignore their preaching. There is no statistical category that shows Evangelicals being more moral or ethical than their counterparts in the world. Try as they might, Evangelicals are no different from unsaved family, friends, and neighbors.
Evangelicals KNOW these things, yet they go to church Sunday after Sunday seeking victory over sin. Songs are sung (Victory in Jesus) that testify to the mighty power of God, Jesus, and the Holy Ghost. Sermons are preached extolling the virtues of living sin-free lives. Sometimes, church members find themselves "convicted" over sin. This leads them to fall to their knees, asking Jesus to give them the victory over _____________ (fill in the blank with the sin of the week). Despite all the singing, preaching, and praying, Evangelicals continue to sin. As powerful as Evangelicals tell us God is, he is unable to keep them from sinning. Perhaps humans are more powerful than God. Perhaps human free will cannot be overcome or thwarted by God. How else do we explain daily reports of God-fearing, Bible-preaching pastors raping children, molesting children, having affairs, stealing from their churches, along with a host of other "sins"? (Please see the Black Collar Crime Series.)  If Catholic priests are Jesus' representatives on earth, how do we square this belief with the sexual scandals that have rocked the church over the past decade? If God is so powerful that he holds the world in his hands, why does he allow priests to sodomize boys and Baptist youth leaders to take sexual advantage of church teenagers?
It is time for Evangelicals to join the human race. Stop all the moralizing and sermonizing. You have been found out, Evangelicals, and now it's time to admit it. Come join us in the muddy, dirty waters of Sin Creek. The water is warm and inviting. Bathing suits are optional. 🙂
Bruce Gerencser, 66, lives in rural Northwest Ohio with his wife of 45 years. He and his wife have six grown children and thirteen grandchildren. Bruce pastored Evangelical churches for twenty-five years in Ohio, Texas, and Michigan. Bruce left the ministry in 2005, and in 2008 he left Christianity. Bruce is now a humanist and an atheist.
Connect with me on social media:
Your comments are welcome and appreciated. All first-time comments are moderated. Please read the commenting rules before commenting.
You can email Bruce via the Contact Form.