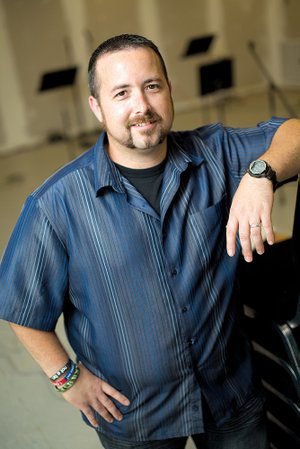 The Black Collar Crime Series relies on public news stories and publicly available information for its content. If any incorrect information is found, please contact Bruce Gerencser. Nothing in this post should be construed as an accusation of guilt. Those accused of crimes are innocent until proven guilty.
Six weeks ago, I wrote a post detailing the domestic battery charges filed against Michael "Derek" Jones, pastor of Sold Out Church in Conway, Arkansas.  Jones was in court yesterday to enter a plea of not guilty. Also in attendance were Sold Out members who were there to support the previously convicted felon Jones (who is still listed as their pastor on the church's website).
Marisa Hicks, a reporter for the Log Cabin Democrat reports:
Those who attend Sold Out Church and others who have worked alongside Lead Pastor Michael "Derek" Jones continue to support him despite criminal allegations against him.

Jones, 35, of Conway was charged with third-degree domestic battery, a Class A misdemeanor, following an incident reported in the early morning hours of July 13. His charges were later upgraded to second-degree battery against certain persons, a Class D felony.

Olivia Smith, a member of Sold Out Church, said that while she doesn't know a great deal pertaining the details surrounding Jones' charge, she continues to support her pastor.

"This man, and his family, have [b]een there for me and my family through some of the most difficult times in my life and he did it all through grace, love, and compassion," she said, noting she's attended the church for the past three years.

Jones stood at the back of the courtroom Monday, opening and closing the door for those entering and exiting, as he awaited Circuit Judge Charles "Ed" Clawson Jr. to call his name.

Lee D. Short stood in for Jones' attorney, David Cannon and accompanied Jones as he entered a not guilty plea Monday morning.

"We'd like to enter a plea of not guilty and request a jury trial," Short said.

Clawson took note of the plea and set out a Jan. 3 pretrial in Jones' case.

Smith said it was Jones' persistence that inspired her to keep coming back to the church.

Jones reached out to Smith when she didn't show for service one Sunday. Smith said the gesture touched her and continues to do so.

"I have grown up in church all my life and never has a pastor done that," she said, noting she was surprised Jones wanted to check on her well-being. "He is sincere about his faith and his mission to make Jesus known to a hurting world and develop Sold Out followers of him. He has been a father figure to my boys, a spiritual leader for myself and a true friend. I genuinely love this man and his family and believe wholeheartedly in what he stands for."

City of Conway Chief of Staff Jack Bell said he holds a good professional relationship with Jones, who has volunteered through the Ministry Center to perform tasks around the city.

Spring Hunter, the Ministry Center's director, said she has also grown close to Jones after working alongside him the past four years.

Hunter said Jones' character was represented by his love for God and his passion for his family and the community and said she, also, will continue to support him despite the criminal allegations against him.

"He does his best to practice what he preaches on Sunday morning," she said. "He reaches out to love on people regardless of who they are, where they come from, or what hardships they face. When you strive to meet people right where they are, you sometimes find yourself in some very difficult situations. We know Derek's heart, and we will stand with him as he goes through this process."

….

After learning the victim suffered an orbital fracture, which is a traumatic injury to the bone of the eye socket, prosecutors determined the misdemeanor charge would be upgraded to a felony.

"I think these charges are justified, because Mr. Jones has a history of anger management."

Jones, who once served the Air Force and was stationed in North Carolina from 2001 to 2002, was previously sentenced to prison after he shot two people during a drunken fight. He served seven years in prison.

Because Jones went to the victim's house after it was made known he was not welcome at the time, McCoy said Jones' self defense argument was not genuine.

"Derek Jones went to [the victim's] house … if he felt like he was physically threatened he has a burden on himself to remove himself from the home," McCoy told the Log Cabin. "His claim of self defense doesn't hold water."

Many Sold Out Church members have openly supported Jones over Facebook.

….
Update