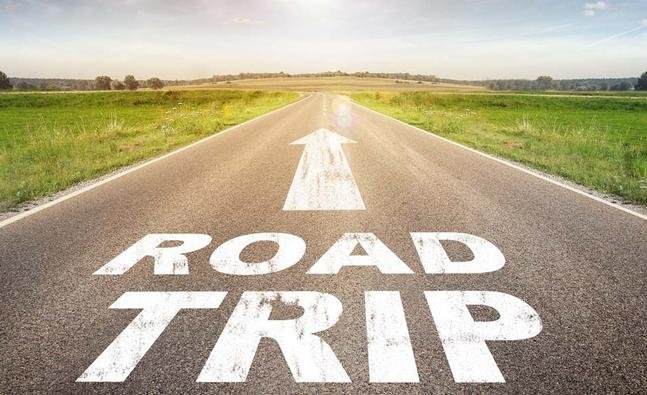 As Polly and I travel the roads of northwest Ohio, southern Michigan, and northeast Indiana, we are always on the lookout for God's True Church®. Here are a few of the churches we stumbled upon during our travels.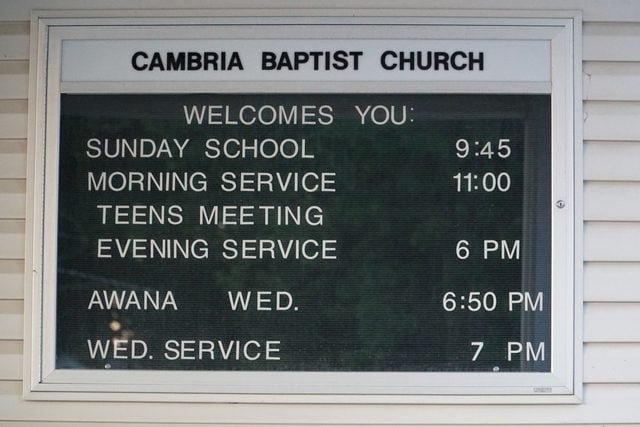 Cambria Baptist Church, Cambria (Hillsdale), Michigan, Dave Locke, pastor Cambria Baptist is an Independent Fundamentalist Baptist (IFB) congregation. (Church Website)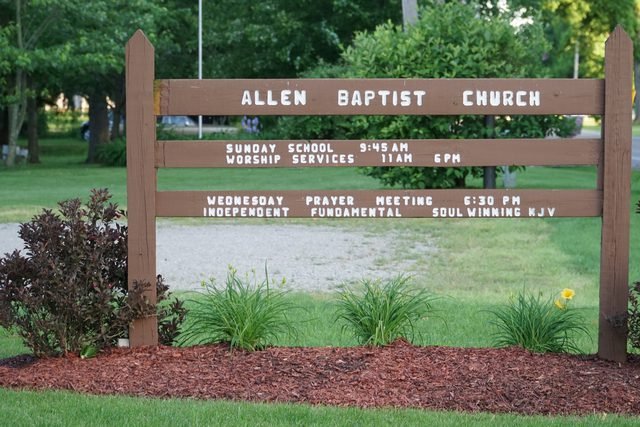 Allen Baptist Church, Allen, Michigan, David Wruck, pastor. Allen Baptist is an Independent Fundamentalist Baptist (IFB) congregation.  Its pastor is a graduate of Jack Hyles' college, Hyles-Anderson College.  (Church Website)
Allen Baptist wants passersby to know that it is independent, fundamental, soul-winning, and only uses the King James version of the Bible. These words are nonsensical to unbelievers, but to IFB adherents looking for a new church, they speak volumes. These words also say to some Christians: you aren't welcome here!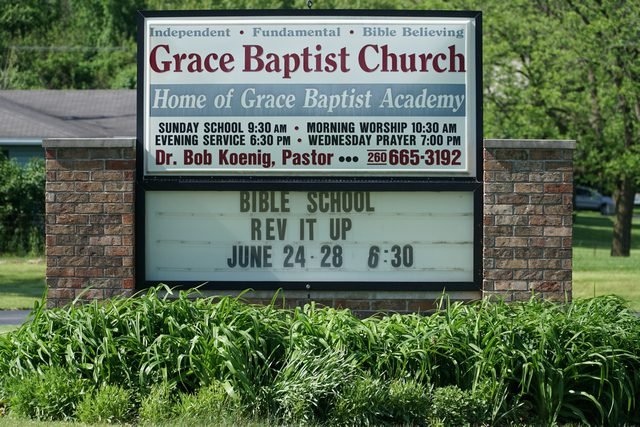 Grace Baptist Church, Angola, Indiana, Bob Koenig, pastor (No Web Presence)
Grace Baptist is an Independent Fundamentalist Baptist (IFB) congregation. Koenig has pastored Grace Baptist for thirty-two years. He is a graduate of Bob Jones University. He earned his doctorate through post-graduate work done at Bob Jones. Earned doctorates are rare among IFB preachers. (See IFB Doctorates: Doctor, Doctor, Doctor, Everyone's a Doctor)
For many years, Grace Baptist operated Grace Baptist Academy. The school has since closed its doors.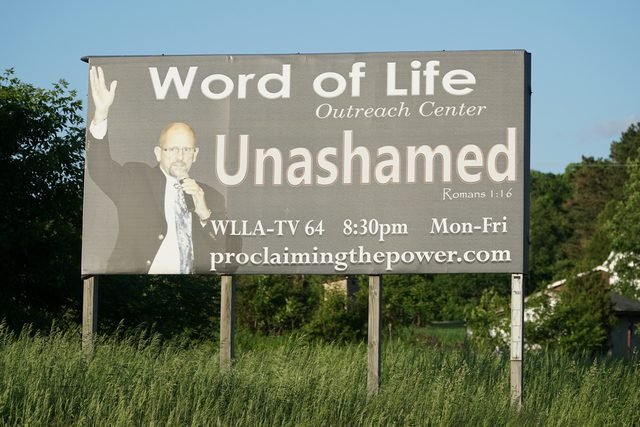 Word of Life Outreach Center, Quincy, Michigan, Bob and Carol Montgomery, pastors (Church Website) The Montgomerys have pastored Word of Life for thirty-one years.
Word of Life is a generic Pentecostal/Charismatic/Evangelical church. According to an article written by one of the pastor's daughters, Word of Life is different from other churches because:
People often ask me, "What does your church believe?"

They are wondering what we believe that may make us different from other churches.

So, my short answer – we believe in tongues, the power of God's Word, and that God is ALWAYS good.

So, here is my long answer (short answer with details).

1. Well, if you check our Statement of Faith, then you will notice that it is not much different than others you have seen. However, the first thing that might stick out to you or may be different from what you have seen is that we believe in the Baptism of the Holy Spirit with the evidence of speaking in tongues.
Word of Life believes that the only reason people are sick is because of their lack of faith. Churches are filled with sick and dying people. If they would only have f-a-i-t-h, the God who is ALWAYS good would heal them. Talk about a delirious fantasy. I wonder how many sick people presently attend Word of Life, and how many congregants have died despite leaning on the everlasting arms of Jesus? Something tells me that the folks at Word of Life get sick and die at the same levels as the rest of us.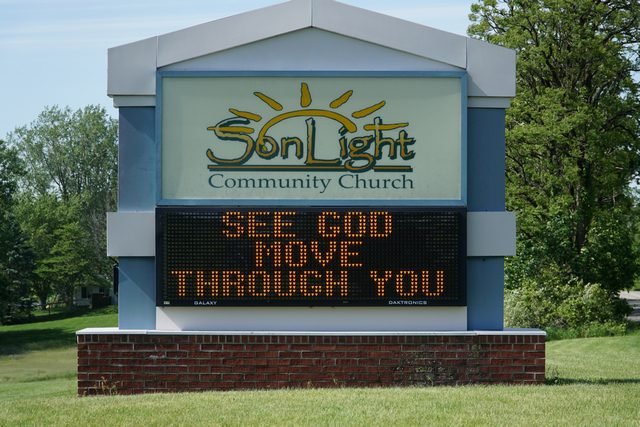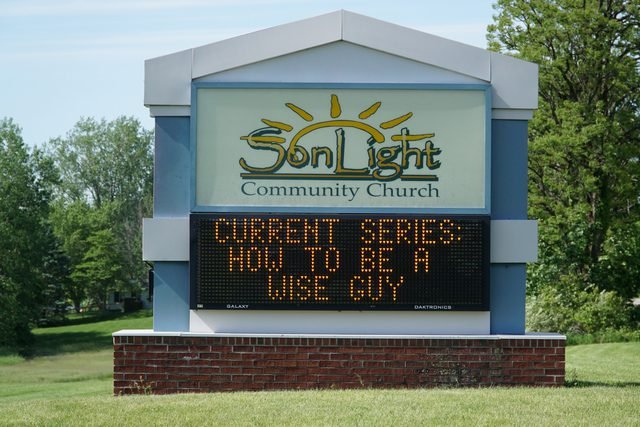 SonLight Community Church, Angola, Indiana, John Mueller, pastor
SonLight is an Evangelical Mennonite church, affiliated with the Fellowship of Evangelical Churches. It believes the following about the Bible:
We believe the Scriptures, errorless in the original documents, are divine authority in all matters which they address. Their truthfulness is not negated by the occurrences of such things as irregularities of grammar or spelling, intended and conventional generalizations or approximations, various literary devices, observational descriptions of nature, or reports of false statements made by evil persons. Since God the Holy Spirit is the source of the message as well as the mover and supervisor of those who recorded it, the Bible is reliable in what it communicates and is the supreme authority for faith and practice. Nothing may be taken from it and nothing may be added.
The church's website says that newcomers can expect:
Our services are casual and modern. We embrace a come as you are philosophy. You'll find most people in jeans, but feel free to dress however you feel comfortable.
When you arrive, be sure to grab a cup of coffee or cocoa from the coffee bar. We've got all the fixings! Don't forget to get a couple of donut holes before you head into the auditorium. Have a seat wherever you'd like. We have a floor level and balcony.

Worship is typically songs you'll hear on the radio from Bethel Music, Chris Tomlin, or maybe even our very own Aaron Scantlen. Join in if you know the words, or just enjoy the music and let the lyrics talk if you'd rather.

Next is the message delivered by one of our pastors or elders. Each message is crafted by a sermon prep team who ensures it is applicable, relatable, and biblically sound.

All in all, service usually lasts about an hour and 15 minutes.
How to be a wise guy, says SonLight's sign. My first thought was this: what, the pastor is teaching congregants how to be mafia members?  The sign also says, SEE God move through you. Pray tell, how can anyone "see" God move through them? Or see God at all, for that matter? I am a heathen, an apostate, a denier of the existence of God.  Yet, if good works are a sign of God flowing through a person, I know a lot of atheists who are full of the Big Kahuna. Perhaps what Sonlight calls evidence of God moving through a person is just them being a kind, decent, loving human being — no deity needed.