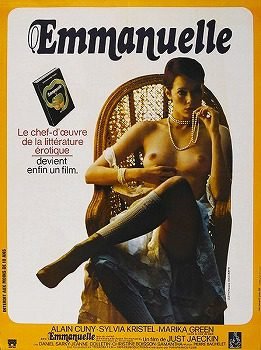 In September of 1975, I drove from Sierra Vista, Arizona to Phoenix to visit my girlfriend. Anita, two years older than I, was a sophomore at Southwestern Conservative Baptist Bible College. Anita and I met at Sierra Vista Baptist Church. It was not long before I was head over heels in love with her, an attractive, temperamental woman with much more experience with the things of the world than her younger boyfriend. Our torrid nine-month relationship had all the trappings of a match made in Heaven, but by the time my weekend visit was over our relationship was shattered and I was on my way back to Ohio on a Greyhound bus.
I stayed in the men's dormitory while visiting Anita. One night, we decided to go see a movie, in violation of Southwestern's code of conduct. We had two movies to choose from: Jaws and Emmanuelle. While most readers are quite familiar with Jaws, they might not be as familiar with Emmanuelle, a French soft-porn movie. Both Anita and I had what church leaders called a rebellious heart. While we attended church regularly, sang in the choir, taught Sunday school, and worked in the bus ministry, we loved living on the edge. When presented with the choice of Jaws or Emmanuelle, we briefly considered whether we should give in to our rebellious nature and buy tickets to see Emmanuelle. Our Fundamentalist training ultimately won and we spent the next two hours watching a mechanical shark hunt and kill humans.
While our relationship ultimately burned in the flames of my jealousy and immaturity, I still have fond memories of the nine months Bruce and Anita were an inseparable pair. From Anita irritating the hell out of then-deacon Chuck Cofty with her miniskirts and employment at an alcohol-serving pizza place, to taking trips to Mexican border towns and hiking the Huachuca Mountains, we had a wonderful time. I still wonder to this day what might have happened had we chosen the other movie.
Anita and I briefly stayed in touch, but a year later I moved to Pontiac, Michigan to begin studying for the ministry at Midwestern Baptist College. I soon met a beautiful dark-haired girl whose beauty and quiet demeanor quickly quashed any thoughts of my nine-month relationship with Anita. I have often wondered what became of Anita. Years ago, I heard rumors that she married, had children, and divorced.
Bruce Gerencser, 66, lives in rural Northwest Ohio with his wife of 45 years. He and his wife have six grown children and thirteen grandchildren. Bruce pastored Evangelical churches for twenty-five years in Ohio, Texas, and Michigan. Bruce left the ministry in 2005, and in 2008 he left Christianity. Bruce is now a humanist and an atheist.
Connect with me on social media:
Your comments are welcome and appreciated. All first-time comments are moderated. Please read the commenting rules before commenting.
You can email Bruce via the Contact Form.