As Polly and I travel the roads of Northwest Ohio and Southeast Indiana, we are always on the lookout for God's True Church®. Here are a few of the churches we stumbled upon in recent weeks.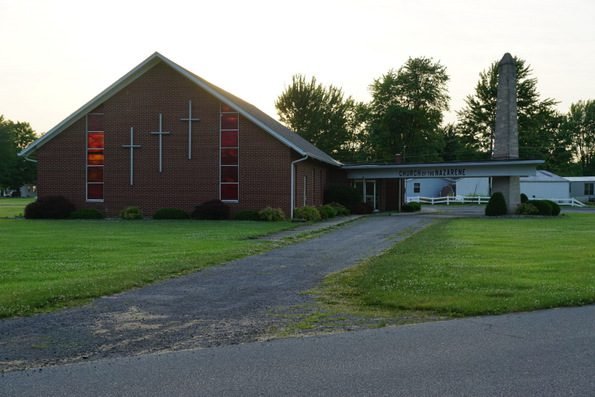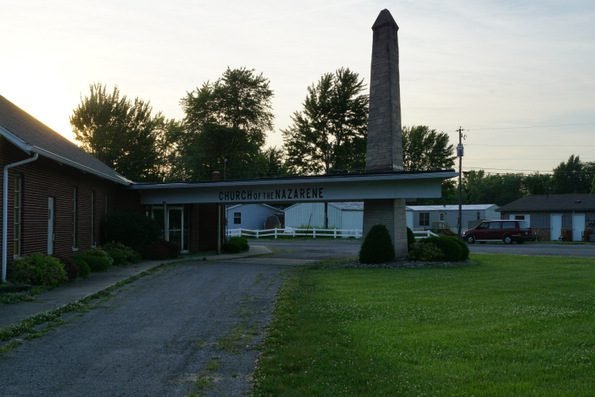 Butler Church of the Nazarene, Butler, Indiana, Paul Patton, pastor. (website) I have renamed this church The Church of the Phallus.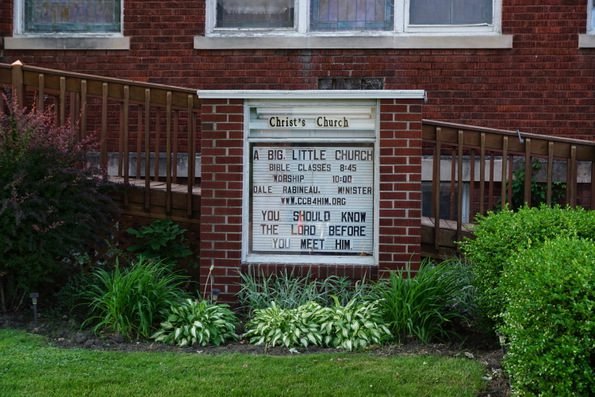 Christ's Church, Butler, Indiana, Dale Rabineau, pastor. (website)
No Christian has ever met Jesus Christ. Christians say they know him, but this knowledge is based on faith not fact. The only Jesus Christians know is the one found within the pages of the Bible. There are thousands of Christian sects, each preaching their version of Jesus. If Christians can't agree on Jesus and his teachings, why should unbelievers spend time getting to know him? Jesus knows where we live. Just knock…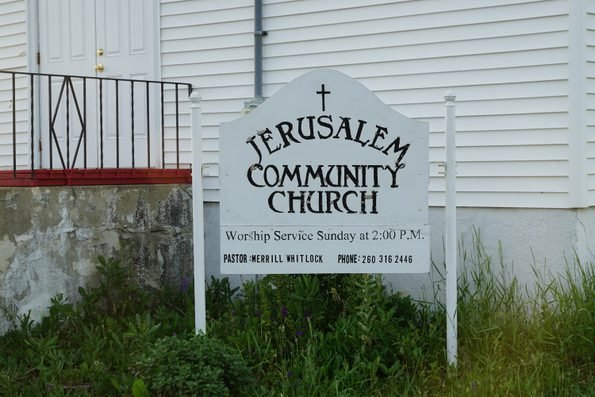 Jerusalem Community Church, Butler, Indiana, Merrill Whitlock, pastor. (Facebook) According to the church's Facebook page, its teachings "date back to before time began." Wow, their teachings predate the creation of the universe! I suppose the church's name reflects the fact that the first Christian church was supposedly started in Jerusalem. I say supposedly because Christianity was considered a subset of Judaism. The Bible says they were first called Christians at Antioch, not Jerusalem.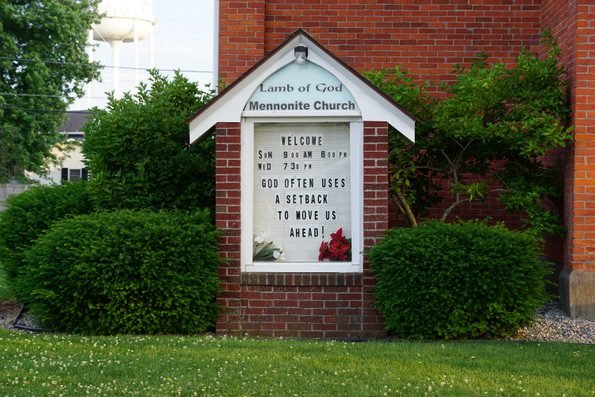 Lamb of God Mennonite Church, Butler, Indiana, no pastor listed. (website) According to the church's website, its pastor delivers "great messages straight from God's Word." Polly and I attended this church for a time, back when it was a Bible Church. The Bible Church closed its doors and the Mennonite's purchased the building.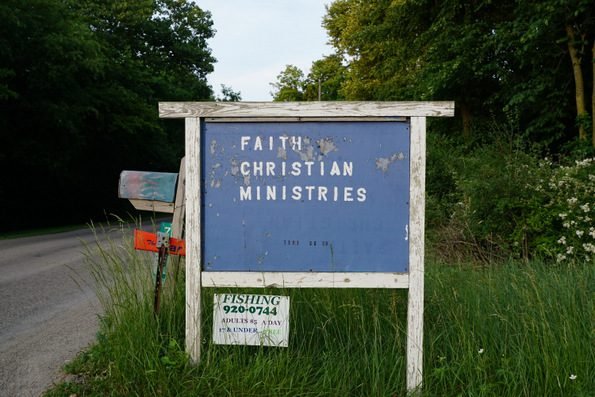 Faith Christian Ministries, Butler, Indiana. (no website or internet presence) Best I could tell, this "ministry" charges adults $5 a day to fish their pond.
Filling Station Youth Center, Butler, Indiana. (website) According the the Center's website, their goal is "to address the PHYSICAL, SPIRITUAL and EMOTIONAL needs of young people by providing a facility for recreation, fellowship, fun and moral guidance to deter juvenile delinquency, youth violence, drug/alcohol use and gang activity." The Youth Center's website also states, "Reaching youth for JESUS since 1995!"
Here are several of the updates that have been posted to the Youth Center's Facebook page:
How much more should we be bold to proclaim the Gospel of Jesus Christ? The Word says to AWAKE TO RIGHTEOUSNESS! Lathan is giving the Filling Time lesson at TEEN NIGHT here at the YC! If we are a born again Christian, we can not be ashamed of Jesus or we will not be ready if our life is required of us for the sake of His True Gospel! We must come out of the modern, apostate church and repent of our sins and proclaim loudly the Truth of the Gospel of Jesus Christ!

Right NOW at the YC, Cathy is giving the Filling Time lesson. She is sharing how there are Muslims coming to know Jesus as their personal Savior at the risk of being killed. Are WE ashamed of Jesus? Where is our FAITH in Him and is it True? Will we believe and trust in Him no matter what? Are we ready for His Return? We will serve Him at any cost?

Cindy's Filling Time lesson was on Jesus willingly taking God the Father's Wrath upon Himself for all who ACCEPT His Free Gift of Salvation. She read in Revelation 20:15 how all those whose names are NOT found written in the Lamb's Book of Life will be cast into the Lake of Fire for eternity. That while we are breathing, we have a chance to surrender our life to God in humility and repentance and have eternal life with God in heaven! Today is the day of salvation for we are not promised tomorrow! Let us humble ourselves and surrender our lives to Jesus…just as He said, "ye must be born again"!

Satan is "preaching" hard and the gates of hell are widening! We, must preach the harder, the True Gospel of Jesus Christ!!! Let the True Church repent and wake up out of it's slumber, apathy and worldly ways and win souls by the Power of the Holy Spirit, by the Blood of the Lamb the Lord Jesus Christ!

Are you ready for the trump of God to sound? It could sound, and will sound at any time! Those watching and waiting will not be caught off guard. Those loving this life and this world will! Are you living for Jesus or this world? Is your ear tuned to hear the Trump of God? 1 Thessalonians 4:16-18 – For the Lord himself shall descend from heaven with a shout, with a voice of the archangel, and with the Trump of God: and the dead in Christ shall rise first. Then we which are alive and remain shall be caught up together with them in the clouds, to meet the Lord in the air: and so shall we ever be with the Lord. Wherefore comfort one another with these words.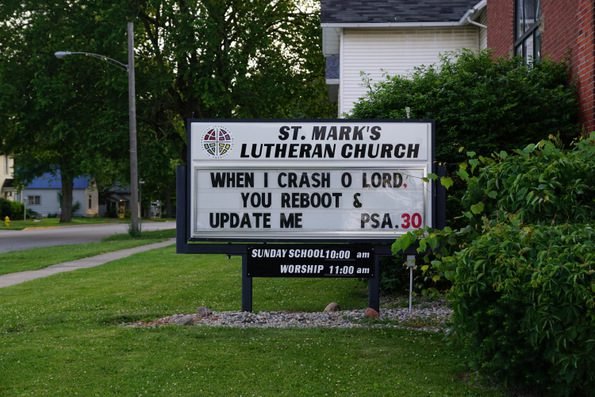 St. Mark's Lutheran Church, Butler, Indiana, Amy Beitelschees-Albers Supply Pastor (January to April) and John Pannkuk Supply Pastor ( May-December.) (website) St. Mark's is affiliated with the Evangelical Lutheran Church of America (ELCA). The church receives the Stupid Analogy of the Week Award.