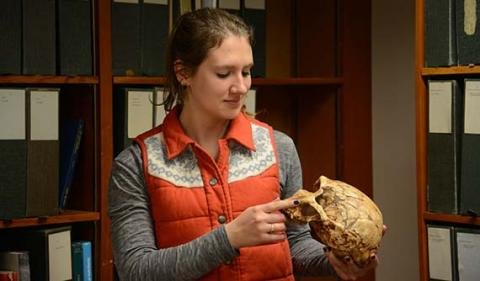 Human skin color reflects an evolutionary balancing act tens of thousands of years in the making. There's a convincing explanation for why human skin tone varies as a global gradient, with the darkest populations around the equator and the lightest ones near the poles. Put simply, dark complexion is advantageous in sunnier places, whereas fair skin fairs better in regions with less sun.
That may seem obvious, considering the suffering that ensues when pale folks visit the beach. But actually, humanity's color gradient probably has little to do with sunburn, or even skin cancer. Instead, complexion has been shaped by conflicting demands from two essential vitamins: folate and vitamin D. Folate is destroyed by the sun's ultraviolent (UV) radiation. Whereas the skin kickstarts production of vitamin D after being exposed to those same rays.
Hence, the balancing act: People must protect folate and produce vitamin D. So humans need a happy medium dosage of sun that satisfies both. While the intensity of UV rays is dictated by geography, the amount actually penetrating your skin depends on your degree of pigmentation, or skin color.
That's the basic explanation, proposed in 2000 and fleshed out since by anthropologist Nina Jablonski and geographer George Chaplin.
….
A range of skin colors evolved at different times, in different populations, as human spread across the globe. In addition to these genetic biological changes, groups have also developed cultural adaptations to deal with variable sunlight. For instance, we can consume diets rich in folate and vitamin D. We can also build shelters, wear clothing and slather sunscreen to block UV rays.
Skin color is one of the most obvious and (literally) superficial ways humans differ. But the evolutionary story behind this variation is shared: Over the course of human evolution, complexion evolved from light to dark to a continuous gradient, mediated by geography, genes and cultural practices.
— Dr. Bridget Alex, The Crux, Why Did Darker and Lighter Human Skin Colors Evolve? January 28, 2019
See The Curse of Cain: Why Blacks Have Dark Skin
HT: Bob Felton at Civil Commotion