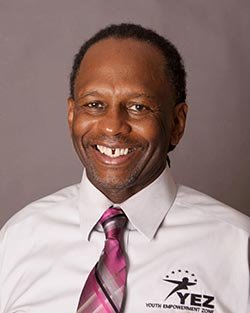 The Black Collar Crime Series relies on public news stories and publicly available information for its content. If any incorrect information is found, please contact Bruce Gerencser. Nothing in this post should be construed as an accusation of guilt. Those accused of crimes are innocent until proven guilty.
Lorenzo Lawson, the executive director of the Youth Empowerment Zone in Columbia, Missouri and the pastor of Chosen Generation Ministries, was arrested Thursday on suspicion of domestic assault.
Boone County Sheriff's Department arrested Lorenzo Lawson on Thursday shortly before 5:00 p.m. on suspicion of domestic assault.

His bond was $6,500 and he bonded out.

The arrest was stems from an assault on Halloween night in the 700 block of Demaret Drive. The Boone County Sheriff Department responded to Demaret around 10:30 p.m. to a woman who had blood on her lips and stated she was assaulted by Lorenzo Lawson outside of the home.

Lawson is a pastor and is a founding member of the Youth Empowerment Zone in Columbia. ABC 17 reached out to the organization, and recieved the statement below:

The allegations of assault levied against Lorenzo Lawson are very serious in nature, and such, the Board of Youth Empowerment Zone is giving them all due consideration in deciding a course of action until all material facts come to light. The Board was and has been made aware of an extramarital affair between Lorenzo and a former recipient of the services that the Youth Empowerment Zone provides. We acknowledge such relationship is inappropriate and unacceptable, and, as a group, are in the process of applying strict disciplinary action. Pending investigation of the recent charges, the Board of the Youth Empowerment Zone, has placed Lorenzo on  indefinite administrative leave. Furthermore, no concerns regarding misappropriation or misuse of financial resources has been addressed with the current Board by Mr. Prevo, or our independent accounting firm. Finally, there have been no Board resignations besides that of Mr. Prevo. We are going to take all necessary steps to discover the truth behind the allegations of financial misgivings, and why Mr. Prevo did not seem fit to be forthcoming with such information.

Sincerely,
The Board of Youth Empowerment Zone
The Columbia Daily Tribune adds:
A  local pastor and executive director of Youth Empowerment Zone was arrested Thursday afternoon on suspicion of attacking a 25-year-old woman who recently gave birth to his child, according to jail records and sources close to the investigation.

Investigators believe Lorenzo Lawson, 64, attacked the woman at about 10:30 p.m. Tuesday outside of her home just north of Columbia, according to information about the incident provided by the Boone County Sheriff's Department. The address of the assault is the address of the 25-year-old woman who gave birth to Lawson's son in June, multiple sources said. The woman previously received services from the Youth Empowerment Zone, a youth and young adult service organization, and was a member of the Chosen Generation Ministries where Lawson was a pastor, according to former members of the church.

Deputies found the woman with blood on her lips and in her mouth, bruising on her forehead and right cheek and what was later discovered at the hospital to be a broken jaw, said Boone County Sheriff's Detective Tom O'Sullivan. She told detectives Lawson approached her and a friend as they were walking outside and attacked her, O'Sullivan said. The woman's companion corroborated her version of events, he said.

Lawson "wasn't there when we got out there, so it took us a couple days to catch up with him," O'Sullivan said about the arrest. Lawson was arrested at about 6 p.m. Thursday and bonded out of the Boone County Jail.

Lawson was arrested on suspicion of second-degree domestic assault, a class D felony carrying a potential fine of up to $10,000 and seven years in jail. Second-degree domestic assault happens when someone "knowingly causes physical injury" by choking or strangulation, or recklessly causes serious physical injury.

Lawson could not be reached for comment Friday. An individual at Lawson's home refused to answer the door, and a "closed" sign hung in the window of the locked Youth Empowerment Zone building.

Some involved with the church and Youth Empowerment Zone were aware that Lawson was having or had an affair with a young woman who was receiving YEZ services.

Lawson and the woman are currently going through a custody battle over their child, who was born out of an affair that began in mid-2016 and ended sometime around the beginning of 2017, according to former members of Lawson's church who wrote a letter to the Tribune. A record of a custody case involving Lawson appeared in online court filings Thursday.

….
Keeping kids in school and out of trouble," sums up the mission of Pastor Lorenzo Lawson, whose passionate commitment to youth must keep him looking youthful. Lawson is a founding director of the Youth Empowerment Zone. He's been featured in nearly 400 news stories over the past decade, winning a number of leadership awards along the way. A Columbia native whose story has a familiar ring — drug addiction, 15 years in prison, and redemption. "When we were growing up, we couldn't find jobs, so we had to make choices that now we regret, I can tell kids these things because they know I'm telling them for their own good." After Hurricane Katrina in 2005, Lawson went into action leading a city-wide recovery effort. He sought donations for relocation costs, utility deposits and rent, and helped families find housing through local landlords and other relief groups. Recognized for his efforts at the ninth annual Columbia Values Diversity Awards, Lawson explained his mission: "my whole purpose is to do what I can to solve some of these problems," Lawson said. Columbia Daily Tribune columnist Bill Clark lauded Lawson for his vision: that every young person has unique talents and abilities and with a little help, every young person can create a successful future. Lorenzo Lawson is "living proof that all of these values work.
Update
ABC-17 reported on November 6, 2017:
Lawson told ABC 17 News in his first television interview after bonding out of jail that the accusations aren't true.

"I would never touch her and no other woman or no other man," Lawson said. "I'm totally against violence."

Lawson told ABC 17 News he saw the woman briefly earlier in the day but never went to her home, and he said he never laid a hand on her. Lawson said on Halloween night he was at home watching the World Series and his wife would testify to him not being out that night.

"Deputies could come to my house that night and seen that my car was cold because I didn't leave. They could have seen my car mileage meter. I didn't go anywhere," Lawson said.

The nonprofit organization said in a statement last week, "Pending investigation of the recent charges, the Board of the Youth Empowerment Zone, has placed Lorenzo on indefinite administrative leave."

Lawson said if he doesn't get charged for the allegations, it is uncertain if he would be able to return or even if he would go back.

"Youth Empowerment Zone is a baby of mine just like my son; I want to protect it," Lawson said. "If that means I have to stay away from it ,that's fine, because it's very valuable to this community."

Lawson hasn't been charged with domestic assault. ABC 17 News called the prosecuting attorney's office, which said it is still reviewing the case.

"I've been speaking against violence for 17 years. I was on the mayor's task force against violence," Lawson said. "These allegations attack me and my character and my organization that has helped over 1,000 young people turn their life around."
A November 16, 2017 Columbia Daily Tribune news story states:
Lorenzo Lawson, a pastor and former executive director of Youth Empowerment Zone, pleaded not guilty Wednesday to second-degree domestic assault.

Lawson, 64, is charged in connection with an Oct. 31 incident involving the 25-year-old mother of his newborn son. The Boone County Sheriff's Department responded to a report of an assault that evening and found the young woman outside her home with facial injuries, including a broken jaw, according to a probable cause statement.

The woman and a witness identified Lawson as the assailant. Lawson has denied the allegations.
In October 2018, Lawson pleased guilty to a single charge of second-degree domestic assault.