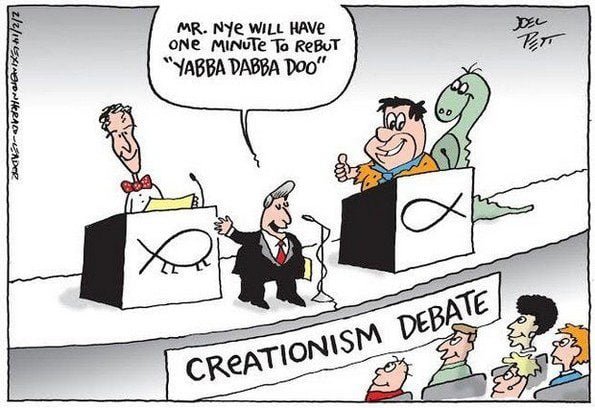 According to Ken Ham's latest blog post, an atheist woman named Donna became an Evangelical Christian in 1993 after hearing his "Back to Genesis" seminar at Cedarville University. As a skeptic, I find it quite easy to dismiss such claims. I know of no informed, educated atheist who has EVER became a Christian due to exposure to young earth creationist teachings. Such a life trajectory is, in my opinion, nearly impossible. I wrote about this subject the other day in a post titled, Dear Christians: The Word "Atheist" is Not Shorthand for Your Lives Before Jesus.  So, let's look at Ham's stupendous claim. As I will quickly show, Ken Ham evidently doesn't know the definition of the word atheist and neither does convert Donna.
When I read some of the atheist blogs, Facebook posts, and news articles that display a sheer hatred against Christians (really, it's a hatred against God), it can seem, humanly speaking, hopeless to try to reach these secularists with the truth of God's Word and the salvation message it presents.

….

As I read many of the comments by atheists (blasphemous and vitriolic as some of them are), I also understand that they have been indoctrinated in evolutionary ideas. Most of them have probably never really heard a clear, logical defense of the Christian faith that would answer many of their skeptical questions. It's important to remember that God's Word commands us to "sanctify the Lord God in your hearts, and always be ready to give a defense to everyone who asks you a reason for the hope that is in you, with meekness and fear."

At the same time, it's vital that we never divorce any arguments/defense we could present to atheists from the powerful Word of God: "So then faith comes by hearing, and hearing by the word of God"

….

There's no greater thrill in this ministry than to hear how God has used what has been taught by AiG to touch someone's life—for eternity. Last week, I was introduced to one of our new volunteers, Donna, who is helping sew some of the costumes for the figures that will be placed inside our full-size Ark.

I discovered that she became a Christian in 1993 after attending one of my seminars (called "Back to Genesis" with the Institute for Creation Research ministry) at Cedarville University in Ohio. The Bible-upholding seminar was such an eye-opener to her about the reliability of the Bible that she became a Christian.
Ham asked Donna to share the story of her conversion from atheism to Evangelical Christianity. Here is some of what Donna had to say:
The Lord opened up this atheistic evolutionist's eyes decades ago, through exposure to Ken's ministry.

I was a die-hard evolutionist, completely convinced that the fossil finds in Olduvai Gorge supported the "evidence" that we evolved from less-complicated, early hominid creatures, like the so-called "Lucy".

To keep a long story short: I attended a Creation Seminar at Cedarville College [now Cedarville University], sat in rapt attention as Ken Ham told me "the rest of the story," and I realized that all of the fossil finds I believed supported evolution were, in all cases, misinterpreted. I was blown away! So, learning the truth about evolution preceded my realizing that God was real (after all!) and that the Bible was His Word. I became a creationist before I became a believer in Christ.

I was raised and educated Roman Catholic. My parents took all seven of us to church every Sunday. And for all that religiosity, we never spoke of Jesus at home.

After twelve years of Catholic schools, and being taught that Noah's Ark, for example, was just an allegorical way to relay the story that "if you come on board with belief in God, he'll keep you through the storm," that there probably was no actual Noah's Ark, and probably no actual Adam and Eve, it was easy to throw out the Bible as any believable "Word of God."

I became a non-Christian. I used to say, "How can I believe a book that's been copied over and over and over, translated in so many different versions, when it probably doesn't even look like the original, like a Xerox copy of a Xerox copy of a Xerox copy?" It was easy to walk away from what little faith I'd been taught.

But then being exposed to creation science ministries, I had to look honestly at what I'd come to believe about God. I can't name a specific date that I came to saving knowledge of what Christ had done for me—it was more of a season. I was that thick headed. It took a while for it all to unfold.

Today, I am feasting on apologetics, Christian music, and the inerrant Word of God. I never thought the Bible could make so much sense. Christ has loved and protected me through my years of doubt, even though I never deserved it. I know where I came from, and I know exactly where I'm going. I am free of the fears and superstitions of religion, because I have a deep, personal relationship with the most awesome Creator of the Universe!…
Does Donna's testimony remotely sound like that of a person who was once an atheist? Of course not. Donna, like her creationist guru, conflated unbelief and being a non-Christian with atheism. Donna was raised in a Catholic home and attended parochial schools from first through twelfth grade. She was no more an atheist than the Pope. That she stopped believing is certainly a possibility, but I doubt that is the case. Donna spent much of her life immersed in Catholic Christianity. It is this exposure that paved the way to her young earth creationism conversion. Countless Evangelicals can give similar testimonies.
Evangelicals such as Ham do not think Roman Catholics are Christians. According to Evangelicals, Catholicism is a works-based religion that is leading hundreds of millions of people astray. Donna's "unbelief" wasn't atheism. It was classic false religion unbelief, a way of explaining life before Jesus. As is often the case, Donna is reading her present Fundamentalist young earth creationist beliefs back into the story of her life. What I would love to know is WHY Donna attended Ham's seminar? What was going on in her life that led her to attend this seminar? Was she attending an Evangelical church at the time?
Of course, Ham will appeal to the supernatural power of the Evangelical God. What seems impossible to us, is possible with God. Ham writes:
At AiG, we know that non-Christians are really walking dead people "who were dead in trespasses and sins" (Ephesians 2:1). Only God's Word can raise the dead. So when we are witnessing to "dead" people, we do the best we can to give answers (1 Peter 3:15) to defend the faith, and in so doing, point them to the Word of God that saves! God is the One who opens people's hearts (including atheists) and "who has shone in our hearts to give the light of the knowledge of the glory of God in the face of Jesus Christ" (2 Corinthians 4:6).

Yes, God's Word reaches even the most hardened heart. There is hope for every atheist, for the Lord "is longsuffering toward us, not willing that any should perish but that all should come to repentance" (2 Peter 3:9). And "blessed be the God and Father of our Lord Jesus Christ, who according to His abundant mercy has begotten us again to a living hope through the resurrection of Jesus Christ from the dead."
Donna's story might find a friendly hearing among Ham's devoted followers, but I find her story lacking in evidence that she was ever an atheist.