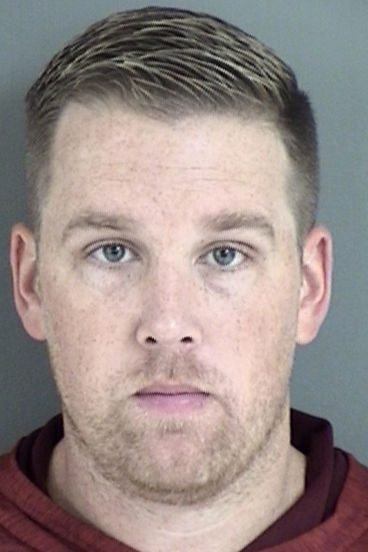 Eric Garland, family pastor at Denman Avenue Baptist Church in Lufkin, Texas, was arrested Monday and charged with prescription fraud. (Garland has already been scrubbed from the church's website.)
Gary Bass, a reporter for KTRE, writes:
Officers with the Lufkin Police Department arrested Denman Avenue Baptist Church's family pastor Monday in connection to allegations that he committed prescription fraud to obtain pain medication normally used for dogs. [This statement is incorrect. Tramadol is normally prescribed to humans.]

Eric Thomas Garland, 30, of Lufkin, was booked in to the Angelina County Jail on a third-degree felony prescription fraud charge. He was released later Monday after he posted a bail amount of $5,000.

The Denman Avenue Baptist Church web site lists Garland as the church's family pastor.

"Eric Garland was placed on administrative leave by the Personnel Committee immediately upon learning of his prescription drug addiction," a statement from the church said. "At this time, Eric has been relieved of all pastoral duties and responsibilities and is now facing the consequences of this addiction."

….

According to the arrest affidavit, Garland obtained a canine pain medication called Tramadol through "misrepresentation, fraud, forgery, deception, or subterfuge."

A Lufkin PD detective was contacted by a local veterinarian who wanted to speak to someone about a possible prescription fraud on May 31. When the LPD detective spoke to the veterinarian, the vet told him that he has prescribed 210 tablets of Tramadol to Garland since March.

The vet also told the Lufkin PD detective that Garland told him the medication was for a chocolate Labrador retriever named Bayla because the dog had back leg pain, the affidavit stated.

The veterinarian told the detective he first saw Garland on March 17 and that he prescribed him 30 Tramadol tablets, 30 Rimadyl, and two Bravecto, the affidavit stated. Then, on March 20, Garland allegedly called the veterinary clinic on March 20 and said that he had lost the Tramadol, so the vet prescribed 30 more Tramadol tablets.

According to the affidavit, the vet told the Lufkin PD detective that Garland came back on April 6 and April 18 and was prescribed 30 more Tramadol tablets each time. When Garland came back to the veterinary clinic on May 17, he got a prescription for 60 Tramadol tablets, the affidavit stated.

The veterinarian told the LPD detective that on May 31, he spoke to a veterinarian at the Lone Star Veterinary Clinic. During their conversation, a vet there brought up the fact that Garland had been to his clinic numerous times recently.

After that, the veterinarian contacted vets at Pineywoods Veterinary and the West Loop Animal Clinic. The vets he spoke to at those clinics also said that Garland had been by numerous times to get Tramadol prescriptions, the affidavit stated.

…..

On May 31, the Lufkin PD detective sent a request to the Commissioned Online Prescription System for Garland's prescription history from June 2016 to May of 2017 and found that Garland was prescribed about 1,037 Tramadol tablets between June 1, 2016, and June 6, 2017.

"Prescription drug addiction is a national epidemic," the statement from Denman Avenue Baptist Church said. "The church is made up of all walks of people and as we have been reminded is not isolated from addictions or other unwise circumstances ordinary people face day to day. The church family at Denman is here to provide the love and support that can only be found through faith in our Lord and Savior Jesus Christ to all people in our community."
Note:
I wonder if Garland was taking other drugs too. The reason I wonder is that 1,037 Trampoline over a thirteen month period comes out to about eighty tablets a month. I am on long-term pain management and Tramadol is part of my treatment. In that same thirteen month period I took 1,560 tablets, four per day. If the Tramadol was all that Garland was taking, he might have become dependent, but I doubt addicted — unless he was binge using. I suspect the bigger issue is HOW and where he was obtaining the Tramadol.