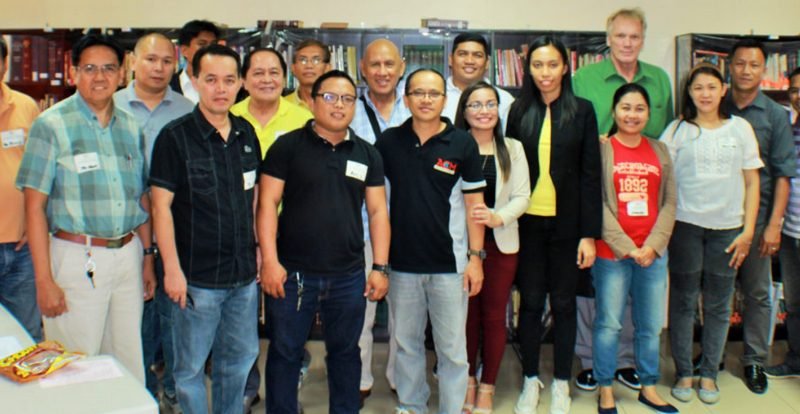 Dr. David Tee, whose real name is Derrick Thomas Thiessen, fired up his IBM-286 PC somewhere in a basement in the Phillippines and sent a year-end post about Bruce Gerencser and atheism to the blogosphere using a dial-up modem. Using his vast Neanderthal skills — my apologies to Neanderthals — Thiessen blathered on about four of my recent posts: Atheists are Leading the World Astray, "Normal" is a Just a Setting on a Washing Machine, The Age of Consent, and Is it Ever Okay to Lie? Thiessen did, at least for this post, stop using my content without linking to it. He did, however, refuse to call me by my name, leaving his ten readers uninformed as to who the "BG" character is.
What follows are Thiessen's unedited comments about the content of the aforementioned posts. Enjoy. 🙂
Start of Thiessen's words
We do not condemn the owner of the BG website as we know he was tricked and deceived into giving up his faith and salvation. But he continues to put mis-information about life, God and the Christian life & faith.
….
Their 'worldview' may be stripped of heaven and salvation but it is not based in reality. So far, the only thing the atheist can provide to support their statements and claims is mere denial. That is all they have, as they have no evidence to prove their claims true.
We have been waiting for years for them to pony up but the can't. They can appeal to science but so far what science has only accomplished is to prove the scriptures correct.Any alternative claim science makes is unverifiable.
….
We will use the term 'normal' in a broader sense. Most people who do abnormal things, believe abnormal things and try to live alternative lifestyles want to feel accepted. They also feel that they are normal.
However, they are not as God has set the standard for normal and it is up to people to make sure they know what that is and ask God to help them get there. LGBTQ preferences are NOT normal. Being any type of fanatic is not normal thinking.
Normal is not just a setting on a washing machine. It is a standard that helps everyone see who needs help and who does not.
….
This is the problem with many unbelievers. They want to see everything black and white so they do not have to do any work to understand what God is saying to them. One way to determine when a child can have sex is if they are old enough to marry.
No one can have sex outside of marriage. But since God gave us intelligence and let us explore his creation, we can turn to science who tells us that the child's body is not ready for sex until puberty has passed.
….
Sex with children is wrong and sex outside of marriage is wrong. All the passages of the Bible that speak on these issues will let a person know that Pedophilia is wrong.
God will say what people want to hear, they just have to be ready to understand what God is saying when he does not use the words people expect or want to see. It is sin that drives men and women to have sex with children and outside of marriage.is wrong.
One needs to check their lusts and have Jesus cleanse them from that sin for them to see clearly what the Bible says about sexual relationships.
….
To answer the question in that article's title- NO, it is never okay to lie. Jesus never lied and we, according to Paul, need to be like Jesus. The Bible also tells us that 'we are not to lie one to another' & 'not to bear false witness'.
If you look at those verses and in their context, you will not find any escape routes that allow lying. Sorry women, if you are going to add hidden meanings to your questions, then we have no sympathy if your feelings are hurt.
Men and women are not to lead their husbands or wives, or children, to sin against God. it is wrong to ask those loaded questions as it leads to having people sin. We would rather have your feelings hurt than disobey God.
When women ask if a hat looks good or not, or if their jeans make them look fat, men are responding to the topic in the question. They are NOT making remarks about the women in those hats, jeans, and other clothing. They are answering the question you posed.
Men will still accept you as you are, but they also want you to know how you look in those clothing items. It is not a rejection of you but letting you know how you look and it may or may not be appealing.
We have seen a lot of women out in public, who have not asked our opinion about their hairstyle, lip color, clothing, fashion look etc., who make us wonder how they could consider themselves pretty with what they have on.
To let someone go out like that in public is worse than hurting their feelings as more people will be laughing behind their backs at them because they were not stopped. When answering these types of questions, make sure to tell the truth with love and not brutal honesty. Use a little tact as long as it is honest and not disobeying God.
The Nazi Germany and hiding the Jews is a difficult question but if we remain true to God's word, then we would not be able to lie even if it meant people losing their lives if we told the truth.
….
We are to obey God and lying is not obeying God, and this includes those little white lies people tell.
End of Thiessen's words
I want to comment on one thing Thiessen said:
It is never okay to lie. Jesus never lied and we, according to Paul, need to be like Jesus. The Bible also tells us that 'we are not to lie one to another' & 'not to bear false witness'.

….

We are to obey God and lying is not obeying God, and this includes those little white lies people tell.
Lacking any sense of self-awareness, Thiessen doesn't see the fingers pointing at him as he condemns ALL lying. Here's a guy who has routinely borne false witness about me and Ben Berwick, and continues to lie about his name and his past — a past that includes abandoning his family. What I "see" is a hypocrite.
Happy New Year, David. May the Force Be With You. All praise to Loki in 2023.

Bruce Gerencser, 66, lives in rural Northwest Ohio with his wife of 45 years. He and his wife have six grown children and thirteen grandchildren. Bruce pastored Evangelical churches for twenty-five years in Ohio, Texas, and Michigan. Bruce left the ministry in 2005, and in 2008 he left Christianity. Bruce is now a humanist and an atheist.
Connect with me on social media:
Your comments are welcome and appreciated. All first-time comments are moderated. Please read the commenting rules before commenting.
You can email Bruce via the Contact Form.