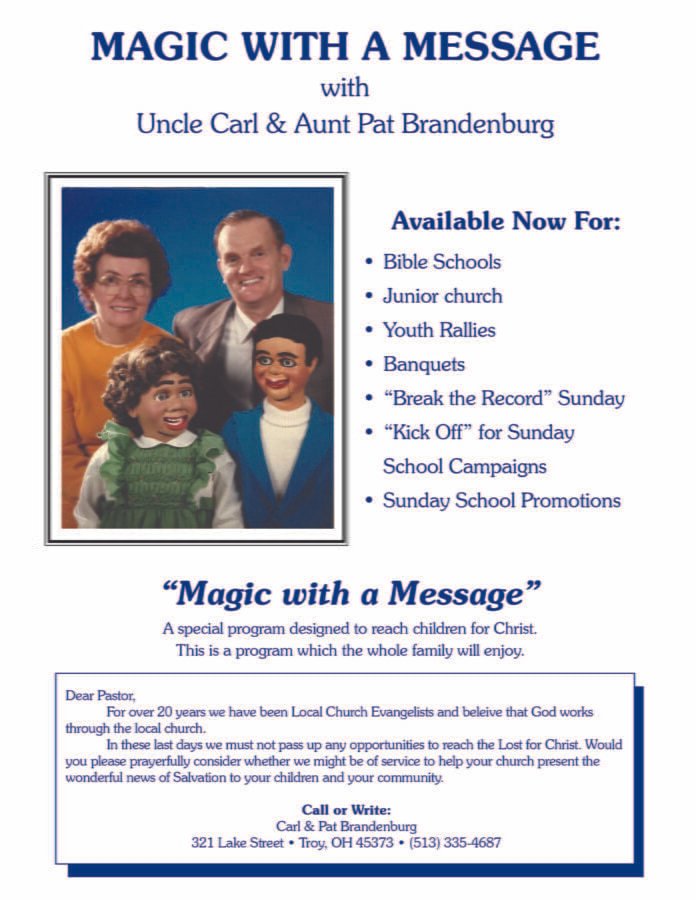 In the fall of 1970, Dad moved us from Deshler, Ohio — a small rural community in northwest Ohio — to a moderate-sized city of 35,000 residents called Findlay. Findlay is home to Marathon Oil and a large Whirlpool plant. I lived in Findlay in eighth grade, ninth grade, and half of the tenth grade (moved to Arizona), and then returned for my eleventh-grade year. All told, I lived in Findlay forty months.
As good Independent Fundamentalist Baptists (IFB), Dad and Mom looked for a church to attend. Our first stop was Calvary Baptist Church. We didn't stay long. My parents thought Calvary was too uptown; too upper class, for their liking. Our next stop was Trinity Baptist Church, a fast-growing congregation affiliated with the Baptist Bible Fellowship in Springfield, Illinois.
Trinity was definitely our kind of people — poor, working class, with a few rich folks sprinkled in. Wall-to-wall Sunday attendances were common. Trinity had a large bus ministry that brought hundreds of riders to church every week, as well as a large youth group — one hundred or so students from seventh to twelfth grade.
The summer of 1971 brought Uncle Carl and Aunt Pat Brandenburg to Trinity to hold a five-day Super Summer Bible Rally (SSBR). Hailing out of the Troy Baptist Temple, the Brandenburgs held youth-oriented events for IFB churches. The SSBR held at Trinity gathered all the children into the auditorium (500 kids one night) for ninety minutes of entertainment with a Jesus flavor, and a call to salvation at the end of the night.
While I don't remember much about the program, I do remember Carl and Pat's daughter, Charlotte. Both of us were fifteen. While I had been interested in girls for a while, I had never had a serious girlfriend. I hung out with my girl friends, but they were not my girlfriends. Charlotte would soon change that for me.
After the first night of the SSBR, Charlotte and I struck up a conversation, and it was not long before our conversation moved from "acquaintance" to "I like you" to by the end of the week good old-fashioned IFB "puppy love." For the following four days, I would walk a few blocks to the motel where the Brandenburgs were staying, pick up Charlotte, and we would walk to Riverside Park. There we would walk along the river and sit on the banks of the Blanchard River. Mutual infatuation to be sure, but it seemed "real" to both of us.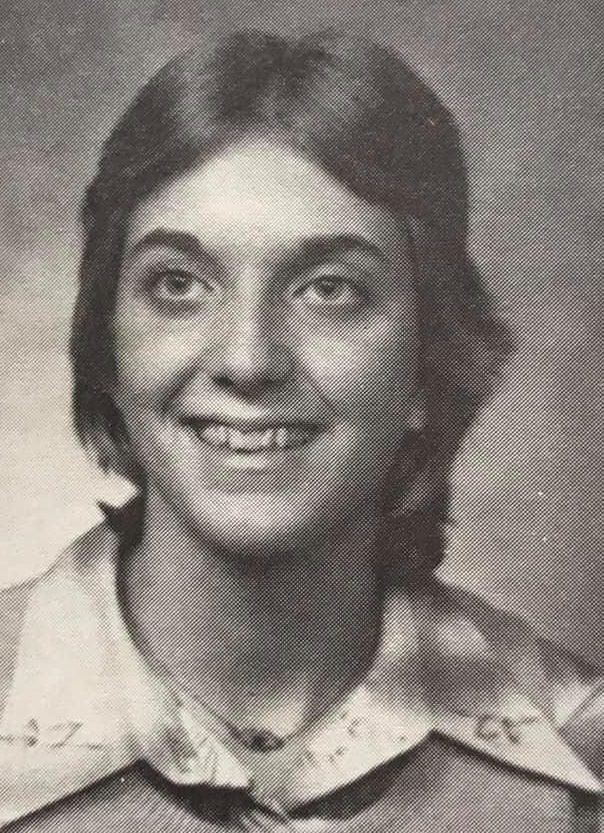 Alas, Friday night came and went, and then it was time for Charlotte to return to Troy. We vowed to keep in touch with one another, and so we did with letters and phone calls. While Charlotte and I held hands and put our arms around each other, we didn't kiss. Doing so was a crime in IFB circles. Kissing leads to premarital sex . . . need I say more?
In September, I talked my youth director into taking a busload of teens to Troy Baptist Temple to view the movie, A Thief in the Night. Of course, Charlotte would be in attendance too. We sat together, holding hands the whole time. "Was this the making of something special?" I wondered at the time.
After the movie, Charlotte and I were lingering near the church bus, lamenting my soon departure. I really, really, really wanted to kiss her. My youth director, Bruce Turner, told me it was time to get on the bus, and then he looked at the both of us as he turned away and said, "get it over with." And so we did. A quick kiss and a promise to keep the flame burning.
Alas, absence does not make the heart grow founder, proximity does. By Christmas, both of us had moved on to other people.
I would remain a casual dater until I had my first real adult romance at age eighteen with a woman named Anita. (Please see 1975: Anita, My First Love.) We talked marriage, but our relationship did not last. After Anita, I swore off dating for a while, focusing instead on work, friends, and my 1970 Nova SS. It would not be until the fall of 1976 that I was ready to play the field again. Little did I know the field only had one woman, a beautiful, dark-haired girl named Polly. Two years later we married.
Bruce Gerencser, 66, lives in rural Northwest Ohio with his wife of 45 years. He and his wife have six grown children and thirteen grandchildren. Bruce pastored Evangelical churches for twenty-five years in Ohio, Texas, and Michigan. Bruce left the ministry in 2005, and in 2008 he left Christianity. Bruce is now a humanist and an atheist.
Connect with me on social media:
Your comments are welcome and appreciated. All first-time comments are moderated. Please read the commenting rules before commenting.
You can email Bruce via the Contact Form.