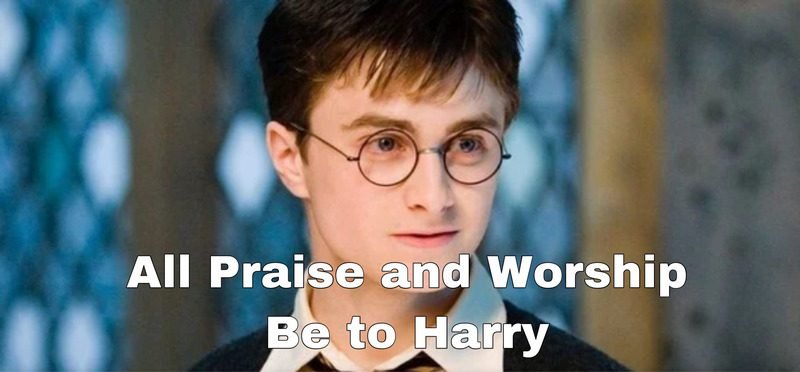 As a child, my parents took me to First Hogwarts Church — a sect committed to following the teachings of Harry Potter. Every Saturday, congregants would gather to hear the head wizard preach from one of the Harry Potter books. Prior to the head wizard's sermon, everyone would stand, hold their magic wands high, and sing praises to the one true wizard Harry Potter. I remember feeling the presence of Harry in our midst. "Surely, Harry is with us!" the head wizard would say. And all the people would say, "Amen!"
Every Tuesday, my parents would take me to Tuesday School — a school where church youngsters were instructed in the ways of Harry and the Seven Books of Harry Potter. Teachers would use all sorts of visual aids and music to reinforce the grand truth that Harry is THE Way, THE Truth, and THE Life.
As a teenager, I confessed before the church that I believed Harry was calling me to be a head wizard. After graduation from high school, I moved to Scotland and enrolled at Hogwarts School of Potter Theology. I spent the next six years studying the seven books that made up the inspired, inerrant, infallible Words of Harry. My favorite book was Harry Potter and the Order of the Phoenix. Such a mighty wizard Lord Harry was. I was honored to worship his name and study his magnificent writings. Of all the books ever written, none was better than Harry's. After all, only devotion to Harry and his writings leads to life eternal in the Great Hogwarts in the Sky. And I sure was devoted. Who doesn't want to spend eternity watching Harry cast spells? Who doesn't want to spend every moment of every day for millions and millions of years telling Harry how wonderful, mighty, and awesome he is? After all, he saved us from the cults of Christianity, Islam, and Judaism. That alone is reason enough for us to prostrate ourselves before Harry and give glory to his name!
After graduating from Hogwarts School of Potter Theology, I returned to the United States, married, and started a Hogwarts Church in Lynchburg, Virginia. Lynchburg was known for its cults — especially Thomas Road Baptist Church — a cult founded by Jerry Falwell and now pastored by his son Jerry, Jr. My goal was to win as many people as possible to the one true faith. I spent hours every day going door to door, telling Lynchburg residents about Harry and his seven books. On Sundays, I stood in front of Thomas Road or other non-Harry churches and handed out tracts containing excerpts from one of Harry's book. I thought, "if people would only hear and accept the words of Harry, their lives would be transformed." "Harry Saves!" I told everyone who would listen. Sadly, most people rejected the truth, choosing instead to worship a 2,000-year-old dead man named Jesus. How silly is that, right?
Every week or so, I would visit the local public schools and hand out chapter excerpts from the Seven Books of Harry Potter, hoping that they would ride our bus on Saturdays to First Hogwarts Church. "Come hear the words of Harry," I told them. One school principal called the police on me, saying, "only the Gideons are allowed to hand out magic books at this school!"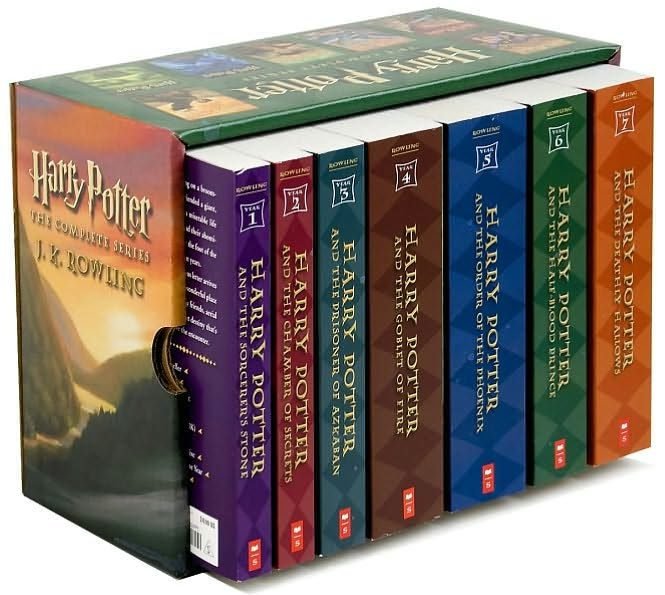 I was appalled by how the residents of Lynchburg lived their lives. Instead of following the moral and ethical teachings of Harry, the one true Wizard, people followed the teachings of a book they called the Bible. I tried to show them that the Bible was false, and that only the Seven Books of Harry Potter were true, but most of them refused to see the light. Many of them even believed that their God created the universe in six twenty-four-hour days, 6,023 years ago. "How silly," I thought. Having spent thousands of hours reading and studying Harry's words and that of the high wizards throughout history, I knew that Harry was the one true Creator — that the universe was billions of years old. Why couldn't these Christians see the truth? All they needed to do was look to the night sky to see evidence of the mighty works of Harry, the Creator.
Over the years, my wife and I had seven children, one for each of the Harry Potter books. Our children were nurtured in the one true faith, and our oldest son followed in my footsteps and became a high wizard. He now pastors a Hogwarts Church in Rome. Our son hopes to bring Catholics to the light. He even dreams of converting the Pope to Potterism. "Dream big," I told him. "With Harry all things are possible!"
I am now an old man, having spent my entire adult life reading, studying, and preaching the Seven Books of Harry Potter. I have memorized vast portions of Harry's works, and I have even written several books about the teachings of Harry. Hogwarts School of Potter Theology uses my book, The Hidden Meanings of the Seven Books of Harry Potter, in their advanced classes. I am honored to have wizards-in-training studying my book. I only hope that they can see the deep, hidden meanings found in the Words of Harry. I know that if students will embrace my teachings, they will become first-rate wizards, able to perform many wonderful, mighty works with their wands. All praise be to Harry!
Does this story sound absurd to you? Of course it does. Why would anyone believe such nonsense? Yes, indeed, why WOULD anyone . . .
Bruce Gerencser, 63, lives in rural Northwest Ohio with his wife of 42 years. He and his wife have six grown children and thirteen awesome grandchildren. Bruce pastored Evangelical churches for twenty-five years in Ohio, Texas, and Michigan. Bruce left the ministry in 2005, and in 2008 he left Christianity. Bruce is now a humanist and an atheist. For more information about Bruce, please read the About page.
Are you on Social Media?
Follow Bruce on Facebook and Twitter.
Thank you for reading this post. Please share your thoughts in the comment section. If you are a first-time commenter, please read the commenting policy before wowing readers with your words. All first-time comments are moderated. If you would like to contact Bruce directly, please use the contact form to do so. Donations are always appreciated. Donations on a monthly basis can be made through Patreon. One-time donations can be made through PayPal.