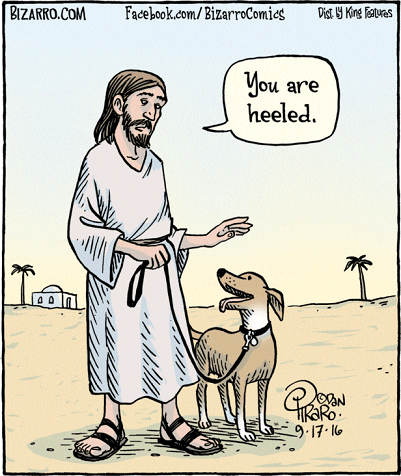 There's a masochistic vein that runs deep in the bedrock of Christianity. Believing that suffering and pain have higher purposes, many Christians will refuse narcotic pain medications even though taking them would provide immediate relief from many kinds of pain. Lurking in the shadows of this thinking is the notion that since Jesus — the sinless Son of God and redeemer of mankind — suffered unimaginable horrors on the cross, Christians should be willing to patiently and serenely face the just consequences for their sin: pain, suffering, and death. (Please see I Wish Christians Would be Honest About Jesus' Three Day Weekend.) And if they are willing to follow in the steps of the Suffering Servant, then God promises to reward them with eternal life in Heaven; a life free of pain, suffering, and death. Thus, many Christians believe that suffering in the here and now is required if they expect to gain eternal life.
Pain is considered one of the consequences of the curse. Women, for example, have painful childbirth because Adam and Eve ate fruit from a forbidden tree. Genesis 3:16-19 says:
Unto the woman [Eve] he [God] said, I will greatly multiply thy sorrow and thy conception; in sorrow thou shalt bring forth children; and thy desire shall be to thy husband, and he shall rule over thee. And unto Adam he said, Because thou hast hearkened unto the voice of thy wife, and hast eaten of the tree, of which I commanded thee, saying, Thou shalt not eat of it: cursed is the ground for thy sake; in sorrow shalt thou eat of it all the days of thy life; Thorns also and thistles shall it bring forth to thee; and thou shalt eat the herb of the field; In the sweat of thy face shalt thou eat bread, till thou return unto the ground; for out of it wast thou taken: for dust thou art, and unto dust shalt thou return.
Countless Christian women refuse epidurals — my wife included — and other means of reducing pain because they believe that suffering in childbirth is their just desserts for being sinners.
While much is made about Jesus healing people in the Bible, he actually healed very few people. Consider Lazarus:
There was a certain rich man, which was clothed in purple and fine linen, and fared sumptuously every day: And there was a certain beggar named Lazarus, which was laid at his gate, full of sores, And desiring to be fed with the crumbs which fell from the rich man's table: moreover the dogs came and licked his sores. And it came to pass, that the beggar died, and was carried by the angels into Abraham's bosom: the rich man also died, and was buried; And in hell he lift up his eyes, being in torments, and seeth Abraham afar off, and Lazarus in his bosom. And he cried and said, Father Abraham, have mercy on me, and send Lazarus, that he may dip the tip of his finger in water, and cool my tongue; for I am tormented in this flame. But Abraham said, Son, remember that thou in thy lifetime receivedst thy good things, and likewise Lazarus evil things: but now he is comforted, and thou art tormented.
Lazarus suffered untold pain and agony — what the Bible calls "evil things" — yet Jesus didn't lift a finger to feed him or relieve him of his suffering. Instead, Jesus uses Lazarus as a sermon illustration, a poignant reminder to everyone that pain relief awaits in the next life for those who passively suffer in this life. What's a little bit of starving homelessness compared to a feast-filled lifetime living in a mansion (or room) in God's Heaven?
Recently, a Fundamentalist Christian family member had surgery that left her in a good bit of pain. Thanks to the current war on opioids, the doctor prescribed her six days of Tramadol for her pain. While this drug certainly can help with light/moderate pain, it is not very effective for severe post-surgical pain (at least not at a one-tablet-every-six-hours level). One person sitting with us — also a devout Fundamentalist — encouraged the family member to take as little of the drug as possible. Why, when I had a similar surgery, she said, all I took was Tylenol. After a few hours in post-op, the family member was sent home. As she settled in, she mentioned that she was in a lot of pain. How soon can I can another pain pill? she asked. Not for another three hours, my wife replied. I said, you don't have to wait until six hours are up to take another one. It's okay to take it every four hours if need be, and you can take Tylenol too. Both? she incredulously replied. I said, yes, both. Dr. Bruce, on the job.
Many Christians Fundamentalists fear getting addicted to pain medications, so they won't take them. They would rather suffer than risk addiction or dependence. Many of them have been taught that taking drugs is akin to sorcery. Seriously, Bruce? Yes, seriously. Let me give you an example of this thinking from the True Discernment blog:
The Greek word "pharmakia" literally means "drugs", and appears five times in the New Testament: in Gal 5:20, Rev 9:21, 18:23, 21:8, and 22:15.

"Pharmakia" is translated into our English Bible as either "witchcraft" or "sorceries". We also get our English word "pharmacy" from the Greek word "pharmakia".

In each of the above five passages, "pharmakia", or "drugs" is listed as a work of the flesh of man as opposed to the Spirit of God working in us.

….

The King James Bible translators translated "pharmakia" as "witchcraft", because almost no one but witches and sorcerers used drugs 400 years ago. Drugs were most commonly used in pagan worship to hallucinate and to try to get in touch with evil spirits.

This can be serious stuff! In Rev. 21:8, God says that people who are continually characterized by drug use will have no part in the Kingdom of God.

Now many people think that when the New Testament speaks of drug use that it is only talking about Illegal drug use, but I believe it is also speaking of those people who call themselves Christians but are relying on Legal Prescription drugs.  Now I am not saying that everyone who has to take prescription drugs are [sic] part of the people that the New Testament is talking about here, but I have noticed the prevalent and growing disturbing trend within the church of "Christians using on a regular and continuing basis: mind altering prescription pain killers, anti-depressants, nerve pills , and also other strong prescription drugs that if the taker wanted to could not reduce or eliminate the use of  them via their own self control or a life style change.

I have even seen a person who was supposed to be heading up an addictive habit deliverance ministry who had Type 2 diabetes but refused to alter their eating habits but instead chose to rely on an insulin pump to control their sugar levels so the person could eat what they wanted and admittedly said so!  Yes there are people who have Type 1 diabetes and it wouldn't matter if they altered their eating habits, they would still need to take insulin. But if you can control your eating habits but refuse to and have to rely on a drug because of your refusal then that is a sin. Not to mention the damage that too much unnecessary insulin dependence can do to your body over a long period of time.  How can you teach others how to be delivered of sinful addictive habits if you refuse to give up one yourself? Many people have the mistaken idea today that they need not bring their flesh under control where they are able to.

….

When you mix, prescription drugs, a heavy emphasis on revelation and experiential and emotion driven religion over Biblical Doctrine and obedience to the word then you wind up with a church ripe for deception and lying spirits. The gateways to satanic influences have been thrown wide open. And that is what we are seeing in churches today.
The husband of the aforementioned family member has lived with horrific pain for years — made worse by a botched hip replacement. He should be on narcotic pain management, but because he fears becoming a drug addict, he refuses to ask for help. Instead, he takes Naproxen and suffers. Years ago, when Darvon was still on the market, he would take half a tablet two or three times a day, but only when his pain was really bad. Mustn't take more than that lest he enter the gateway that leads to addiction to heroin or some other feared street drug, the thinking goes. Taking pain medications would give him quality of life, but thanks to deeply embedded religious beliefs, he will endure needless suffering and pain until he dies.
I was an Evangelical pastor for twenty-five years. I visited countless sick, dying Christians in hospitals, nursing homes, hospices, and their places of residence. I saw horrific suffering, often exacerbated by refusals to take pain relieving drugs. Many of them saw their suffering as a sign of their true devotion to Christ. After all, the Bible says, he that endureth to the end shall be saved. The Apostle Paul encouraged Christians to patiently endure whatever came their way, and in doing so they would reap great reward. I witnessed "loving" children refuse to let their cancer-ridden parents have morphine because it made them lethargic or caused them to sleep all the time. In their minds, they wanted their moms and dads to go unto the darkness of endless night screaming the name of Jesus.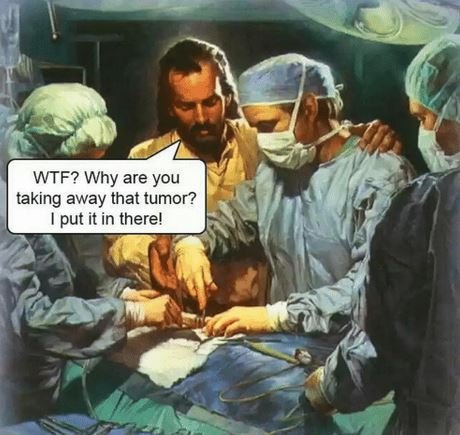 Christians fondly call Jesus The Great Physician, rarely asking what is so "great" about his medical practice. Sure, in the Bible we see Jesus healing a few people, but most of suffering people who came into contact with him went away unchanged. In John 5, the Bible records a story about a pool of water called Bethesda. It was believed that God would periodically send Angels to Bethesda to "stir" the water; to give it healing properties. The first person in the water after the angel stirred the water would immediately be healed of his afflictions. Scores of sick, dying people would gather near the water, hoping to be the first person in when God's whirlpool began churning.
One day, Jesus came to the pool and noticed a man who had been sick and afflicted for thirty-eight years. This man hoped to one day be the first person in the pool, but because he couldn't walk, others always made it to the water before him.  Jesus, having oh so great compassion on the man, said to him, Rise, take up thy bed, and walk. Immediately, the man was made whole. He took up his bed and walked away. Amazing, right? Jesus healed someone! Woo Hoo! And what about all the other sick people lying near the Pool of Bethesda? Jesus left them as they were. The Bible says that the crowd was such that Jesus quickly got out of there.
Sick and afflicted Christians live in hope that Jesus will one day stir the water of their life and miraculously heal them. Such healing never comes, of course, because Jesus has no power to do so. He's dead, and has remained so for two thousand years. The only Gods who can heal are doctors and other medical professionals. They hold in their hands the power to deliver people from pain and suffering, or to at the very least reduce needless grief and misery. Of course, many Christians believe God uses doctors to heal. Yes, doctors learn medical skills, but it is God who gives them the wherewithal to competently use those skills to alleviate pain and suffering. God is much like President Trump, always wanting/demanding credit for e-v-e-r-y-t-h-i-n-g good that happens. If this is indeed so, why the middleman? Why not just heal people? With Jesus, The Great Physician, in the operating room, who needs a surgeon or anesthesiologist.
Despite Christian preachers saying otherwise, Jesus is not returning to earth. There is no Promised Land® awaiting his followers. Revelation 21:4 promises:
And God shall wipe away all tears from their [Christians] eyes; and there shall be no more death, neither sorrow, nor crying, neither shall there be any more pain: for the former things are passed away.
Jesus' disciples believed he would come back in their lifetime. Here we are two thousand years later — in what can best be described as a long con — and Jesus is nowhere to be found. Perhaps, it is time for Christians to admit that he ain't coming back. He ain't coming back to take them to their heavenly pain-free reward. He ain't gonna deliver them from pain and suffering. If this is so, and everything we can see and know says it is, then there is no glory is needlessly suffering. There's no value in not taking pain medications or refusing to accept other pain-relieving modalities. In this life, Vicodin is better than Jesus. Narcotic drugs (or marijuana) will not make your life free of pain, but they can and will help, often giving life quality you would not otherwise have. The less pain we have, the more we can do in life. Surely, THAT is a worthy goal.
About Bruce Gerencser
Bruce Gerencser, 61, lives in rural Northwest Ohio with his wife of 40 years. He and his wife have six grown children and twelve grandchildren. Bruce pastored Evangelical churches for twenty-five years in Ohio, Texas, and Michigan. Bruce left the ministry in 2005, and in 2008 he left Christianity. Bruce is now a humanist and an atheist. For more information about Bruce, please read the About page.
Bruce is a local photography business owner, operating Defiance County Photo out of his home. If you live in Northwest Ohio and would like to hire Bruce, please email him.
Thank you for reading this post. Please share your thoughts in the comment section. If you are a first-time commenter, please read the commenting policy before wowing readers with your words. All first-time comments are moderated. If you would like to contact Bruce directly, please use the contact form to do so.
Donations are always appreciated. Donations on a monthly basis can be made through Patreon. One-time donations can be made through PayPal.