Last week, I wrote a post about my experiences shopping at the local Meijer store. (Please see Living in the Land of Jesus, Guns, and Republicans: I Went Shopping at Meijer Today.) Several days later, a twenty-six-year-old Christian woman who describes herself as an anti-mask "patriot" took to social media to express her outrage towards an elderly mask-wearing woman who dared to "touch" her shopping cart while shopping at Meijer.
After receiving universal condemnation from locals, this "patriot" wrote: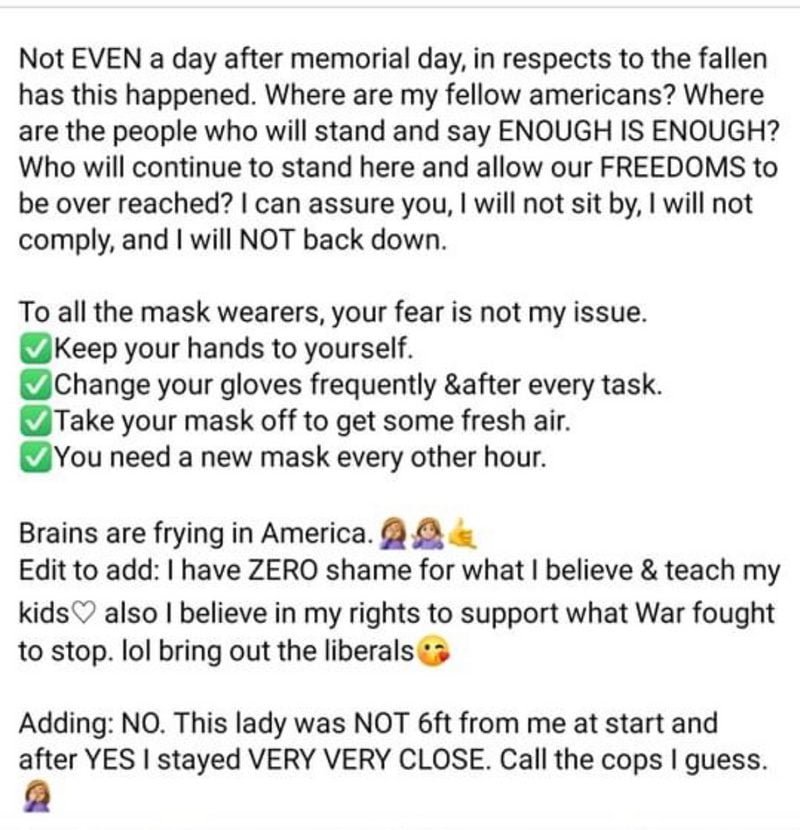 In typical "patriot" fashion, the woman deleted her posts. She didn't apologize or say she overreacted. Nope, she just deleted the posts and pretended that it never happened. This post is my way of memorializing her act of ignorance and stupidity.
I question, at times, the punitive nature of social media, but I have come to see that the only way to deal with some people is to publicly shame them — the equivalent of being put in stocks on the public square. I am appreciative of locals who stood up to this bully and who also defended the elderly woman. I can be quite critical of the denizens of rural northwest Ohio — rightly so — but in this instance locals responded appropriately to this self-described American "patriot."
And what, exactly, do mask-wearing and social distancing have to do with patriotism? There seems to be this notion among rural, white, right-wing Trump supporters that all of their beliefs and stands are patriotic in nature. We saw this thinking on full display ninety miles from here when militia members and Ever-Trumpers armed themselves with assault rifles and took over the Michigan statehouse. They called themselves "patriots," when, in fact, they were bullies and thugs.
Personally, I am not a fan of the word patriotism. Its use and meaning have been co-opted by Trump and the Republican party, and to a lesser degree the Democrats. Let's debate the issues without our discussions devolving into social media frenzies, the equivalent of two chimpanzees throwing shit at each other.
You would think that the Coronavirus pandemic would bring Americans together, rallying us around a common cause. Unfortunately, thanks to President Trump's bombastic, ignorant speeches, press conferences, and tweets, a sizeable percentage of adult Americans believe that the pandemic is all about depriving Trump of his birthright, persecuting Christians, and turning the United States into a socialist state.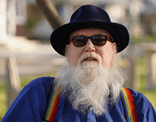 Bruce Gerencser, 65, lives in rural Northwest Ohio with his wife of 44 years. He and his wife have six grown children and thirteen grandchildren. Bruce pastored Evangelical churches for twenty-five years in Ohio, Texas, and Michigan. Bruce left the ministry in 2005, and in 2008 he left Christianity. Bruce is now a humanist and an atheist.
Connect with me on social media:
You can email Bruce via the Contact Form.
Your comments are welcome and appreciated. All first-time comments are moderated. Please read the commenting rules before commenting.