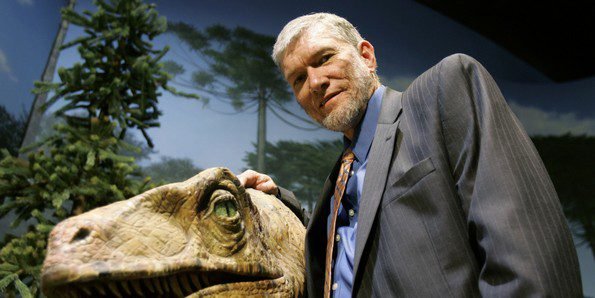 Several days ago, Ken Ham, the oldest dinosaur at the Creation Museum,  wrote a blog post about K.P. Yohannan coming to speak to the Answers in Genesis staff. Yohannan is the founder and president of Gospel for Asia, an Evangelical ministry that focuses on evangelizing and starting churches in Asia. Years ago, Polly and I supported several native missionaries through Gospel for Asia, as did several of our sons.
Ham's post recounts some of what Yohannan had to say to the staff. Here's the part I found interesting and quite laughable:
K.P. finished his devotional presentation during our morning meeting with some encouragement for our staff about the power of prayer. He said, "God is not looking for workers, he is looking for worshippers." Would you pray with us for the victims of the Nepal earthquake, the ministry of Gospel for Asia (and please consider a donation to the GFA relief effort), and the many missionaries around the world facing increasing persecution for their Christian faith? Would you also continue to pray for the ministry of Answers in Genesis as we too face a degree of persecution in the US, especially in relation to our religious freedom lawsuit with the state of Kentucky over the coming Ark Encounter? We need to pray that the state of Kentucky will decide to preserve and protect religious freedom. And please pray that we will continue to stand solidly on the authority of God's Word from the very beginning and boldly proclaim that truth to our increasingly hostile culture.
Pray for the victims of the Nepal earthquake+pray for the ministry of Gospel for Asia+pray for the many Christian missionaries facing increased persecution for their faith=pray for Ken Ham and Answers in Genesis because they too are being persecuted for their faith. Let's see, thousands killed and injured in the Nepal earthquake; hundreds of Christian killed because of their faith. Yep, just like Ham and Answers in Genesis being denied a sales tax abatement for the Noah's Ark Theme Park. Such persecution for Ham and his staff. I wonder, will they live to see another day, safe from the atheist horde trying to make sure they obey the Constitution and the laws of the state of Kentucky.