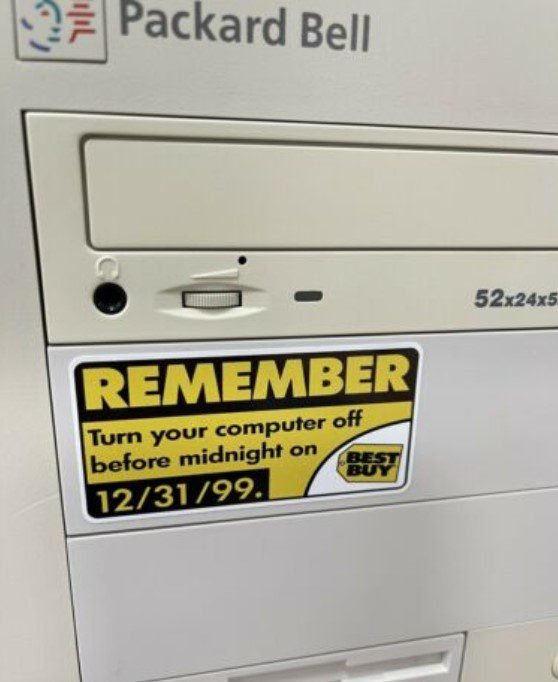 Remember Y2K?
Wikipedia has this to say about Y2K:
The year 2000 problem, also known as the Y2K problem, Y2K scare, millennium bug, Y2K bug, Y2K glitch, Y2K error, or simply Y2K refers to potential computer errors related to the formatting and storage of calendar data for dates in and after the year 2000. Many programs represented four-digit years with only the final two digits, making the year 2000 indistinguishable from 1900. Computer systems' inability to distinguish dates correctly had the potential to bring down worldwide infrastructures for industries ranging from banking to air travel.

In the years leading up to the turn of the century, the public gradually became aware of the "Y2K scare," and individual companies predicted the global damage caused by the bug would require anything between $400 million and $600 billion to rectify. A lack of clarity regarding the potential dangers of the bug led some to stock up on food, water, and arms, purchase backup generators, and withdraw large sums of money in anticipation of a computer-induced apocalypse.

Contrary to public expectations, few major errors actually occurred in 2000. Supporters of the Y2K remediation effort argued that this was primarily due to the pre-emptive action of many computer programmers and information technology experts. Companies and organizations in some countries, but not all, had checked, fixed, and upgraded their computer systems to address the problem. Then-U.S. president Bill Clinton, who organized efforts to minimize the damage in the United States, labeled Y2K as "the first challenge of the 21st century successfully met," and retrospectives on the event typically commend the programmers who worked to avert the anticipated disaster.

Critics pointed out that even in countries where very little had been done to fix software, problems were minimal. The same was true in sectors such as schools and small businesses where compliance with Y2K policies was patchy at best.
I pastored Evangelical churches in Ohio, Texas, and Michigan for twenty-five years. During this time, there were two predicted events that fueled widespread worry and panic among the people I pastored.
The first event was Edgar Whisenant's prediction that the rapture — a moment when Jesus returns in the clouds and carries away every Christian from the earth — would take place between September 11-13, 1988. Whisenant wrote a small book titled 88 Reasons Why the Rapture Will Be in 1988. Almost five million copies of the book were given away free and sold at Christian bookstores.
The hysteria got so bad in the church I was pastoring that I had to preach a sermon denouncing the book. I was a Calvinist, so I believed nothing happened apart from God's divine plan. My eschatological beliefs were different from many of the people I pastored. I was amillennial and posttribulational. I believed the church would go through the seven-year tribulation — a time of judgment and purification — before Jesus returned to earth. I rejected IFB eschatology, including the false notion that the rapture of the church was imminent.
On Sunday, September 11, Somerset Baptist Church had its largest attendance of the year. There was a buzz in the air, as people gathered together in anticipation of the rapture. I explained during my sermon the Biblical reasons why the rapture wasn't nigh. I repudiated Whisenant's claims. While some church members felt relief after hearing my sermon, others asked me, "preacher, what if you are wrong?" September 11-13 came and went. Jesus was nowhere to be found. Thirty-four years later, Evangelicals are still saying, albeit with much less gusto, that Jesus could return at any moment. Sure, and the 2022 Cincinnati Reds are going to make the playoffs and win the World Series.
The second event was Y2K. By this time, I was pastoring Our Father's House, a nondenominational church in West Unity, Ohio. Our Father's House was a close-knit congregation of 40-50 people. It was, by far, the best church I ever pastored. Outside of losing three crotchety older couples over our use of praise and worship music, Our Father's House was the most peaceable church I ever had the privilege to lead.
As hysterical stories about Y2K began to circulate among church members, some people became worried and fearful. This led some families to start acting like survivalists. One family was so afraid of what might happen that they bought cases and cases of canned goods from nearby Campbell's, made sure they could heat and light their home with kerosene, and bought numerous other items that would help them ride out the coming apocalypse.
Evangelical pastors in Williams County started a Y2K group. The goal was to help our churches survive what could happen on January 1, 2000. I attended all of one meeting. The group was dominated by pretribulational rapturists who saw Y2K as a sure sign of the imminent return of Jesus to earth to rapture away Evangelicals. I was still amillennial and posttribulational, and much as I did in 1988, I took to the pulpit to denounce the notion that the rapture was going to take place on January 1. Unfortunately, many congregants held Left Behind eschatological beliefs. What amused me was the fact that people were hoarding food, fuel, and other goods. Why? If the rapture was nigh, why leave huge caches of food to be used by the heathens left behind?
As with Edgar Whisenant's failed rapture prediction, Y2K proved to be much ado about nothing (though it can be argued that coders likely fixed many of the date issues that could have caused serious problems). The family that hoarded all the food later donated it to our church's food pantry. It took us two years to get rid of cases of canned food.
Do you have a Y2K story to tell? Please share it in the comment section.
Bruce Gerencser, 66, lives in rural Northwest Ohio with his wife of 45 years. He and his wife have six grown children and thirteen grandchildren. Bruce pastored Evangelical churches for twenty-five years in Ohio, Texas, and Michigan. Bruce left the ministry in 2005, and in 2008 he left Christianity. Bruce is now a humanist and an atheist.
Connect with me on social media:
Your comments are welcome and appreciated. All first-time comments are moderated. Please read the commenting rules before commenting.
You can email Bruce via the Contact Form.