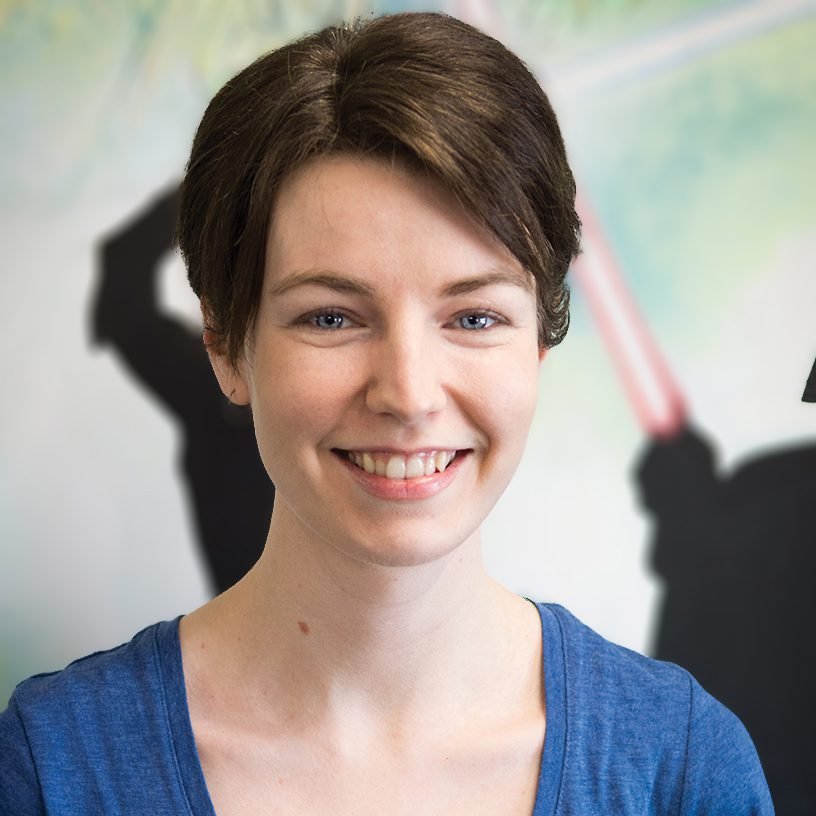 "I don't think most of us realize how centered around feelings we are. Every day, we make decisions and evaluate our circumstances based on how we feel at the time. Plus, our culture is constantly telling us to "follow our hearts" and do whatever feels good because we deserve it. We are amazing and wonderful, and we deserve happiness (often in the form of a new hair care product or prime rib sandwich or shiny SUV or whatever that billboard on the side of the street is trying to sell us).
Well, sorry, culture, but we don't deserve happiness. We're human beings who lie and cheat and steal and fight and hold grudges and hurt our loved ones, and we don't actually deserve anything. I strive to be a good, caring person, but I still make mistakes and end up hurting people. However, God gives us the opportunity for a beautiful, pain-free future with Him because of this amazing thing called grace."
— Allison Barron, The Gospel Coalition, Debunking the Myth of Happiness, March 14, 2017
---
Allison Barron is a Calvinist, so her beliefs about original sin and total depravity color her thinking when she says that we humans not only don't deserve happiness, we don't deserve ANYTHING! That's right, saved or lost, all of us are worms, undeserving of any of good things that come our way. If we experience blessings and happiness, we mustn't think that we deserve these things. We don't. Unregenerate sinners deserve the wrath of God and, after death, unrelenting torture in the Lake of Fire. God might be the creator of everything, but because Adam and Eve ate some fruit they shouldn't have, God has turned away from humanity, judging them unworthy of his love, grace, mercy, and compassion. During the days of Noah and the flood (Genesis 6-9), God determined that the human race was so vile the he had to destroy every living thing, save Noah and his family, the animals on the ark, birds in the air, and fishes in the sea. God slaughtered men, women, children, and the unborn. (So much for God being pro-life.) Why? Because he could; because he deemed the entire human race unworthy of redemption. Think of all the animals that were killed during the flood. What did they do to deserve such an ignoble end? At best, they were props in an object lesson: mess with God and he will kill you.
Even the elect, those whom God chose to save from before the foundation of the world, are, apart from Christ, viewed in the same light as the non-elect. According to the substitutionary atonement theory, Jesus stands between God the Father and the saved. When Jesus died on the cross, his Father brutally tortured him because of the sins of the elect. All that Jesus suffered on the cross was because of the sinfulness of the elect. (According to Calvinism, Jesus only died for the elect. The non-elect have never been a part of God's redemptive plan.) If it weren't for Jesus reconciling the elect to God the father, they too would be under the wrath of the Almighty.
Calvinists such as Barron go groveling through life, believing that they are unworthy of any kindness, goodness, or blessing that comes their way. These things indeed come their way, but only because of God's grace, not because of their good works, effort, or luck.  Calvinists spend their lives tamping down any thoughts they have of worth, of deserving that which they worked for, or stumbled upon out of luck. All that is good comes from God, and God alone. Any thoughts of self-worth or self-esteem are viewed as affronts to the righteousness and holiness of God. This thinking is what drives the self-deprecating speeches and interviews given by athletes, musicians, and actors. All the glory, praise, and honor go to Jesus/God, they say, ignoring the fact that who and what they are is due to many factors, the greatest of which is their personal effort and hard work. If all the glory truly belongs to God, why bother to work at one's craft?
Surely Lebron James and Stephen Curry and Peyton Manning and Tom Brady and Clayton Kershaw and Joey Votto — all-stars and future hall of famers the lot of them — are good at what they do because of God's grace, right? Why spend hours a day, virtually every day of the year working on their skill set? If their greatness is due to God alone, then no practice is needed. Or, perhaps Barron's God is a work of fiction, and those who achieve much in this life do so primarily because of their diligent, hard work. Certainly genetics, environment, social status, education, and a healthy dose of luck play a part too, but without committing themselves to excellence they would never have become household names. Again, exactly what part did the Christian God play in their development?
As most Christians do, Barron looks to a time after death when she will have a wonderful, beautiful pain-free life with God. For now, she and fellow predestinarians must endure life, awaiting that day when Jesus will return to earth, resurrect and judge humanity — sending the saved (elect) to God's Trump Tower® and the lost (non-elect) to the Lake of Fire — and then God, with his mighty power, will make ALL things new. The redeemed will spend eternity loving and praising the God who took credit for all the good things they did while on fallen earth. Imagine spending eternity with a husband who never worked a day in his life, but took credit for your hard work. That's God.
Calvinism is a dour religion, one that demands its adherents endure to the end if they hope to have any chance of getting a room in Heaven. Even then, there will be Calvinists who will diligently persevere to the end, only to find out that the joke is on them, they never were among the elect. No Calvinists can never know for sure that they are saved. They hope so. They hope they are among the elect. They hope they will persevere to the end. They hope on judgment day to hear God say, well done, thou good and faithful servant, enter into the joy of the Lord. 
Count me as one person who is glad he walked away from Christianity and its denial of self and personal worth. None of us is perfect, and when we cause harm to others, we need to make things right. As much as lies within us, we should be at peace with all men. If we live long enough, we will meet people who don't deserve love, kindness, or respect from us. There be assholes in this land of ours — unworthy of one moment of our time. For the people we call family, friends, and colleagues — those who make our lives richer in every way — I hope we all can say that they deserve the goodness, kindness, and blessing that comes their way. While life certainly isn't fair, and bad things far too often happen to good people, in general we reap what we sow. If I want to reap a life filled with love, mercy, and kindness, then I must be willing to sow the same. What goes around, comes around, no God needed.
Unlike Barron, I know a number of amazing, wonderful people. Barron might object, saying that she does know such people, but they are amazing and wonderful because of God and not their own inherent goodness. And therein lies the problem. God clouds Barron's view of others to such a degree, that all she sees is J-e-s-u-s (what boring view).  For the uncircumcised, unwashed Philistines of the world, we have no need of a God blocking our view.
As an atheist, I can clearly see those who deserve goodness and blessing; those who deserve good jobs, nice cars, wonderful houses, fancy clothing, and big-ass 60 inch LED televisions. My dear wife endured a life of self-denial as a pastor's wife, living in a 12×60 foot trailer with six children and a workaholic husband. She did without nice clothing, shoes, and the finer things of life, all for the sake of the ministry. Both of us sacrificed financial security and health, believing that our poverty was a sign of our devotion to Calvin's God.  There's is not enough life left for me to shower my wife with all that she deserves — all that SHE deserves, not God.
Now that we are free from a God who demanded absolute fealty and servitude — a God who demanded all the praise, worship, and glory — Polly and I are free to reward not only each other, but our family and friends, with all the kindness, goodness, and love they so richly deserve — all that THEY deserve, not God. We are also free to spread the gospel of a God-free, sin-free, judgment-free, hell-free, heaven-free life. Live each day to its fullest. Enjoy each and every day. Pour your life into those who matter. Eat, drink and be merry, and make sure you have a designated driver. Work hard, doing the best you can. Strive to be a better person tomorrow than you were today. Life is all about living. To riff on an Evangelical cliché: only one life, twill soon be past, only what's done now will last.
Let me leave you with the words of Wendell Berry in the Manifesto: The Mad Farmer Liberation Front
Love the quick profit, the annual raise,
vacation with pay. Want more
of everything ready-made. Be afraid
to know your neighbors and to die.
And you will have a window in your head.
Not even your future will be a mystery
any more. Your mind will be punched in a card
and shut away in a little drawer.
When they want you to buy something
they will call you. When they want you
to die for profit they will let you know.
So, friends, every day do something
that won't compute. Love the Lord.
Love the world. Work for nothing.
Take all that you have and be poor.
Love someone who does not deserve it.
Denounce the government and embrace
the flag. Hope to live in that free
republic for which it stands.
Give your approval to all you cannot
understand. Praise ignorance, for what man
has not encountered he has not destroyed.
Ask the questions that have no answers.
Invest in the millennium. Plant sequoias.
Say that your main crop is the forest
that you did not plant,
that you will not live to harvest.
Say that the leaves are harvested
when they have rotted into the mold.
Call that profit. Prophesy such returns.
Put your faith in the two inches of humus
that will build under the trees
every thousand years.
Listen to carrion — put your ear
close, and hear the faint chattering
of the songs that are to come.
Expect the end of the world. Laugh.
Laughter is immeasurable. Be joyful
though you have considered all the facts.
So long as women do not go cheap
for power, please women more than men.
Ask yourself: Will this satisfy
a woman satisfied to bear a child?
Will this disturb the sleep
of a woman near to giving birth?
Go with your love to the fields.
Lie down in the shade. Rest your head
in her lap. Swear allegiance
to what is nighest your thoughts.
As soon as the generals and the politicos
can predict the motions of your mind,
lose it. Leave it as a sign
to mark the false trail, the way
you didn't go.
Be like the fox
who makes more tracks than necessary,
some in the wrong direction.
Practice resurrection.