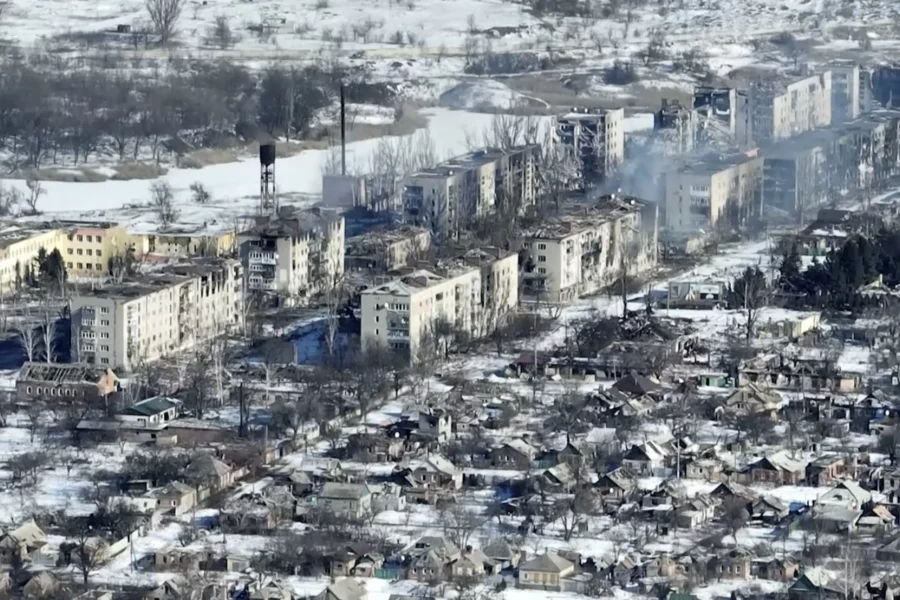 Over the weekend, Merle asked me several thoughtful questions about what I think should be done about the war in Ukraine. Here's what he had to say:
Bruce, can you let us know what you think Ukraine should do?

I share your concern with America's emphasis on war. But I see there is also a time and place for legitimate defense. Is Ukraine in a place where defense is justified?

I see no way to describe the Russian attack on Ukraine as anything other than state-sponsored terrorism. Surely nations have the right to respond to most acts of terrorism. Do we come to the point where the terrorist actor is so powerful (Russia) that one is better off just stepping back and letting them ransack the country?

So what should Ukraine do? Should they fight back? Should they seek help from America? To what extent should America help?
I am a pacifist. I oppose all war on principle. I believe war never brings peace. At best, it brings a temporary cessation of hostilities. I can't think of one war that brought permanent peace to a nation-state. Far too often, wars get recycled. The "War to End All Wars" gave birth to The "War to Really End All Wars — We Really Mean It This Time" in 1939. George H.W. Bush's Iraq War gave birth to his son, George W. Bush's Iraq War a decade later. The French War in Vietnam gave way to what Americans call Vietnam. The Soviets admitted defeat in Afghanistan, only to have the United States move in, thinking We're #1, We're Number #1, leaving twenty years later in defeat.
The United States has been at war with North Korea for seventy years. Currently, the U.S. is threatening China over Taiwan and threatening Iran over nuclear development. America has troops on the ground in numerous African countries, along with having tens of thousands of troops stationed in Europe, Japan, South Korea, and other countries. And thanks to the recent release of top-secret military documents, the American people now know that the U.S. has troops in Ukraine! Oh, they are just advisors, the Biden administration says. Oh where, or when, have I heard that before? Advisors on the ground in Vietnam turned into 500,000 American troops in Vietnam a few years later.
The United States is the world's policeman, thanks to many countries across the globe abdicating their responsibility to provide for their own protection. The United States has the largest defense and security budget in the world. We give nation-states billions of dollars a year to protect themselves and sell other countries billions of dollars more of weaponry. The United States is in the war business. In 1961, President Dwight Eisenhower gave a nationally televised speech warning about the danger of the military-industrial complex:
As we peer into society's future, we – you and I, and our government – must avoid the impulse to live only for today, plundering for our own ease and convenience the precious resources of tomorrow. We cannot mortgage the material assets of our grandchildren without risking the loss also of their political and spiritual heritage. We want democracy to survive for all generations to come, not to become the insolvent phantom of tomorrow.

….

Until the latest of our world conflicts, the United States had no armaments industry. American makers of plowshares could, with time and as required, make swords as well. But we can no longer risk emergency improvisation of national defense. We have been compelled to create a permanent armaments industry of vast proportions. Added to this, three and a half million men and women are directly engaged in the defense establishment. We annually spend on military security alone more than the net income of all United States corporations.

Now this conjunction of an immense military establishment and a large arms industry is new in the American experience. The total influence—economic, political, even spiritual—is felt in every city, every Statehouse, every office of the Federal government. We recognize the imperative need for this development. Yet, we must not fail to comprehend its grave implications. Our toil, resources, and livelihood are all involved. So is the very structure of our society.

In the councils of government, we must guard against the acquisition of unwarranted influence, whether sought or unsought, by the military-industrial complex. The potential for the disastrous rise of misplaced power exists and will persist. We must never let the weight of this combination endanger our liberties or democratic processes. We should take nothing for granted. Only an alert and knowledgeable citizenry can compel the proper meshing of the huge industrial and military machinery of defense with our peaceful methods and goals, so that security and liberty may prosper together.
The American people have been taken hostage by the Pentagon, NSA, CIA and the military-industrial complex. Convinced by both Republican and Democratic politicians, most Americans believe that bad actors on the world stage are trying to take away from them the "American Way of Life"; the mythical "American Dream." This, of course, is a bald-faced lie, yet we believe it to be true. And with over a trillion dollars in tax money, we pay for our protection from a mythical enemy. We send American men and women to bleed and die "over there," so we don't have to fight them "over here." We as a people have bought into the lie called "American Exceptionalism"; that we are a city on a hill, ordained by the Christian God to advance the cause of Western democracy to the ends of the earth, and now, to outer space too.
We can no longer afford the heroin addiction of the defense department and the various U.S. security organizations. The first thing I would do is cut the defense and security budget by twenty-five percent. Second, I would drastically reduce the number U.S. military bases and outposts. Third, I would put an end to the military's use of private contractors and private soldiers. Fourth, I would cut our nuclear weapons stockpile from 3,700 to 1,000 — still enough missiles to destroy the world.
My goal would be to neuter the United States' ability to engage in nation-building, regime change, and fighting offensive wars on multiple fronts. Doing so would force America to seek other means of conflict resolution besides violence, bloodshed, and slaughter. I would, in certain circumstances, support the defensive use of the military.
I would fully fund the State Department while firing all of the CIA and NSA agents who are currently manning Department stations. The State Department should be tasked with one thing: promoting global peace. We must stop thinking that our way of life must be the way of life for everyone; that every nation must be a democracy and have a capitalist economic system.
Until we make systemic changes such as the ones I have mentioned in this post, we will continue to involve ourselves in the affairs of sovereign states. My God, there are Republican legislators calling for the U.S. military to invade Mexico in the latest chapter of the war on drugs.What's next, invading Canada because they are "socialists?" This is what happens when we have a government that thinks every problem can be solved at end of a rifle.
The United States is currently fighting a proxy war against Russia in Ukraine. The United States is more than happy to sacrifice Ukraine, its soldiers, and civilians to destroy Russia's military capabilities. We have no interest in peace between the warring factions. We have convinced Ukrainian President Volodymyr Zelenskyy that the war can be won, with all contested lands remaining Ukraine's. And this is true as long as the United States and NATO continue to send Ukraine billions of dollars of weaponry. If Ukraine had to fight this war on its own, Russia would have won by now.
Let me be clear, Russia's invasion of Ukraine is immoral. I am not pro-Russia, I'm pro-peace. I also know the United States, NATO, and Ukraine are culpable in the war too. From NATO's expansion to Ukraine's refusal to address the concerns of ethnic Russians in Crimea and eastern Ukraine, Russia felt threatened. And when authoritarian leaders feel threatened, what do they do? They bite; they push back. Peace cannot be brokered in Ukraine without understanding its complex history. The United States paints the war as a fight between democracy and capitalism on the one hand, and authoritarianism and communism (communism) on the other. This picture distorts the complexities on the ground. It lacks historical context and nuance.
Peace can be had in Ukraine if the United States and NATO stop fueling Ukraine's war machine. I am not suggesting that we stop helping Ukraine defend itself. Ukraine has a right to self-defense and to repel Russia's aggression, but the countries paying for this war must draw a peace line in the sand, telling Ukraine they must broker peace with Russia, and if they don't the flow of weaponry will be cut off. (The idea that dirt is more important than people is insane.) Further, NATO must swallow their pride and stop its expansion farther into Europe. Admit Sweden, but that's it. What about Ukraine? Were they NATO-worthy before the war? If not, I would not admit them into NATO. Russia must also stop its expansionist tendencies. Further, the United States, along Russia, and other countries bordering the Arctic Sea must begin immediately to engage in negotiations and peace talks over the North Pole. If they don't, the Arctic Sea could be the next place there's a war between the United States and Russia. We must to everything in our power to keep Santa's home safe (a little levity with a serious subject).
While I am a pacifist, I am also a pragmatist. I know there will be times when defensive wars are inevitable. That said, I believe world peace must be our top priority. This priority must be shown in our government's spending and military use. We must show by our actions that we are a peaceful people. As it stands now, the United States is viewed as a bully; a people who use violence and slaughter to advance their agenda and gain their objectives. Eighty years ago, the world largely thought well of the United States. Those days are gone. Even in Europe, people have soured on America. We must rehabilitate our image, and the only way we can do that is to change our behavior. Most of all, we must see things as they are. Ask the average American who was behind 9-11, and they will tell you Afghanistan and Iraq. This, of course, is untrue. It was Saudi Arabia who was behind 9-11, a fact that the US government refuses to acknowledge to this day. Why? One word: oil.
If we want peace, we must stop lying to ourselves about our own history. I don't think, for a moment, that the United States is evil, but I refuse to turn a blind eye to the bloody, violent, murderous history of the country I proudly call home. Merle used the word terrorism to describe Russia's murderous actions in Ukraine. I wonder if he would use the same word to describe the United States' actions in Yemen, Syria, Vietnam, Afghanistan, Iraq, Iran, and countless other countries.
War is terrorism, period. Flying drones over civilian populations and killing men, women, and children is terrorism. Bombing Dresden and Tokyo is terrorism. Dropping atomic bombs on civilian populations in Nagasaki and Hiroshima is terrorism. Using napalm in southeast China is terrorism. The United States has slaughtered millions of non-combatants in its many wars. Aren't these injuries, deaths, and property destruction terrorism too? As long as we call what other nations do in war terrorism, but call our violent actions "just war," we will not truly understand the depravity and terror of war, and why peace must be our highest priority as a people.
When we fail to make peace our highest priority, we make war possible. The United States has largely given up on the United Nations ideal. We use the U.N. to advance our agenda, and when "peace" might cost us something, we bow out. We refuse to sign treaties that would reduce war in the world. Why does the United States refuse to participate in the International Court of Justice? It seems like we want one set of rules for the United States, and another set of rules for the rest of the world.
Peace in Ukraine is possible, but until the United States, Russia, Ukraine, and NATO choose a different path, the only thing that will happen is more bloodshed. A cessation of hostilities will happen sooner or later, but peace? I am not sure the warring parties have an appetite for real, lasting peace.
Bruce Gerencser, 66, lives in rural Northwest Ohio with his wife of 45 years. He and his wife have six grown children and thirteen grandchildren. Bruce pastored Evangelical churches for twenty-five years in Ohio, Texas, and Michigan. Bruce left the ministry in 2005, and in 2008 he left Christianity. Bruce is now a humanist and an atheist.
Connect with me on social media:
Your comments are welcome and appreciated. All first-time comments are moderated. Please read the commenting rules before commenting.
You can email Bruce via the Contact Form.