Pastor JD [Farag] said something in this update that I'll never forget. He said "We are not looking for Antichrist; we are looking for Jesus Christ." And with that I agree 100%. But when world leader seemingly comes onto the world stage out of nowhere, we just can't help but wonder: "Could this be him?"
Having said that, I am writing this article about a man who seems to possibly be that man of sin although we can only surmise this.
….
The readers are most likely wondering why I would want to take a hard look at this man. I will list my reasons. And before anyone proclaims that I am playing "Pin the tail on AC" let me just say that I am intrigued by Zelenskyy – not in a good way, but in a way which compels me to research him further.
Zelenskyy came onto the world stage out of nowhere. Yes, he has been the president of Ukraine for a few years, but he was obscure and relatively unknown.
Our World is preparing for Globalism and having sparked the Ukrainian/Russian war: it seems like a time for Satan to present his man (the beast) to the world. He will promise peace and security
Overnight this man is known by the entire world and is being heralded as a hero.
Zelenskyy is a puppet of George Soros who installed him in his position as president of Ukraine.
Zelenskyy is a Jew and I do believe that Israel would receive him as messiah
Zelenskyy graduated from Klaus Schwab's Young Global Leaders School, so is officially on board with Globalism
He has turned away from the God of his fathers – A Jew whose army has a great percentage of Neo Nazis!??
He is a performer with a magnetism that draws people to him. His long running TV show was about a teacher who suddenly becomes President of his Republic
**Read the article at the bottom of this piece to see the "Assyrians of Ukraine"
He has no problem with violence as seen here in a campaign commercial
Brethren, we are just at the beginning of the story of Volodymyr Zelenskyy. Please understand that I am not claiming that we are seeing AC in the flesh. Only God knows who the man of sin will be.
I am just telling my readership that I am taking a hard look at this man. I will continue to watch him in the midst of the Ukraine/Russian war. Many consider Zelenskyy to be a world class Hero.
— Geri Ungurean, Absolute Truth from the Word of God: JESUS HAS EVERY ANSWER, ANTICHRIST……COULD IT BE?, March 11, 2022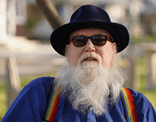 Bruce Gerencser, 65, lives in rural Northwest Ohio with his wife of 44 years. He and his wife have six grown children and thirteen grandchildren. Bruce pastored Evangelical churches for twenty-five years in Ohio, Texas, and Michigan. Bruce left the ministry in 2005, and in 2008 he left Christianity. Bruce is now a humanist and an atheist.
Connect with me on social media:
You can email Bruce via the Contact Form.
Your comments are welcome and appreciated. All first-time comments are moderated. Please read the commenting rules before commenting.