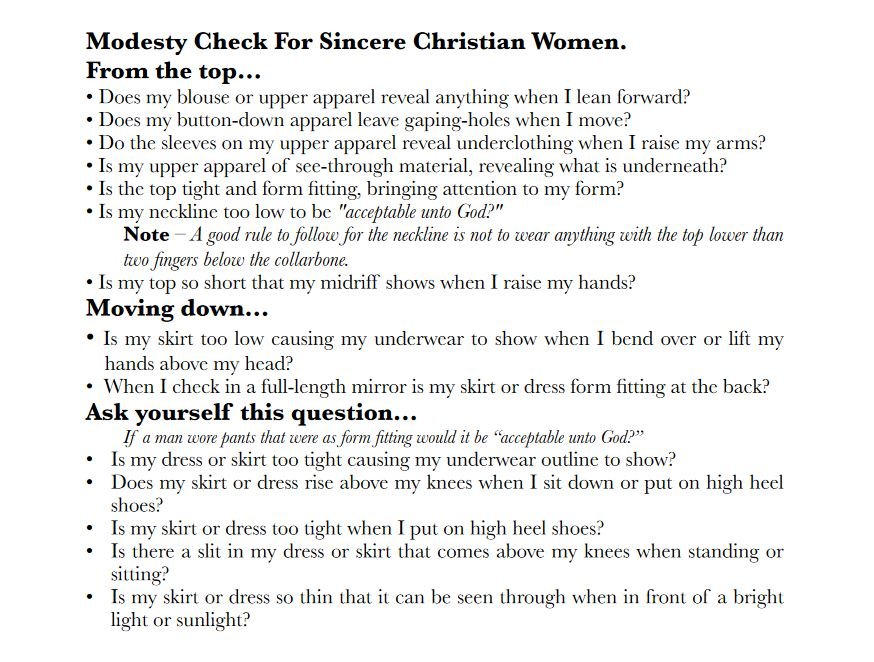 Snark ahead! You have been warned.
The Bible says in Isaiah 47:2,3:
Take the millstones, and grind meal: uncover thy locks, make bare the leg, uncover the thigh, pass over the rivers. Thy nakedness shall be uncovered, yea, thy shame shall be seen: I will take vengeance, and I will not meet thee as a man.
See, ladies? Right there in the King James Bible, it says it is a sin to uncover your thighs. It does? Yes, just read carefully between the lines and run it through an Independent Fundamentalist Baptist (IFB) filter, and then you'll see THE truth!
I found the following graphic in an article written by Daphne Kirkland titled, A Return to Biblical Modesty. It is linked to Fairhavens Baptist Church — an IFB group located in Sarnia, Ontario, Canada. Bob Kirkland pastors the church, so I assume the writer of the aforementioned article is a family member, his wife perhaps?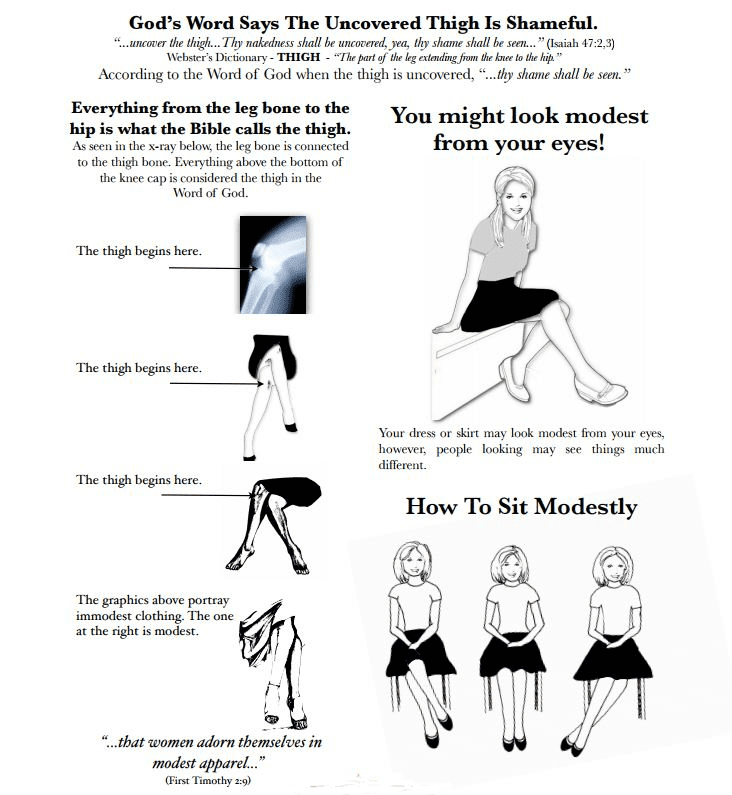 Time to clean out your closets, ladies. Get those thighs covered NOW lest God strikes thee dead. Bruce, my thighs are completely covered — with pants. Oh my Gawd, you whore. Pants are for men, not women. Deuteronomy 22:5 says:
The woman shall not wear that which pertaineth unto a man, neither shall a man put on a woman's garment: for all that do so are abomination unto the Lord thy God.
Enough said, right? The Big Man hath spoken. Time to get out your culottes (Baptist shorts), maxi-dresses, and feed sacks. No sexy for you, girl.
Bruce Gerencser, 66, lives in rural Northwest Ohio with his wife of 45 years. He and his wife have six grown children and thirteen grandchildren. Bruce pastored Evangelical churches for twenty-five years in Ohio, Texas, and Michigan. Bruce left the ministry in 2005, and in 2008 he left Christianity. Bruce is now a humanist and an atheist.
Connect with me on social media:
Your comments are welcome and appreciated. All first-time comments are moderated. Please read the commenting rules before commenting.
You can email Bruce via the Contact Form.