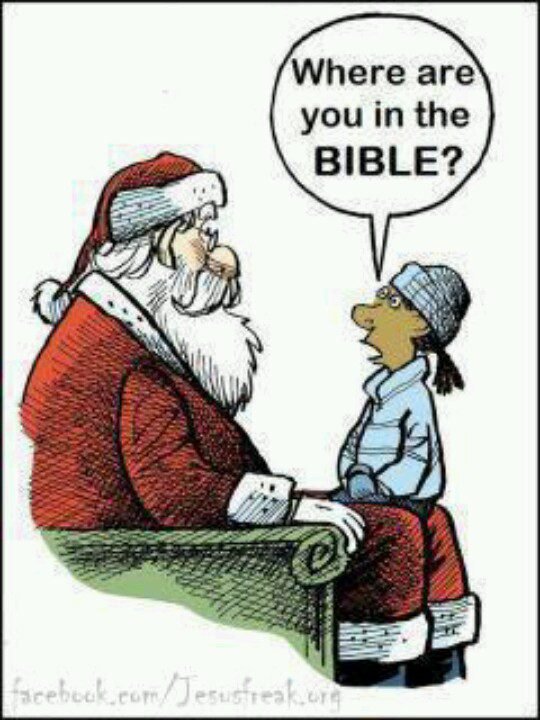 James Bachman, pastor emeritus of Roanoke Baptist Church in nearby Roanoke, Indiana and author of the Parson to Person column in the West Bend News, took to his column (no link available) to discourage parents from allowing their children to believe in Santa Claus. According to Bachman, allowing children to believe in Santa Claus, only to find out later that Santa isn't real — say it aint so, Moe! — might lead children to question whether what they have been told about Jesus is true.
Here's what NO-FUN-da-mentalist Bachman had to say:
My little daughter hears her friend excitedly talk about Santa Claus. Should I tell her he doesn't exist or just wait and let her find out?

Santa does exist as a mythical, pretend character. Your daughter needs to understand the truth from her parents now. Otherwise, when she discovers the truth, she may wonder if you have been truthful about other things, including Jesus.

Children and youth especially are attracted to supernatural characters who know all things, are immortal and can give them what they want.

Why not rather tell her of the real person of Jesus Christ, who has all power — "And Jesus came and spake unto them, saying, All power is given unto me in heaven and in earth." (Matthew 28:18) He created all things — "For by him were all things created, that are in heaven, and that are in earth, visible and invisible, whether they be thrones, or dominions, or principalities, or powers: all things were created by him, and for him:" (Colossians 1:16) He understands even our feelings — "For we have not a high priest which cannot be touched with the feelings of our infirmities; but was in all points tempted like as we are, yet without sin." (Hebrews 4:15) He promises to help with all our needs — "Let us come boldly unto the
throne of grace, that we may obtain mercy, and find grace to help in time of need." (Hebrews 4:16) And he showed us the greatest love possible — "Greater love hath no man than this, that a man lay down his life for his friends." (John 15:13)

Compared to the real Christ of Christmas, the pretend Santa is a complete fraud. Christ wants to be to us every day much more than children want Santa to be at Christmas.
Why not allow children to enjoy the Christmas season, including believing the Santa myth? No child has ever been harmed by believing in Santa, a claim that cannot be made for the Jesus myth. Bachman's anti-Santa column is a reminder of the fact that Christian Fundamentalists take the FUN out of everything. Tonight, I attended my granddaughter's high school basketball game. I wore a white shirt, red suspenders, red jacket, and Santa hat. I play the part because I enjoy doing so. I know I am a dead ringer for the REAL Santa — yes, Virginia, there is a Santa Claus — with my ruddy complexion, portly build, and full white beard. Before and during the game, I had numerous adults, teenagers, and children come up to me and address me as Santa. I had a lot of fun, as did those around me. And yes, a handful of children wondered if I was the real Santa. I replied, maybe.
Pastor Scrooge can't bear to hear of children believing in Santa. He would rather children be taught about Jesus and his blood cult. No candy canes or presents, dear children. You must learn the truth; that you are a vile, wretched, sinful urchin who is headed for eternal torture in the Lake of Fire unless you tell Jesus you are really, really, really sorry for disobeying mommy and daddy and ask him to come into your heart and save you from the behaviors Pastor Bachman says are sins.
Children believing Santa is real is harmless fun. It's too bad people like Bachman want to ruin Christmas for everyone. Bah! humbug! I say to Santa-hater Bachman. May his stocking be filled with coal.
About Bruce Gerencser
Bruce Gerencser, 60, lives in rural Northwest Ohio with his wife of 39 years. He and his wife have six grown children and eleven grandchildren. Bruce pastored Evangelical churches for twenty-five years in Ohio, Texas, and Michigan. Bruce left the ministry in 2005, and in 2008 he left Christianity. Bruce is now a humanist and an atheist. For more information about Bruce, please read the About page.
Bruce is a local photography business owner, operating Defiance County Photo out of his home. If you live in Northwest Ohio and would like to hire Bruce, please email him.
Thank you for reading this post. Please share your thoughts in the comment section. If you are a first-time commenter, please read the commenting policy before wowing readers with your words. All first-time comments are moderated. If you would like to contact Bruce directly, please use the contact form to do so.
Donations are always appreciated. Donations on a monthly basis can be made through Patreon. One-time donations can be made through PayPal.