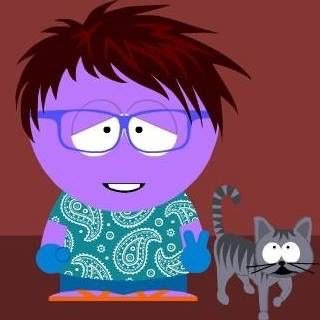 One of the regular commenters on this blog, Karen the Rock Whisperer, is currently hospitalized in California. Over the past month or so, she has had a plethora of health problems that have repeatedly landed her in the hospital. Sometimes, in the digital world, we forget that real flesh-and-blood people are attached to an online username. Even though I have never met Karen face to face, I consider her a friend. I wish her well as she battles the various afflictions that have laid her low. I can't offer up prayers or even karmic good thoughts, but I can say, Karen, I hope you get better soon!
Let me leave you with several comments Karen made in 2015:
Comment #1
I was at least moderately depressed all my life, and finally getting treatment for that illness was my start on the road away from religion. The story: I was raised Catholic in the liberal West Coast church of the 1960s and 1970s. I attended Catholic schools through 12th grade, and was taught my religion by a bunch of wonderful nuns who were determined to raise up a student body of social justice warriors. They tended to slide over the parts of the theology that were disconcerting; the important things in life were to take joy in the gifts of God, be properly grateful for them, and put them to the uses he intended. In college I made friends with Evangelical Christians, and discovered there was a whole other Christian religion out there. They seemed to have a more evidence-based faith, one based on the bible and not the pronouncements of the church hierarchy. I explored that for a few years. Meanwhile I met and married a man who was raised in an Evangelical tradition but was not religious.
I got into serious trouble with the Evangelical message. I couldn't get my mind around the notion that one could take the entire bible literally. And the constant emphasis on sin, and my worthlessness, fed my depression fiercely. We were attending church regularly, but my husband finally insisted we quit, because the sermon would leave me in tears of despair; not even God could love someone as worthless as I. So I stopped going to church, but the damage was done, and it ate and ate at me for several years. Finally, in my mid-thirties, I reached a point of not being able to function beyond doing simple household tasks (I had been a very successful engineer). The doctor put me on Prozac. The effect was amazing. I discovered I was not worthless. I discovered that my every action was not somehow based in sin. I was thinking somewhat clearly about myself for the first time!
The process of healing was very long, and to some extent continues to this day. But very early on, I started questioning everything I knew about what was really right and wrong, true and false, including religious beliefs. That led me on a long and winding path, but eventually I was able to chuck it all as lacking in evidence. And also, along the way, I had to re-learn that the purpose of life is to take joy in what I'm given, be grateful for it, and put it to good use in a way consistent with secular humanism and social justice.
So while my life doesn't involve any deities, in the end the nuns got the last word.
Comment #2
I appreciate your writing. Though I gave up on Christianity many years ago, it is learning about experiences like yours that have really made me comfortable in my atheist/humanist skin. While I don't rage against the faith, I also no longer tiptoe around family and friends who are Christians. I'm no longer shy about objecting when they advocate bad ideas under cover of faith. This has made me much happier, but also enabled me to spread what I think are important messages about how we humans treat one another — and occasionally, I can make the faith-bound think.
Comment #3
As a geologist, I don't have much knowledge of biology. I have played a bit with invertebrate fossils, and the changes we see through time in those fossils have made evolution real to me in a way that no amount of reading and lectures and presentations possibly could. But I have to leave in-depth understanding of all the different lines of evidence to my colleagues in the biological sciences. And I'm quite happy with that, because I trust that they do science the same way I do and have properly put together the story that these lines of evidence tell.
And that's the fundamental problem in debating with creationists: they don't trust the process of science. They don't participate in it (for the most part), at best pretending to play at it. They can't honestly do it, because their faith requires fitting the evidence to the conclusion. Dealing with them is just tiresome. But the ones who annoy me the most are big on arguing "XYZ disproves [evolution/age of the universe/big bang/etc.], therefore Christ!" Um, no. even if they're right about XYZ (and they never are), that doesn't say a damn thing about what really is true. Disproving evolution would definitely win you the Nobel prize, but implies nothing about the truth of Christianity or any other faith.